Google Lens is now available for all Android users through Google Photos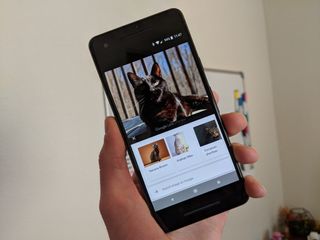 (Image credit: Joe Maring / Android Central)
When the Pixel 2 launched last October, one of its exclusive software features was Google Lens. Today, Google Lens is escaping the clutches of the Pixel brand and expanding to all Android devices through the Google Photos app.
To access Google Lens, simply open Google Photos, select the picture you want to use, and then tap the Lens icon that's in between the trash and edit options. Once you do this, Google Lens will scan your picture and show any information that's relevant to it.
Google Lens can currently identify buildings/landmarks, company logos, cat/dog breeds, text, paintings, movies, etc.
In addition to phones and tablets, Chrome Unboxed also confirmed that you can get this same functionality on Chome OS by downloading the Android Google Photos app and following the same process.
In addition to this, Google also announced at MWC 2018 that certain phones from Samsung, Huawei, Motorola, LG, Nokia, and Sony would be able to access Lens via the Google Assistant. There's still no ETA as to when that'll happen, but in the meantime, Google Photos has your back to get your Lens fix.
Download: Google Photos (free) (opens in new tab)
Android Central Newsletter
Get instant access to breaking news, the hottest reviews, great deals and helpful tips
Joe Maring was a Senior Editor for Android Central between 2017 and 2021. You can reach him on Twitter at @JoeMaring1.
I'm really looking forward to swapping Windows 10 Mobile for Android One on the Nokia 7 Plus this April. This news just adds to the excitement. Seriously can't wait.

Do it! I ditched my Lumia 830 for a Nokia 6 last year and I'm absolutely happy with this device!!!

Not there on my Note8 Edit....but it's available in Assistant on my Note8. Nice!

Currently showing up on my AT&T Galaxy s8+ in Assistant. Works great but it's just another feature I'll use a few times and forget it's there...

It's there on my KeyOne. UK unlocked.

I've got it on my Oneplus 5T 👍

But I thought iOS gets all of the new features from Google. Oh wait.

Does this have the translate feature?

I wish you guys would fact check better. As with everything Google, it is a staged roll-out and not available to everyone now. I have Lens in Assistant, but not yet in Photos on Galaxy S8.

Agreed. Pretty sure most people wouldn't even have it yet, so this article has a lot of people checking for something that isn't even there.

Does this require Oreo? I don't have it on my Note8, yet.
When will Note8 get Oreo? Why is Samsung always so slow with updates?

Available on my Sprint S8plus running Oreo Beta.... and it sucks lol. Cant find anything with the pics I have but Bixby does.

I have it on both Google photos and assistant on my HTC U11.

Yep, I'm probably going to use it more with Assistant. Guess I can delete that other search by image app I was using, lol.

I have an info button next to the trash icon

Anyone know why Google goggles now seems to be working sometimes on my Galaxy S8? I thought they did away with that app.

Instead of saying "tap the Lens icon that's in between the trash and edit" why not show a picture of what it looks like or describe it. I seem to have an icon between edit and trash (it is a circle with an i in it) Is the the Lens Icon???? I am not sure. If this is then why would I want it? Did you do a review of Google Lens before (link would be nice) so I can see what it is exactly and why I need it??? Thanks AC

#fakenews=Joe maring!! Say it ain't so Joe. But it's true, just left Google photos. Lens at this time only for pixel. Nice job Joe on getting our hopes up! Rofdlmao at you.

I had some fun with it on my Moto Z Force Droid running Android 7.1.1 via Google Photos.

Got it on my Moto X Force in the UK. Was having fun with it last night.

I have Lens on my S8 Plus with assistant. Do not have Google Photos installed.
Kind of fun.

I have it in photos on my note 8 International version

Just appeared tonight on my Moto g4 plus. Was expecting an app update but it just appeared.

Got it in Assistant this morning on my tmobile v30. Pretty cool but confusing at first. Definitely made for nerds, not the every day user
Android Central Newsletter
Get instant access to breaking news, the hottest reviews, great deals and helpful tips
Thank you for signing up to Android Central. You will receive a verification email shortly.
There was a problem. Please refresh the page and try again.