Google hit with lawsuit over defective microphones on 2016 Pixel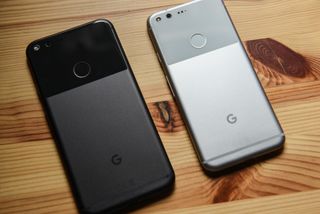 Lawsuits aren't uncommon occurrences in the technology industry. Someone spends money on a phone, something goes wrong, and they hit up their lawyers to issue a class-action suit against the company rather than contacting customer support. In the latest entry of this series, Google is being sued over microphone defects for the original Pixel and Pixel XL.
Shortly after the Pixel's launch in 2016, there were a few complaints from customers about people not being able to hear them during phone calls. Google eventually responded to disgruntled customers in March of 2017, saying that the subpar microphone performance was attributed to "a hairline crack in the solder connection on the audio codec."
The firm behind the suit is Girard Gibbs LLP, and if that name sounds familiar, that's because it's the same firm responsible for the lawsuit regarding the Pixel 2 XL's display.
While there's certainly merit to some of the lawsuits that pop up, it's worth noting that neither of the named plaintiffs in this case actually sent in their phones to Google to be repaired. Even so, Girard Gibbs claims that replacement phones Google issued still had problems with their microphones. Who knows.
I personally think this particular case is a bit silly, but I'd like to get your input on this. Do you think this is a mere cash-grab or has Google had this coming? Sound off in the comments below.
Joe Maring was a Senior Editor for Android Central between 2017 and 2021. You can reach him on Twitter at @JoeMaring1.
I think the looser should pay for all lawsuits.

Those loose lawsuits are the worst, they need to tighten them up.

Personally, the court that is allowing the lawsuit should have to pay. The frivolous lawsuits that are allowed to clog up the system these days are pathetic.

The good ol' American system. Sue sue sue!

Why not disincentivize the ambulance chaser by sticking them with the fee and not the court who is not using their money anyway, so they don't care as much as the lawyer and plantif

I'll be using Gieco for not saving me 15 % on my car insurance and the gecko will be in my custody lol

Does this have anything to do with the bullshit text you get when you speak for dialog boxes?

Why is this silly? Shouldn't we expect our $700 devices to last more than a year? I have been similarly plagued with this issue, and it's affecting both the microphone and the speaker. I can't place calls. I can't receive calls. I can't listen to music through the speaker or the headphone jack. Phone alarms and notifications don't make any noises. At least i can still internet? Gee, thanks. After nearly two weeks of harassing CS, Google finally accepted responsibility for their defective device and arranges for me to have the motherboard replaced free of charge. Google can and should do better, and sites like Android Central should hold them accountable, not dismiss legitimate issues raised by Google's customers.

Android Central will protect the hive at all costs. They NEVER call out google for any of their issues, see all the issues with apps in the play store with malware in them and yet, never a peep on this site.

still rated best phone ever on AC

Huh. Google sent me a replacement immediately, after a 5 minute chat and a fee questions.

Yeah I have heard stories of people getting that fixed and the replacement one had the same issue. IMO, that's bad to have. I have had a Pixel that also had the microphone issue.

That's what customer support is for, not court...

I'm having the exact same problem with mine, which is now my life partner's phone. Always have to restart to make a call, and even that doesn't always work. Problem is, for me, that I purchased it from Rogers (Canadian carrier), and I fear I will have to go through them to get it replaced or repaired... and I bought it on release day, October 2016. Chances are, I'm out of warranty. I guess I'll have to try and get it RMA'd with Google!

From personal experience I know what it's like to call Google when you have a defective phone from them. They are useless. First off it should not matter if you bought the phone from them or a store like BestBuy. It's their freak'n phone and they should deal with it just like Apple does. But no Google makes you jump hoops and tells you to call someone else. As stated above when you spend over $700 on a device it should work more than a year. And there should be some authorized local repair center to deal with, Google has none. And then when you send it back, you get someone else's phone that was not properly refurbed. Scratches and worn out batteries. Google has no clue how to deal with the consumer.

I've had two RMA experiences with Google. Both took about 5 minutes and resulted in a new replacement. Ymmv i guess but a frivelous lawsuit is ls ot the answer.

Isn't this the same firm that dealt with the LG bootloops?

If Google not learning anything with pixel lineups with defective then Google never learned into and followed suited in past Samsung's memory hogged. Not buying for pixel 3 tho.

Jeez you can sue for anything nowadays

There has been another wave of problems with the original pixel phones since oreo 8.1 was shipped. Previously stable pixel phones now have microphone issues that appear to be related to software. in my case, my phone mic stopped working with 8.1. Google sent me a refurbished replacement, but it also has the same fault. Issue is being discussed in product forums and in google issue manager: https://issuetracker.google.com/issues/73046663 But nothing back from google yet. We're all stuck with handsets that cannot operate as a phone.

I had some issues with both a Pixel and Pixel XL on my account and after about 5 minutes on chat with customer service, Google offered to replace both of them for free even though they were over a year old

To be clear, I have no gripe with customer service - they have been very good. However, they sent me a replacement phone with same issue. It seems like the current issue could relate to software because: it only occurred after oreo 8.1, phone is fine after reboot, and some apps have problems while others are OK. I suppose it could be still coupled to an underlying hardware issue, but there are multiple folk on the product forums who also had replacement phones that failed. Also, in Australia, google insist that phone is sent overseas before they send the replacement. So, customers are without a phone for 2w. By contrast, Apple hand back a replacement over the counter.

... and, so implication is that folk like me are stuck with expensive handset that will not even serve purpose as basic phone, and we have little leverage to get a fix. So, I am OK with idea of lawsuit if that helps people to pay off their dud phone and buy another.

Google just replaced my phone.

I hope I don't have an issue with my Pixel 2 XL when I get it, I'm prepared to give Google the benefit of the doubt here as I didn't own the original Pixel so air can't comment.

Going through this on both my wife's and my first gen Pixels. As mine is a 6 week old certified refurbished model sent to replace my original failing handset, I am covered under warranty. My wife is not so lucky, as hers is 6 weeks out of warranty, and calls to customer support are left with "It has been escalated to our highest level. You should hear within 24-48 hours." This was 6 days ago, and follow-up calls have led nowhere. This is unacceptable for a "flagship" device.
Android Central Newsletter
Get the best of Android Central in in your inbox, every day!
Thank you for signing up to Android Central. You will receive a verification email shortly.
There was a problem. Please refresh the page and try again.