Google finally starts pulling the plug on Play Music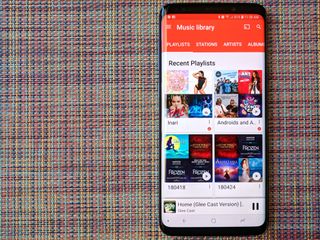 (Image credit: Android Central)
What you need to know
Google has started shutting down Play Music for some users.
When you open the Play Music app, you will now see a splash screen asking you to transfer your library to YouTube Music.
The Play Music web client is also no longer working for some users.
Just as expected, Google has started shutting down its Play Music service for users around the world. As spotted by Android Police, some users are no longer able to access their library on the Play Music Android app.
When opening the Play Music app, you may now see a splash screen prompting you to transfer your library to YouTube Music. In addition to the "Transfer to YouTube Music" button, you will also see a second button that will let you manage your data. The Play Music web client also appears to have stopped working for some users. Just like the Android app, the web client now lets you transfer your library to YouTube Music or manage your music.
While changing the date on your phone will not make the app work again, some users on Reddit claim they have managed to get the app working by uninstalling updates and installing an older version of the app from 2019.
Although Google had announced that it would replace Play Music with YouTube Music nearly a year back, it was only in August this year that it provided a specific timeframe for the shutdown. The service is planned to be completely shut down for everyone by December. Once that happens, YouTube Music will be Google's only music streaming service.
How to transfer your Google Play Music library to YouTube Music
Where do we buy music from now?

Started seeing this page a few days ago. Couldn't access my music on the app at all on several devices but weirdly I can still use it just fine with Android Auto. I finally decided to give the YTM app a shot and it still didn't compare but it seems they've finally allowed playing your uploaded music in Android Auto without a subscription so that's something. I haven't been able to purchase music in the Play Store for weeks. I guess I'll transition back to using Amazon's MP3 store for that. I'll have to see what else is out there.

It shows the splash screen, asks you to transfer, then demands money to play the music that you already paid for. Nice.
What happened to "Don't be evil"?

I transferred my library a few weeks ago but the YouTube music UI is still clunky and unintuitive. How can they still not have figured this out after YEARS of working on it?

If only it were the UI, but where are the features and functionality?

The YouTube Music app is awful. With Google killing off all their useful apps eventually, I'm sure by this time next year I'll be forced to jump to AT&T or Verizon because Google will have decided to shut down Fi.

I sure do they have some major update coming for YouTube Music because it still falls short when it comes to features.
Android Central Newsletter
Thank you for signing up to Android Central. You will receive a verification email shortly.
There was a problem. Please refresh the page and try again.