Google Fiber to deploy its 1Gbps Internet and TV service in Salt Lake City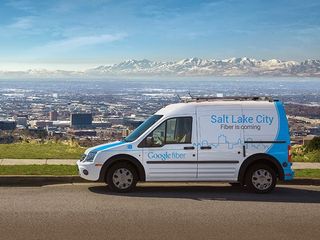 Google Fiber is already live in Provo, Utah, but there's no word on when service will begin in Salt Lake City. Google stated:
Besides Provo, Google Fiber is currently live in Kansas City and has started taking sign ups for service in Austin, Texas. In February, Google announced that Google Fiber will expand to four more US metro areas in the southeast: Atlanta, Charlotte, Nashville and Raleigh-Durham. Four more locations in the US (Phoenix, Portland, San Antonio and San Jose) are still under consideration.
Source: Google Fiber
Oh, hell yes! I wonder what it'll cost? Galaxy S4

Gigabit + TV: $120/month ($300 construction fee waived) Gigabit Internet: $70/month ($300 construction fee waived) Basic Internet: $0/month (for up to seven years starting from the date your address was first connected to the Google Fiber network for any person) + $300 construction fee.

I hope they'll take over the Utopia project in some of the neighboring cities. Posted via the Android Central App

For what it's worthI plugged my West Valley address into the Google Fiber website, and it says that Fiber is "coming to Salt Lake City and West Valley City". Sooo...hooray! Maybe it IS coming to other neighboring cities. I just haven't tried addresses in other places. YMMV.

I'd love to see a blanket put down over all the space between SLC and Provo. :) I'm in Lindon, and I like having UTOPIA at my house, but some GFiber gigabit would be awesome.

I hope it travels northward all the way to Ogden. Granted its pretty much never going to happen but eh, I can hope. Posted

Awesome! They keep mentioning the SLC metro area rather than just SLC proper. With Utopia in other cities in the metro area, here's hoping they mean to expand to the whole metro area.

I really wish it would come to St.Louis, but that market is wrapped up with AT&T.

Have you heard about Arch Fiber Networks? http://www.archfibernetworks.com/ May be the next big thing since city leaders have botched the previous discussions with Google. Just need to get a carrier or two on board, but there is a big push on Washington Avenue to get this going soon.

I hate everyone who gets this before me. As possible everyone after...I'm not sure yet

Ya! Too bad I'm not in Metro tho.. Lol stick with my 50/5 dsl. Posted via the Android Central App

I'd never want the option of Google Fiber, I just enjoy being bent over, not even getting my pants pulled down, just inserted straight through the jeans, by my wonderful friends from Comcast. They're like my abusive pimp that I'll always love! Posted via the Android Central App

Lol you just described every Comcast customer Posted via HTC One on Sprint

So true AC App via Nexus 5

I keep a handy bottle of lube, just in case. Posted via Android Central App- Via HTC One

What a view! I think I can see the NSA data center from there. Wonder if they'll want in on that Fiber action Posted via Android Central App

Good job Google Posted via the Android Central App

I'm in between Provo and SLC...in other words, Purgatory. Will probably never see it. Grumble.

I'm chilling to the north of both cities so I'll never see it either brother Posted

Same, living about 15 min North of slc Posted via the Android Central App

I'm using the 105 Mbps with Xfinity. I can't imagine what 1 Gbps would be like. I imagine it would an instantaneous data transfer for normal stuff. It wouldn't even hiccup on my Xbox One AC App via Nexus 5

1 gbps!!!!!! Posted via the Android Central App
Android Central Newsletter
Get the best of Android Central in in your inbox, every day!
Thank you for signing up to Android Central. You will receive a verification email shortly.
There was a problem. Please refresh the page and try again.