Google reportedly dropped plans to turn Duo into a true FaceTime competitor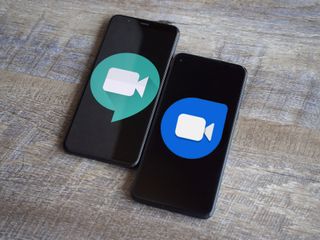 (Image credit: Android Central)
What you need to know
Google could no longer be consolidating Meet and Duo into a unified service both for consumers and enterprise users.
The search giant has reportedly shifted its focus to Meet's enterprise capabilities.
Meanwhile, its interest in a consumer-oriented video calling service has apparently dwindled.
Google has reportedly canceled its supposed plan to combine its Meet and Duo services to create a single platform that can handle videoconferencing for both consumers and enterprise users.
According to 9to5Google, the search giant's effort to create a dedicated video calling app for consumers has petered out after supposedly building a unified team to develop "Duet," which first popped up in August of last year as Google was reportedly planning to replace Duo with Meet. Duet — a portmanteau of Duo and Meet — is the codename of the rumored merger of Google's videoconferecing services.
The integrated team apparently spent the better of last year working together under the impression that Meet and Duo would form a single app. However, toward the end of 2020, Google's videoconferencing service leadership had a change of mind and instead decided to shift the team's focus to the enterprise application of Meet. This means abandoning the platform's consumer focus entirely, leaving owners of the best Android phones with no FaceTime counterpart.
9to5Google claims the initial plan was to add Duo's feature for calling users through phone number in addition to email or link to Meet. End-to-end encryption was reportedly another feature that Google previously planned for Meet.
When asked about its plans for Meet and Duo in the future, Google told 9to5 that there was "no change in our plans to continue investing in our consumer users." The Mountain View-based company even listed some of the updates it rolled out to Duo this year, including expanded tablet and foldable device support, support for Samsung TVs, new screen sharing controls, HD screen sharing, new video effects, Material You redesign, and more.
That said, Google has noticeably spent a great portion of 2021 developing more features for Meet than Duo, with a focus on its business utilities. Some of the notable features added to Meet over the past few months include new immersive backgrounds, increased participant limit, and live translated captions. The list goes on and on.
Although Google promised that it has a "rich roadmap next year for both consumers and business users," it did not reveal whether that's for Meet or Duo.
Jay Bonggolto always keeps a nose for news. He has been writing about consumer tech and apps for as long as he can remember, and he has used a variety of Android phones since falling in love with Jelly Bean. Send him a direct message via Twitter or LinkedIn.
This is the problem with Google. They start all these projects but never follow up with or support them in the long run. This in turn sends the signal to their users and consumers not to get too attached or invested in anything because the concept of "long run" doesn't seem to exist for Google, especially since the future of any or all of these apps, devices, services and so on, is not guaranteed by any means. One can't help but think will the same fate befall the Pixel phone at some point as well ?!

I still remember getting everyone to try Allo, which I really did like despite it's shortcomings, only for them to scrap it a mere few months later. I lost hope and optimism in these guys a long time ago. They constantly sunset things with promise.

Google never finish most projects which is upsetting and causes me to never get excited over what they do. Because they never support them for long. they let a lot of changes go under, that would have been good competition and game changer to apple products. They have Google voice and have never done anything good with it. They owned Motorola then sold it off. Then they come out with Pixel. That is what they could have turned Motorola into, to begin with and saved all the hassle of selling it off, after they stripped them of patents they wanted to use elsewhere.

Brings tears to my eyes. Had a Moto X when Motorola sold them. They had a super little customization page like MS has for XBox controllers. You could pick front and back colors, and accents like the camera ring, power and volume button colors. Was a great little phone. it even had some Motorola software enhancements Google eventually sherlocked. Shame Google didn't just hang on to Motorola and have them make Pixels.

This comes as no surprise. The whole google team is made up of nothing but quitters.

Google is a very spiritual company: they are teaching us the values of "live without expectations", "don't get attached", and most importantly "focus on you, not on us". 🤣🤣🤣👎

"Focus on you, not us". I totally agree with you 😂😂

The responses to this article are very predictable: Yet again, let's all trash Google for changing business strategies. It amounts to a cheap shot. My comment isn't about trashing Google. I want to somewhat trash the article, or rather its author. I've used Google Meet. It's a superior product compared to WebEx and Teams, both of which I use regularly. I also use Google Duo on a regular basis. It's effortless to use, and it seems to do everything that I might need it to do. I also use Google Voice. Again, I have nearly all praises for Google. But I've never used FaceTime. In fact, I don't use or buy any Apple products or applications. I discovered long ago that they may "just work," just not for me, but maybe for someone else. So, I'm thoroughly confused when the author assumes that his readers will automatically understand what he means when he implies that Google's Meet and Duo somehow don't stand a chance of competing with FaceTime unless they combine. What's his factual or experiential basis for that premise? Why didn't he explain or briefly present examples to support his fundamental premise? This dishonest and/or lazy style of writing is effectively just subtle propaganda for Apple. With a little due diligence though, the problem with the sloppy writing could easily be corrected.

I don't think that the problem lies with the quality of Google products, their usability, functionality etc. I think that it is more to do with the lack of promotion and overall committment on Google's part to their own products, concepts, projects etc. I mean, if the company that makes the stuff, doesn't stand by it or shows a lack of interest in it...then how can you expect consumers to do otherwise? Do you know how many people have no idea that the Pixel is a phone made by Google? More than you'd think. Hell, a lot of people don't even know what a Pixel is if you straight out ask them!

Uh oh found someone with too much time on their hands. Did you actually read the reply or did you pull the whole "Google simp" bit out of your rear end? Apparently your head is up there as well...

Aha...sure thing. Above mentioned position seems to apply here as well...

Too many soy enabler working in Google. This is why Apple dominate. Soon Tesla will Dominate cellular. Can't wait until Tesla jump in and make these tech giants squirm.

Google is going to be the Number 1 reason I return back to Apple. Half baked apps, start/stop projects, Bugs galore with Pixel phones and Google apps. I'm using a Note 20 Ultra now, but the iPhone 13 Pro or Pro Max seems tempting. I almost wish Samsung could buy Google and merge a clean Android system with great hardware, but Samsung must continue to use Qualcomm modems. Exynos modems are scary.

I jumped ship last year and haven't looked back.

Guys I can tell you 1 thing: if duo was an unsuccessful product, it would have stayed for decades, but because it's so successful, especially since covid, of course Google will drop it. I just can understand how such a big company can't get a thing right.

why is it that Duo and Meet can't remain separate products and Duo still compete with Facetime? I did not see that answered in the article.

Google shows it can't get anything right I mean they keep releasing a pixel every year. Who has actually seen a pixel in the wild besides the AC writing hacks 😃
Android Central Newsletter
Thank you for signing up to Android Central. You will receive a verification email shortly.
There was a problem. Please refresh the page and try again.