Google could bring its budget Android One phones to the U.S. later this year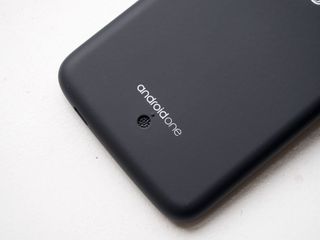 Google launched the Android One platform in India in 2014, tying up with third-party vendors to offer $100 phones with clean Android and the promise of quick updates. According to The Information (opens in new tab), Google is looking to bring Android One phones to the U.S. "before the middle of the year." The phones will be priced between $200 to $300, and will receive software updates and security patches directly from Google for "two years from sale date."
The report also mentions that Google is planning a major ad campaign for the Android One platform, which will likely be similar to what we've seen the company do for the Pixel. There's no mention of a manufacturer yet, but it looks like Google is picking LG for the first device.
Google largely failed to make a dent with Android One in India as the first wave of phones were not as powerful as their competitors, and there wasn't a lot in the way of a marketing push from the company. However, Google has learned from its mistakes, and the company has since allowed more leeway to its partners over the specs and design. The $200 to $300 price range also allows Google's partners more choice when it comes to choosing the internal hardware.
With the Nexus brand going away and the Pixel positioned at the high-end segment, Android One could be the ideal platform to fill the void in the budget category in the U.S. A decent sub-$300 device with software updates directly from Google will be a potent combination, and right now, there aren't many devices outside of the Moto G family that offer a clean Android experience and great hardware in that price segment.
Google will also be looking to the Android One platform as a way to raise brand awareness around Android itself. The company will also likely use the platform to push its own services, including the Google Assistant. Currently, Assistant is limited to the Pixels, but it is entirely possible to see it make its way to Android One handsets in the future. On that note, it looks like Huawei's decision to use Amazon Alexa in its U.S.-bound Mate 9 caused consternation between the Chinese manufacturer and Google.
Harish Jonnalagadda is a Senior Editor overseeing Asia at Android Central. He leads the site's coverage of Chinese phone brands, contributing to reviews, features, and buying guides. He also writes about storage servers, audio products, and the semiconductor industry. Contact him on Twitter at @chunkynerd.
I'm hoping we at least see a Snapdragon 652 on this thing.

BlackBerry DTEK50 is a very good budget device.

Hey i am not looking for a muscle car, if this phone runs good It might be my next when. When my 6P dies, that is

Behold the rebirth of the Nexus line in the US

If they're going to make Google assistant possibly available for Android one please don't forget about Nexus users

Don't go for this One OEM's Doesn't stick to there guaranteed updates. In India 1st gen and 2nd gen are still waiting for nougat....

My call has been heard. This is so wonderful. I don't need a top of the line phone. I need an affordable Nexus/Pixel Project Fi ready phone. Hope they make OS updates for 3 years, though. 😀

My thoughts exactly. This is great news!

Really looking forward to this!

Read Mayur's comments on updates.

Hopefully we'd have better luck here in the States.
Just wondering if they'll call it an Android One, Google Play Edition, Nexus, or Pixel?
I'm still using a Moto Nexus 6.

Along with being a decent low cost phone that's kept up to date, picking up one of these as a phone to tinker with could be pretty decent.

Possible you will toyed this phone by around the time of middle of May month.

I don't get it -- what's the big deal here? I can buy ZTE or BLU phones for under $100.00 all day long already. So Google stamps their name on some cheap phone made by some unknown manufacturer and we're supposed to go gaga? BTW, Google said the Android One won't even get security updates, so basically it's another environmental disaster throwaway. What's the point?

It has Google's name on so yes GAGA

Hmmm, not what I am reading: "and will receive software updates and security patches directly from Google for "two years from sale date." And not too familiar with the ZTE's and BLU's but from what I am seeing they are on Lollipop and Marshmallow? Unless you can buy these unlocked and sideload the Images/OTA's.

Blu and ZTE don't provide software updates to those sub-$100 phones (or any of their phones). You buy a phone that's out-of-date on Day One, and then you have to buy another $100 phone a year later if you want to stay remotely current with software updates. If you can get Blu- or ZTE-level hardware, with guaranteed software updates for 2 years for $200, then buying a $100 phone every year seems a little less appealing. But 2 years is still too short, and I don't believe that any of these companies will actually adhere to the program. Even Google themselves can't handle a simultaneous roll-out of software updates for their own Nexus and Pixel lines, so I doubt they'll be able to support even more phones. Apple supports way more devices for 4-5 years, so I'm not sure why Google can't do the same thing. But clearly they can't.

on top of what all replied they also have malware on those devices. remember BLU which sends data to china.
no thanks

Updates. Updates. Updates.

BLU is a good vendor to start, in U.S

Hopefully they can keep the spyware off of their phones. I do like some of the phones that they have realized, but I've never earned one. https://www.google.com/url?sa=t&source=web&rct=j&url=http://www.androidp...

I'm still salty over the death of the Nexus. Pass....

So we lose Nexus but get Android One? 😕😞😩

Android One phones only receive 18 months of updates which is defined as "at least one major software update and several smaller security patches. Would love to link you directly to Google documentation but when i do I get flagged as posting spam. Might want to control that blacklist/whitelist a little better. maybe whitelist support.google.com ¯\_(ツ)_/¯

Test .... How long your Android One will get updates
All partners have committed to giving software updates for at least 18 months after the phone's launch. All Android One phones will get at least one major software update and several smaller security updates. https://support.google.com/android-one/answer/4457705

Its already been stated that the US Android one phones would receive 2 years of updates. The US Android one phones are going to be priced between $200.00-$300.00, not the $100.00 Android one phones of India (this has been named as a large factor in why they will receive better and LONGER software support than the Indian phones). It has also been stated that Lg is expected to manufacture the initial device (s). But, you go ahead and beat your dead horse. You seem to enjoy it.

If it works with Fi, this could be awesome.
Android Central Newsletter
Thank you for signing up to Android Central. You will receive a verification email shortly.
There was a problem. Please refresh the page and try again.