Google Cloud Platform to power Spotify's streaming back end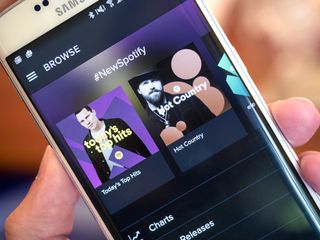 In a win for Google's cloud business prospects, Spotify has announced that it will be migrating its back end infrastructure to the Google Cloud Platform. Historically, Spotify has powered its music streaming service through buying or leasing its own server hardware and data center space. However, the company says it is turning to Google's Cloud Platform partly as a cost-saving measure, but also because of the platform's reliability. From Spotify:
In a space that includes Amazon Web Services and Microsoft Azure, securing the business of Spotify, and its tens of millions of users, is a big win for Google. Given the complexity of its back end, Spotify says that the full transition will take some time to complete.
Source: Spotify
Now can they allow me to store my music in the Cloud and still stream with Spotify like Google Play Music can? Please? PLEASE? hehe

Spotify is mostly in AWS apparently... https://aws.amazon.com/solutions/case-studies/spotify/ That's an official and current AWS Case Study. What's going on??? Posted via the Android Central App

when you said AWS I thought you meant the cellular frequency band 4. I'm too nerdy. AT&T Galaxy Note 3

Amazon has a more robust system than Google. I wonder what made Spotify of their choice. Posted via the Android Central App

Maybe cost? And while Amazon's is better, it's not like Google is terrible Posted via the Android Central App

Exactly Posted via the Android Central App

Why is Amazon better than Google? Posted my Nexus 7 (2013)

Why are you asking a question to the previous comment that specifically answers your question to begin with?!

Because it didn't. That's why. Posted via the Android Central App

Can explain how it is more robust? What are the differences?

It's taken me years to learn the nuances and I'm only a fraction of the way there. They're not the be all and end all, but if you are interested, a good start would be to look up the Gartner Magic Quadrant for IaaS. Posted via the Android Central App

Google is great! Posted via the Android Central App

So...digging a bit deeper, apparently Spotify will continue to use Amazon S3 (the bit where all of the tracks are stored), Cloudfront (the bit that makes the service highly available globally) etc. + most of the critical stuff. Google appear to just be getting some compute/user account stuff. I wonder how far down Google's pants had to come down for that PR stunt... Posted via the Android Central App
Android Central Newsletter
Get the best of Android Central in in your inbox, every day!
Thank you for signing up to Android Central. You will receive a verification email shortly.
There was a problem. Please refresh the page and try again.