New Google Assistant SDK will bring intelligence to just about any hardware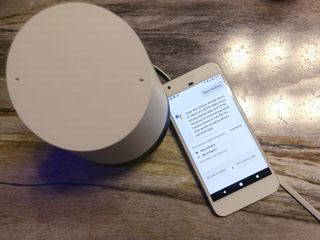 Google Assistant is making another expansion, but this time it's important from a hardware developer perspective. Google has just announced a developer preview of the Google Assistant SDK, which will allow hardware developers to use the intelligence of the Assistant for their projects.
Google is clearly positioning this as more of an intelligent back-end to be used with a variety of hardware projects, more so than simply releasing products that exactly replicate what the Google Home already does. With this SDK, developers can make hardware that can take in voice commands and then perform actions using Google Assistant as the back-end rather than having to create their own voice control system. Google points out projects like a robot that responds to commands or a cocktail mixer that can make your favorite drink by voice.
It's a powerful tool because Google Assistant voice control goes well beyond simply taking in a few words and performing a simple action. Assistant can parse full phrases or sentences and give the developer a full read out of the text as well as infer different insights based on the structure of what was said. It's the sort of natural language processing we're all getting used to when using Assistant on phones and Google Home, but it's something that developers are now getting for free rather than having to build something themselves.
Google says this is very much an early release of the Google Assistant SDK, and there are several features currently in development including hotword support and companion app integration. Developers can get to know the Google Assistant SDK from the Google Developers website and get started.
Andrew was an Executive Editor, U.S. at Android Central between 2012 and 2020.
Google launching this is a decision about wanting their platform to be ubiquitous rather than making money selling Home devices. Toaster with a voice assistant. LOL "Hey toaster, make the toast light brown." "OK!"

Please don't get me wrong, I love Google products and have an Android phone, Google Home, Chromecast and Chromecast Audio, but I'm just wondering how Google benefits from providing this software platform for other developers?

Data flowing through their servers. The best benefit of all.
Android Central Newsletter
Get the best of Android Central in in your inbox, every day!
Thank you for signing up to Android Central. You will receive a verification email shortly.
There was a problem. Please refresh the page and try again.