Google Assistant is now available on hundreds of millions of Android phones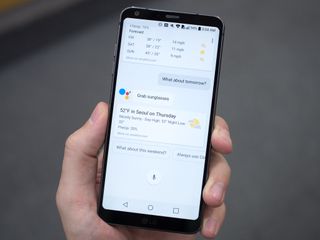 From just two handsets to hundreds, Google has lifted the device restriction on its AI helper, Google Assistant.
Announced earlier this week, Google Assistant will replace Google Now and Now on Tap on any device running Android 6.0 and above that supports Google Play Services. That doesn't sound like a lot, but it is: nearly 32% of all Android phones are running Marshmallow or Nougat, which translates into nearly 500 million devices (if there are 1.5 billion active devices that can connect to the Play Store).
To access Google Assistant, one simply needs to hold down the home button on their device — the same method as accessing Google Now. The transition will take a few days to complete, since it involves receiving an updated version of Google Play Services, but once it rolls out it will be the single biggest update to Android in years that didn't have to be approved by a phone manufacturer or carrier. That's because Assistant fundamentally changes the way one uses an Android phone, shifting much of the interaction from text to voice.
Google Assistant, in addition to being on phones, is available on Android Wear 2.0 devices, Google Home, and, soon, Android TV through the NVIDIA Shield.
The rollout for phones will initially be limited to U.S. devices but will soon be available for English speakers in Australia, Canada and the United Kingdom, as well as German speakers in Germany. Google says more countries will come soon.
Get the Android Central Newsletter
Instant access to breaking news, the hottest reviews, great deals and helpful tips.
Daniel Bader was a former Android Central Editor-in-Chief and Executive Editor for iMore and Windows Central.
It's so nice when control is taken away from the anti consumer crappy carriers and Google can push updates like this directly via play services.

Yeah, who wants a multi-billion dollar international company forcing updates to their phone... Wait, never mind

But not so nice when a giant company forces updates on consumers, whether they want it or not. Don't be fooled, Google isn't doing this for you, they're doing it because it plays to their interests.

all this is is a rebranded google now. chill out

It's google accessing your information and learning from it. Rebranded? Yeah, but also much smarter.

its not smarter because it accesses your information and learns from it. it did that before. its smarter in how it responds to you. and alast you are free to not use it. chill.
out.

And this is different from anything google how? Don't know where you been the last 10 years but everyone corporate company data mines your information.

No, it's NOT just a rebranded Google Now. There's no longer any way to type queries. The ONLY way to interact with it is by speaking. That makes it unusable in a lot of places where I could use Now discretely. Obviously you hadn't actually used it.

But you are not forced to accept this update. You are presented with an opt-in asking you if you will give Google Assistant the permissions needed to help you such as Google Activity, Location.... And the CHOICES are "Yes, I'm in" or "No thanks". So how is this considered forced?

Matrix, I wasn't offered any choices. I long pressed Home this morning, and boom, I had assistant screaming at me. "How can I help you?" You can shut the Hell up and give me back Google Now. I tried asking it how to get Google Now back, but the only suggestion was to use the Google Now Launcher, but that isn't going to work.

Ikeman 90 is right. You've already had it as far as what Google does with their data collection for years. It's a rebranded OK Google.

So who is forcing you to use it then?

What are you, new?
"What, Google will be collecting my information with Google Assistant?" You're a bit late in the game to be concerned with that, don't you think?

Svp arrive pas a mettre cet apareil a jour aidrzmoi

From Google: "The Google Assistant will begin rolling out this week to English users in the U.S., followed by English in Australia, Canada and the United Kingdom, as well as German speakers in Germany. We'll continue to add more languages over the coming year."

What about English speakers in other countries?

I'm guessing it's also based on the phone's system language.

Make Google Play Services great again

So I just wait for an update to Google Play Services and it'll be there?

/me stares at phone...... cmon... cmon

You're not alone, brotha.. I even signed up for the Beta today, but so far nuttin'...

glad i'm not the only one who still hasn't gotten it yet.

Just heard - Verizon blocked it. Something about they want their slaves I mean customers to pay an additional $18.99 per month to use it.

Where did your hear this?

Assuming he was providing fake news as a joke.

He is so wrong. It's actually AT&T, the new Verizon. Greed has shifted.

Lol, Google Wallet... http://www.androidpolice.com/2013/05/01/a-brief-history-of-verizon-and-g...

Take what? There is nothing this does to interfere with VZW in any way. There is no reason for them to care at all.

And once again my so called "2015 LG flagship" LG G4 is outdated. **** you LG and my carrier!!

Your G4 doesn't have marshmallow? o_O

Who's your carrier? http://www.androidcentral.com/lg-g4-owners-hows-marshmallow-update-treat...

Telcel in Mexico. The thing is, I just checked again, that there is no way to root Marshmallow for the G4 locked bootloader. So even if I find a Marshmallow firmware from another carrier is not useful to me.

You live in a 3rd world country. How are you even upset?

to SoCalBIGmike: That is a really stupid comment. Here in the US carriers act the very same way. Think before you write.

Yup, they are like that everywhere. And to be honest Verizon and Sprint seems to be the most restricted ones when pulling updates and stuff.

Not here in Europe - carriers here are just dumb pipes. Possible exception would be carriers in the UK - but that's not Europe (anymore).

Do you even know what a 3rd world country and a 1st world country are? Go back to school and check the Cold War era. ******* ignorant!

Please, enlighten us on your definition of 3rd world country since you obviously seem to know exactly what it means.

The US and its allies were 1st world countries, the URSS and its allies were 2nd world countries and those that didn't join any were 3rd world countries. The idea was kept because "3rd world countries" were not rushing for technology, etc...

Is it a 3rd world country it was during the Cold War, ie it was neutral during the Cold War. Its not a 3rd world country now.... But one could make a decent argument to say it's close to being a narco-state but meh another discussion for another day

I don't think there is any support whatsoever for the bootloader-locked H815P

Yours is still on Lollipop? T-Mobile's is on Marshmallow, so you may have to update it via the LG Bridge program.

I don't know why my response went into a separate post but yes, I'm still on Lollipop =/

it does that initially.. then refresh and it fixes it... AC ism

The only thing bad about the G4 was the boot loop issue. And you're good, you'll get Assistant.

I know. I had the bootloop. Thankfully I was still under warranty and my carrier dealt with the shipping and everything.

Sadly yes, I am still on Lollipop. My ISP never really updated beyond 5.1 or at least I couldn't find the Mashmallow firmware, I tried again last week. I'm also rooted and I'm not sure if Marshmallow is rooted for us with locked bootloader since the way Lollipop is rooted is throught flashing the entire rooted OS. I guess I'm diving into XDA tonight.

Go back to stock firmware and update the phone.

I'll check that out. Mine being H815P is not easy to have root and I need root on my phone.

Once you root you no longer receive carrier updates. That's why you never got Marshmallow.

I know but the thing is root. I just checked and there is no root for Marshmallow for the G4.

I had the LG G4 and it was on marshmallow but i live in USA so it may be different depending on carrier and country it was great now i have the LG G5 which can get the google assistant

Much ado about nothing...
https://download.lineageos.org/h815 This link is for the international version. Look up yours in left panel.

Thanks but mine is H815P, which is bootloader locked and can't flash it. I hate that there are way too many variants. Even worse some have locked bootloader and some unlocked like the H815 but not the H815P.

I can't wait for this update on my 6p. I used now on tap alot but assistant is gonna be extremely nice to use.

Error. Thought I had it already, but no.

So how do we know when we've received the update? Google Play Services doesn't show a version number and date like other apps. I guess we just have to periodically say "OK Google" until we get the prompt to set up Assistant.

If you look in Settings --> Apps under Google Play Services you should see a version number, latest version is 10.2.98 (various numbers). The apk is available at various and sundry sites that you can look for.

I have that version but when I hit the home button it's the same as when I had google now.
i don't get what can I help you with.

Does "OK Google" work for anybody? It only works 10% of the time on my Samsung Note 5.

Nice! I've been wanting to try Assistant.

I have a Pixel XL and the Google Assistant is nice and everything but when are they actually going to update it? I still cant use the "WHAT SONG IS THIS?" like we used to with Google Now back in the day. Even my Google Home can't schedule certain things. I haven't seen any article saying that Google Assitant has been updated to support more functionalities. Hoping they step it up.

It was always there. All they did was release the block to all models besides product model pixel and pixel xl

I hated Google Assistant, I like Google Now and that's why I didn't get an overpriced Pixel XL and returned it. Damn it.

You live in a developed country compared to others.How are you even upset?

I owe you a beer a 3rd world country beer! ☺

Wait, you didn't get one, but you returned what you didn't get. Ok, sounds good. Lol.

I'm all for it. This isnt adding any new I do Google can already get access too so all you conspiracy freaks can calm down. Every one of you have a device that came be tracked. Especially if you posted here. You don't HAVE to take the update but that'd be pretty dumb not to considering what it adds to your phone. Pure awesomeness....

I've got a galaxy S7 edge running marshmallow, and an axon7 running nougat. No sign of AI yet. Does it have to be downloaded?

No. It's a playservices update through the play store when it comes. The headline here sucks. It makes you think you just go and get it. Horrible writing.

You seem mad. You'll get your free software soon, k?

Correction for title Google assistant will be ready for hundreds of millions of devices when you get it and the rollout is starting today. Your headline makes it sound like you just go and download it now. Not the case....

Am I the only person who thinks that Google Assistant (have it set to double tap gesture on nova launcher through Google Allo) is not "Better" than Google Now/Now on Tap? I use Now on Tap to quick make calendar appointments from text messages almost daily. And I love my specific cards for commute and the like Google Now has gotten to know me pretty well over the past 3-4 years. Plus it's not Better if I use my voice. Assistant, although you don't have to use voice, rely's on it heavily and while I'm all for that it's not always the best solution. I hope they can work concurrently somehow.

So, how do I know I got it on S7 with Nougat ? Should I check any version number ??

When I saw the title I thought nice let's try to update because I read it is to millions of users that have 6.0 and play services.. until I read on... Only English ok that narrows it down greatly, so for me (Dutch) that will still take many many months of not years

downloading a 47mb update to the google app...itshappening.gif edit...nothing different after update...

I did the same exact thing I guess it's a period of updates

It's an update to Play Services, not just the Google app.

Sounds to me all they did was change the name

Of course Canada has to wait. Damn google

I received an update to my Google app but I do not see assistant on my phone

Same here updated both play services and Google app nothing different

How do ya know when ya get it?

i have the latest beta verison of play services and up to date google app still no google assistant.

HTC 10 running Nougat, received the Google app update but no changes from OK -> Assistant. <shrug>

4 months later and the "please google, send me free product" Google fanboys. Aka the people who post these limp dick fluff pieces. Are still salivating over Google assistant.
First, all it is, is a rebadged renamed Google now. That's it. In use, it proves even less useful more erratic and worse performing than its predecessor. Unfortunately, on the pixel you are stuck with it, if you want to use Voice commands .
Disable assistant and Google now voice commands st op working as well. The fact that these commands fail more than they succeed is just par for the course fur Google.

Any one in India getting this Google Assistant. Google updated with 47 MB, but nothing happen. So, Indian users have to wait.

Doesn't sound like much to get excited about.

"It's here." But it's not here?? Failure to launch?

I'm not from US but if I change my phone language to English (US) can I get G.A?

I think so but also change your region

Has anyone actually got this working yet?

Nope except Android central phone, I guess.

"Hey Google. Remind me to get pissed that you're advertising the ability to set reminders with Google Assistant on every other device EXCEPT Google Home."

I've had the Pixel since December and never once tried Assistant. I don't care for it at all. Is there anyone in the same boat as me?

Just curious, if you never tried it, how can you say you don't care for it at all?

This is improperly titled. As of right now, it's still only available on the Pixel, the LG G6, and one random guy in India's phone (claimed). I guess we shouldn't have jumped the gun on this one.

I really hope people (like myself, said the Dog) who use US English but are located in other countries, also get access to Assistant. I can't see why it should be limited to a geographical but not a lingual audience. For example, I imported 3 Google Homes and using them with great joy in Denmark (Europe). I really need Assistant on my GS7E :)

Cmon googs! I have a N5x with developer preview... I should be first! Why am I waiting like some 3rd world phone owner?

****, I'm not even on the waiting list. For all of us non-english speakers these updates will never come. I mean, I'm from Israel and they won't even sell the Pixel here.

When Assistant arrives, I'm going to ask her why she took so long.

It's been two days, and I have yet to read of anyone receiving this update. Something tells me Google is having some issues with the follow-through on this promise. Maybe they bit off more than they could chew?

Maybe it should be classified as fake news lol

More like alternative facts lol.

I haven't seen an update to google services yet. Maybe I have to wait longer Lg V20

I have it on my rs988 LG G5 works great love it.

Coming up on day 5 in a few hours. Anyone gotten this update yet?

Hahaha. I was a little intrigued at first, but now going on so many days I've lost interest. I want the sense companion on my 10. Winner of it's any good.

Just received Assistant in the UK. Sim free Galaxy Note 4

This is the WORST thing Google has ever forced on people. I got updated over night. I HATE IT! With a passion. No longer can you just long press the button and get the cards you're interested in. No longer can you type a query. No, now you need to TALK to your stupid phone. I could easily use Google Now anywhere. But can you imagine talking to your phone in the middle of a meeting? Or during a wedding? Or in any of the thousands of other places where talking out loud is annoying, embarrassing, or downright rude? Where you might want to be discrete? And there's no option for going back to Google Now. Thanks for forcing this unwanted bloatware on me, Google. Thanks for nothing, that is. Do Google's employees really sit around work all day talking to their phones? Maybe they should go out into the real world and see how real people work.