Google Assistant is finally coming to the Sonos One and Sonos Beam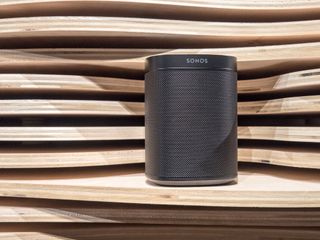 (Image credit: Android Central)
A lot of announcements have already come out of CES 2019, but without a doubt, this is one of the most exciting yet.
At a press briefing on Tuesday, January 8, Google confirmed that it's finally bringing the Google Assistant over to the Sonos One and Sonos Beam. An exact date has yet to be revealed as to when the rollout will begin, but it looks like we've finally reached the finish line.
If you don't have a One or Beam, Google says that "earlier speaker models" will also be updated with Assistant support, but right now it's unclear if all previous Sonos speakers will eventually get the Assistant or just a select few.
This, friends, has been a long time coming.
Sonos first announced that it was working on adding Google Assistant to its speakers when it unveiled the Sonos One back in October 2017, and while we went through 2018 month after month with no sign of the Assistant, it was looking like Sonos would still meet its deadline with a push to make the Assistant available at some point during the holiday season. A few months later, we were met with an announcement that Sonos was pushing everything back to 2019.
We'll update this post accordingly once we have a concrete date set in stone for the Assistant's roll out to the Sonos One and Beam.
Joe Maring was a Senior Editor for Android Central between 2017 and 2021. You can reach him on Twitter at @JoeMaring1.
Without a date, this is not news. SONOS and the constantly moving release date. We are no closer than "sometime in 2019" that we had after moving it twice in 2018.

Preach. Dates or this is just vaporware.

Srsly - why is it taking so long to get this functionality? Did amazon buy them (Sonos) out for an exclusivity period or something?

How would this work on older models? The new One has far field mics, but the old models required an Echo Dot for Alexa to work, so will this require a Google Home Mini? Or is it going to be through the Sonos app? If I'm using the app, why not just ask my phone?

From my understanding, Google Assistant will be able control the old models directly. Currently it's limited and quite cumbersome with IFTTT.

What a stupid article. A feature which has been "coming soon" for a year is now, wait for it, coming soon. And that, to you, qualifies as a MIRACLE?

This is not news in any way, and is just clickbait. From the headline, I foolishly thought you were going to give us the go-live date for this. But no... It's yet another whole article to really just tell us it's "coming soon."

Don't waste your money on one of these - they don't have google cast support
Android Central Newsletter
Thank you for signing up to Android Central. You will receive a verification email shortly.
There was a problem. Please refresh the page and try again.