Google Assistant expands to LG refrigerators, washing machines, and more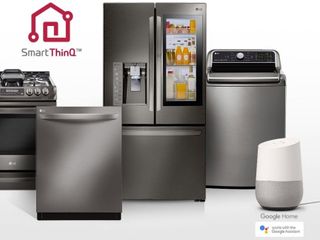 Since its debut on the Google Pixel and Home last October, we've seen a fairly rapid expansion of the Google Assistant to other phones and smart home devices. LG is the latest company to inject the Assistant into more of its products, adding the AI to 87 different smart appliances.
LG made this announcement in Seoul this morning, revealing that the Google Assistant is now available for its Wi-Fi connected refrigerators, ovens, washing machines, dryers, air purifiers, vacuums, etc. Because of this, you can now control many of LG's smart appliances through your Android or iOS device, Google Home, or other smart speakers with the Google Assistant built-in.
Users have previously been able to control LG's smart appliances through the LG SmartThingQ application, but with the introduction of Google Assistant support, you'll now be able to use your phone or Google Home to issue voice commands for making more ice in your fridge, checking how much time is remaining on a wash cycle, change the temperature on your oven, and plenty more.
Per LG's Home Appliance & Air Solution Company's President, Song Dae-hyun, "LG makes it especially easy for consumers to connect and interact with Wi-Fi built into virtually all of its 2017 appliances. Our collaboration with Google is an example of our strategy of Open Partnership, Open Platform, and Open Connectivity."
To commemorate the arrival of Google Assistant, LG will be including a free Google Home with the purchase of any of its smart appliances released in 2017. The promo will be available in the United States starting on October 8, and it will end on the 25th.
Android Central Newsletter
Get instant access to breaking news, the hottest reviews, great deals and helpful tips
Joe Maring was a Senior Editor for Android Central between 2017 and 2021. You can reach him on Twitter at @JoeMaring1.
https://i.imgur.com/yNlQWRMr.jpg

would be nice if they provided some real world examples of why anyone would find this useful

There are so few kitchen appliances that really benefit from an internet connection. One of these companies (Samsung, I think?) touted being able to remotely start preheating your oven when you're on the way back from the grocery store, which is just unbelievably stupid and unnecessary. We're not at the point yet where a fridge can know what is in it and what you need to stock up on, which is dubiously useful at best, so I don't see any use for Assistant on a fridge at all. The only thing that makes sense to me are cookers whose temperature you can adjust remotely. I've done that with my wifi-connected sous vide cooker a few times, and it's handy, but not exactly a major selling point.

Yeah but the appliances don't cost more than they would have if they didn't include Google Assistant. Also, people generally buy appliances to last them at least 10 years, and closer to 20. In that time, there could be enough advancement to the technology to make it far more useful. What I'm trying to say is, don't go out and buy new appliances just for Google home support. But if you are like me and you just bought a house and need appliances, it's worth considering the "smart" appliances since they don't cost much more and they could potentially be significantly better in a few years.

My neighbor got a fancy new grill. Look, he started it with an app! I want that!

Ok Google, where's my beer? Sorry I can't help you with that right now. Noooooooo!!!!!!

Ok Google, where's my beer? Your roommate drank the last one last night. Noooooooo!

Roommate drank the last beer? Okay Google, order a box of shells, a tarp, and a shovel. Same day delivery.

I could see a few use cases - an alert on my phone if the fridge/freezer temperature falls out of range. Or if the oven or stove was left on too long. I know on some refrigerators you can use your phone to see inside, but I don't think that's terribly compelling. Um, maybe let me know when the laundry is done so I can pull it out of the dryer before it gets wrinkled? I guess I can only come up with alerts as good use cases.

I bet it's less about why we would find this useful, and more about why Google and LG would find it useful to know even more about what we buy, etc.

Which in turn leads them to make things we would find useful.

Last I remember IOT devices were a security nightmare. It's this still the case?
Android Central Newsletter
Get instant access to breaking news, the hottest reviews, great deals and helpful tips
Thank you for signing up to Android Central. You will receive a verification email shortly.
There was a problem. Please refresh the page and try again.