Google Assistant is coming to Roku, new streaming players in tow, too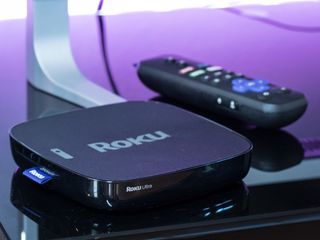 (Image credit: Android Central)
Three important Roku-related stories from our pals at CordCutters.com:
First up: Google Assistant is coming to Roku devices. You'll presumably connect your Roku account through the Google Home app. Once that's done, if you've got a Roku Streaming box, like Roku Ultra or the Roku Streaming Stick — or the just-announced Roku Premiere seres — you'll be able to pause and search for content, or launch channels. Or if you have a Roku-powered TV, you'll be able to turn it off and on, change the volume, switch inputs, or change channels if you have an OTA antenna attached.
Additionally, OS 8.2 is on its way to Roku TVs starting in November. (The new Roku Wireless Speakers won't ship before then). It includes things like support for "speech clarity" and Spotify. And Roku streaming players will begin getting an update to OS 9, which brings better voice control for free content through Roku's own channels.
The OS updates are pushing the Roku Wireless Speakers — meant for Roku-powered TVs — back a few weeks to November.
And, finally, there are two new Roku devices on the way in October. Roku Premiere brings a 4K option for just $39. (Roku Premiere+ adds a voice remote and is exclusive to Walmart.)
Android Central Newsletter
Get instant access to breaking news, the hottest reviews, great deals and helpful tips
Wish they would add support for streaming live tv from sources like Silicon Dust network tuners. I think it requires mpeg 2 support??? If my android phone can handle HDHomeRun app, roku should be capable. Perhaps the recent Amazon fire tuners will prod Roku to see that live tv is still a thing.

Yeah... +1 I ended up having to buy another Nvidia Shield for a bedroom just so I could use HDHomerun in that room. I currently have a Roku Ultra in there - which will shortly be collecting dust.

Just run the live TV with Plex on Roku. I have a HDHomeRun Connect Duo and have it networked to my Plex Server and I use Plex on all my devices to watch live TV! I can even be away from the house and watch live TV on my Android phone through the Plex app.

Interesting... as a long time Roku user, the problems with the latest Ultra are widespread and get worse with each firmware update. I've stuck with a Roku 3 which has been rock solid. However getting Google Asst would be very cool..I'm also a Roku investor so this announcement makes me smile!
Android Central Newsletter
Get instant access to breaking news, the hottest reviews, great deals and helpful tips
Thank you for signing up to Android Central. You will receive a verification email shortly.
There was a problem. Please refresh the page and try again.