Google Assistant can now set your lights to turn on or off on a schedule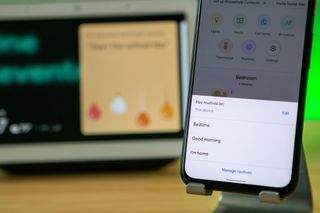 (Image credit: Andrew Myrick / Android Central)
What you need to know
Google Assistant has gained the ability to schedule smart home actions.
It is now possible for you to do things like schedule your lights on or off at specific times of the day.
In addition to setting schedules for the current day, you can also set one for another day within the next seven day period.
At CES this year, Google announced a new Scheduled Actions feature for the Assistant. The feature, which lets you schedule smart home actions, is finally rolling out to users.
For example, you can now say, "Hey Google, turn on the lights at 7 AM" if you want your smart lights to be turned on in the morning. Aside from specifying a time, you can also schedule a command to be triggered for a specific duration by saying, "Hey Google, turn on the lights in ten minutes."
As noted by Android Police, however, the Google Assistant currently returns an error if you use a temporal adverb such as "tomorrow" or "next week," without specifying an exact time. It is likely that Google will be fixing the issue with an update in the near future. Fortunately, you can easily cancel a scheduled action. To cancel a scheduled action, you'll have to say, "Hey Google, cancel my scheduled Actions." The Assistant will then return a list of all your scheduled Actions and ask you to specify the one you want to cancel.
The feature is now live for most users, although some of you may still have to wait a few more days to be able to start scheduling smart home actions. In addition to Google Assistant speakers and displays, the feature works on phones too.
It's kind of crazy how much basic stuff Google just misses. An example is the new home and away stuff. I can turn my plugs and lights on or off and that's it. It can't even turn my TV off. If they thought it through they'd make leaving or returning home trigger an actual routine.
Android Central Newsletter
Thank you for signing up to Android Central. You will receive a verification email shortly.
There was a problem. Please refresh the page and try again.