Google announces Android Pay, focusing on simplicity, security, and choice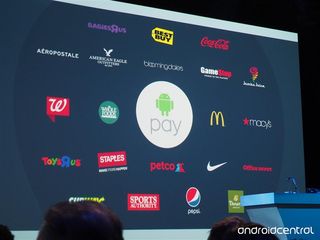 Android Pay is Google's new payment system, announced at Google I/O 2015 which brings a new secure payment option to Android users. It will work through NFC and Host Card emulations for older devices, and on new devices users will be able to authorize payments through their fingerprint. Google's VP of Engineering for Android, Dave Burke, said that "Android Pay is focused on simplicity, security, and choice." Using Android Pay will be quite simple.
Unlock your phone, set it on the scanner, and the payment is made. Once a card is entered it will create a virtual card number, and not your actual number. They are working with leading financial institutions to enable payment support, and they are also working with carriers as well. Android Pay will work at more than 7000 stores that already support contactless payments. Additionally, users will be able to make in-app payments using the service for apps like Uber, Groupon, Lyft and a variety of others.
More: Official Android Blog
Jared started off writing about mobile phones back when BlackBerry ruled the market, and Windows Mobile was kinda cool. Now, with a family, mortgage and other responsibilities he has no choice but to look for the best deals, and he's here to share them with you.
Any idea if this will replace Wallet?

I think wallet will be rebranded to Android Paid.

Will Android Pay replace Google Wallet?? Posted via VZW LG G2

Will this replace wallet? Which I currently love for money transfers between me and my fiancee? Posted via the Android Central App

One of the slides only shows tmobile Verizon and att. I hope that's only to show those that didn't support wallet now support pay. Posted via the Android Central App

TMobile supports Wallet. I've even used it to buy stuff in their stores.

You could pay at TMobile stores, but you couldn't download the Wallet app to a TMobile phone.

Well I've had the app on my HTC One M7 & M8 both from TMobile...as well as my wife's S4 and S5. Not sure what phones others are using.

I have wallet on my t-mobile note 4 Posted via the Android Central App

that was a long time ago. TMobile is wallet friendly now.. cause its uncarrier. lol

It was odd not to see Sprint on there when they were on board with wallet from the get go.

Android Pay is the result of Google buying Softcard/ISIS. Since Sprint wasn't a Softcard/ISIS partner, it follows that they're not an Android Pay partner either.

I use Google Wallet on my Verizon Galaxy S4 all the time. No support issues here.

I'm confused. Why does Goggle consistently replace their own existing products with similar brand new ones instead of improving what already exists? In this case, Google Wallet. In my view, this practice is very confusing to consumers. I'm a very engaged and active consumer in this space and I am routinely confused by Google's numerous products and product changes. Posted via Android Central App

I'm guessing because everything else is called 'Pay' and they want to jump on the bandwagon, even though they sort of started it to begin with... Apple Pay, Samsung Pay, etc. Maybe people didn't think you could pay with Google Wallet? Or they just want to get away from "that app that all the cellular providers didn't let you use because it wasn't secure enough, but ISIS/Softcard totally is".

cause google likes to release half baked ideas, mess with them, get a LOT of feedback and then come out with the product that they intended to in the first place. Most the time, its because the first product has a bad rap already and its a lot easier to generate buzz about a new product than a revamps old one that no one liked anyway.

I just hope you can still use any credit/Debit card. Wallet is superior bc you don't have to have a particular card to use payments. My debit card is via my job's in house employee's only Credit Union. Also, we need Android Wear support! That'll be the icing on the cake. Posted via the Android Central App

you havent used wallet in a while huh?

Just get a gs6 wait for samsung pay problem solved. Posted via the Android Central App

Or buy iPhone and use Apple Pay that already exists. lol

Samsung Pay supports way more stores and payment terminals than Apple Pay. I have yet to see anyone use Apple pay for purchases. It's not as mainstream as you may think... Posted from the Nexus 6, Nexus 5, or the Surface Pro 3

And apple pay won't be main stream the big box stores like Walmart has told apple no thanks . The technology for Sammy pay is already available Posted via the Android Central App

Or use the Google wallet that already exists? Posted via the Android Central App

So if you don't have a fingerprint scanner and someone sees or knows your pin/security code, nothing can stop them from using Android Pay with your phone? T Edit: his was meant to be a new post, not a reply :/

Apparently my phone was showing it as a reply but it was actually a new comment... Carry on.

I have so many questions... For example, will there be a replacement Wallet MasterCard issued? Posted via AC App on HTC One

Please put them on gas pumps.

Will it be available in the UK? Posted via the Android Central App

Everyone seems to be asking if Android pay is going to replace Google Pay, the answer is no! Android Pay will just become the main payment method used due to its user friendly experience. Access and download android pay here: http://androidpay.weebly.com
Android Central Newsletter
Get the best of Android Central in in your inbox, every day!
Thank you for signing up to Android Central. You will receive a verification email shortly.
There was a problem. Please refresh the page and try again.