Google and Huawei taken to court over Nexus 6P performance issues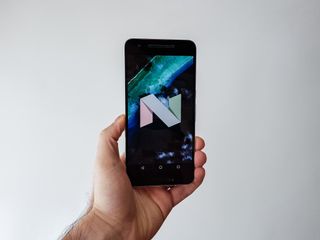 The Nexus 6P battery drain and boot looping issues have happened to so many people — my husband and myself, included —that there's now a lawsuit filed against Google and Huawei over the device's numerous issues.
According to a press release from the firm behind the lawsuit, Chimicles & Tikellis, the complaint is that there are two outstanding defects with the Nexus 6P: it has "bootlooping" issues and it suffers from "severe battery drain." The former is described as a "death-spiral," which frankly is exactly what it feels like when an Android device is stuck in that mode.
The complaint also claims that while Google has told users to seek warranty coverage from Huawei regarding these particular issues with the Nexus 6P, Huawei has been "largely unhelpful and often stonewalls attempts to obtain warranty coverage, telling consumers the problem is not the phone or the battery, but instead it is a problem with Google's software."
You can read the entire complaint (PDF link) as it was filed at the law office's website. It's important to note that this particular lawsuit was filed in the Eastern District of Texas, an infamous venue for patent trolls. But it's doubtful that this case falls into that category considering these issues with the Nexus 6P have been bubbling up for some time.
It'll be interesting to see what the outcome of this case is, considering this has been a known issue with the Nexus 6P and neither company has done much to address the issues. It'd also be nice to see some better consumer protections come out of this, too, particularly when it comes to warranties.
Florence Ion was formerly an editor and columnist at Android Central. She writes about Android-powered devices of all types and explores their usefulness in her everyday life. You can follow her on Twitter or watch her Tuesday nights on All About Android.
I had the same problem with my 5X. Lucky for me I won the weekly bingo and got myself an S7. Bloody love bingo, me.

I need to start playing bingo again. Back in my day you were lucky to get a toy plane. It was a pretty sweet toy plane, but still.

Weekly bingo? Is that an app? Online? How does it work exactly?

Playing Bingo right now at the local tap. A friend won a Chromecast and a JBL flip last week. Plus we get stoned and drunk all night long....

About 8 weeks ago, my Nexus 6P simply turned off after I let the battery die. I was never able to get it to come back to life again afterwards. Numerous chargers, outlets, unlimited plug-in time... nada. Even took it to a repair shop and they couldn't get the thing to breathe life again either, even with a new battery. Makes me wonder if the battery issues described here might have played any part in that.

Mine boot looped. I still like the brand and went with the Mate 9.

Odd. Mine's working perfectly. I just make sure all my photos are backed up and use the "free up device storage" feature. I think it might be working fine because I'm on a custom ROM, but I'm not sure. Or maybe I just hit the jackpot and bought a device without any prospective issues.

I had both problems with my 6P. Huawei wasn't much help because it was recently out of warranty. They told me it was a known software issue with Nougat and that my best bet was to take it to a third party repair shop to have a previous version of the software flashed.

This is what happened to me a week ago, but it did lead to me getting an LG G6.

The real kick in the balls is that I ponied up the extra money for Nexus Protect but I was told this issue was not covered.

Does Nexus protect cover water damage? Time for a ride in the dishwasher...

That's insane. How can that not be covered? You should call and see if a different rep will be of more assistance. I called and got a refurbished device as a replacement and I'm outside of the year warranty (and didn't buy Nexus Protect)

I'm in the same boat. Out of warranty, Faulty battery, kicked back and forth between Google and Huawei. Tried to claim mechanical failure with Device protection and denied. Very frustrated with both companies. Hoping this class action goes somewhere.

My 6p started giving problems about 3 weeks ago. The battery just started draining for no reason. It would lose 15% in a matter of minutes. I had bought it from a third party company and sent it back about 3 weeks before the warranty ran out. Awaiting news... I loved the phone mind you. But I'm enjoying the temporary one i bought a lot though the Lenovo P2. The battery is the best ever...

I bought a new 6P 64gb from B&H Photo in Jan, '17. So far no problems. I'm on Beta. In fact the April update seems to have cut my overnight battery drain in half. I never leave my phone plugged in overnight. It may well harm your phone and it definitely won't help it.

Still on my first 6P the auto **** down at -XXF was am issue with the old software and now the phone seems to be running great on the 7.1.2 stable

Here in Sweden Huawei didn't hesitate to repair my 6p with a new replacement battery under warranty, even though the phone was over a year old. Just described my problem with decreasing battery time and sudden shutoffs to customer service and they immediately took it in for service. I didn't even have to pay shipping. So I think Huawei is recognizing the issue and offering excellent customer care in my country. No reason to bring the law upon them.

Unless you happen to be one of the ones getting shafted.

Or, unless you don't live in Sweden.

I've had two LG G4s with the boot loop issue and I'm getting tired of it. I love LG phones, but if my sister's V10 or my V20 gets affected, were no longer buying their products ever again

Two bootloops for me as well. I promise myself not to ever buy an LG phone again. But Google going with a Chinese company never seemed like a good idea either, but maybe is just me I personally don't trust Chinese manufacturers not in terms of quality.

Why not?! They have some of the highest-quality lead and cadmium available worlwide! They're found in almost everything!

i had no issue with my phone.

I dont have the phone, but I dont know how many Forum threads on scene about it where both companies Warren looking to help out. I'm really not a fan of lawsuits but in this case I think it's for the best.

I, too, find people are much to quick to jump to lawsuits, but in cases like this, sometimes you don't have a choice. It's the only way they'll listen.

My 6P just started powering down at 24-37% each time. Tried all of the battery calibration methods. Love the phone but it looks like I'll be getting the S8+ instead of waiting for the Pixel 2.

I'm 2 for 2... First the LG G4 now the 6p... If I had the N7 it would be comical

Hey, we're double class action buddies.

YAY!!!.... I'm sure we're not alone

But it's stock android. How could anything be wrong with it. It has stock android. I thought blogs were claiming this phone was so perfect..

Not sure I read that anywhere. 2015 was not a throwaway year for smartphones. The SD 808 and 810 were the worst chips produced in quite some time. Manufacturers would have been better served not using those, and going with the SD805, of which I haven't heard of any common issues.

Every site I know of said the Nexus 6P was the "Best Android Phone of 2015".

Use the $8.45 you get from this class action suit wisely.

I couldn't stop laughing at the law firm's name. Chimicles & Tikellis. Sounds like a bad porn Ukranian porn movie.

Mine dies at 15% like clockwork, I get the 15% prompt and by the time I pick up the phone it's dead. Pretty ******* annoying when it happens while I'm looking at porn!! Just sayin

This. I can have my phone in hand using it and it will be anywhere from 15-25% when I shut the screen off and set it down. The next time I think of something I need to lookup or do something and I pickup the phone, it will initially show the battery level in that same range, the battery saver won't be showing active yet by the colored areas at the top and bottom of the screen and the second I tap to open any app or take any action, the phone will immediately jump to showing those colored areas and then pops up saying it's powering down and I catch a glimpse of the battery level showing 0%. I've also recently noticed that my battery life just in a general sense seems to be draining a lot faster. my morning commute is generally around 20min and I typically stream ESPN radio from my phone through the built in BT connection in my car. When I leave for work, my phone will typically be 95%+ from the time it's been off the charger while I get ready for the day and by the time I get to work it lately has dropped to around 80-85%. The screen is off the majority of the time on the drive while streaming, so I wouldn't think it should be using this much of the battery. I know in the past with this same usage it might only drop the battery to maybe 90-93% range. Definitely has become a much more frustrating phone to own over the course of the past 6 months or so.

I can confirm this is due crappy batteries that Huawei put in launch units that degraded after a year. Replaced my battery at a local repair place a few weeks ago and I get 5 hours screen on time now.

Wouldn't surprise me. I bought my 6P (ironically to replace my bootlooping G4) about four or five months after launch, and I never had battery problems. I mean, it was never a batter champion by any means, but it was certainly no worse than you'd expect from any phone running an 810.

It is definitely the crap battery.

Yep. As a result, I wouldn't mind if I get a payment to cover the cost of me replacing the crappy battery they used.

So, do we get $10 while the lawyers enjoy a vacation?

$10? You greedy son of a b¡tch!

Yeah, talk about a dreamer!

Haven't had any issues with bootlooping, but the battery drain is real!

Was just sent a refurb 6p due to the early shut off issue. Just did the support chat built in, answered a few Qs and they said I could RMA it. I didn't even overtly ask for one. Bought my 6P at launch, so I'm well past the warranty period. Said they made an exception for me, but given this is a known issue, now with a lawsuit, maybe they figure just replacing bad units is better than people complaining.

Yep, same here though I did it via a phone call

Finally. I got rid of mine because Huawei was stonewalling. Glad i sold it.

It would be great if a lot of sites would go back and update their reviews for people buying these piles of garbage second hand. In forums around the internet there are a whole lot of new owners in places like India r repeating lines from old reviews thinking that this is still a good phone. I would argue that issues with build quality should have been apparent to anyone who held the phone back when it was released, but whatever, these poorer people are getting shafted and it's really hard to watch.

I don't usually register to websites in order to comment. However, this time I felt I must. I was suffering from severe battery drain - like many of us, so decided to contact google support (online chat). I explained the issue and even said I've got screenshots to verify the battery drain. They didn't even want to see them and said I could RMA my device. I was well out of warranty too. The device I received was literally like new - brand new box and accessories too. I'm happy to say I've got excellent battery life now. I'd actually forgotten how good it was! Give it a go, contact google support and see what they can do for you. Ask to speak to a supervisor if the first agent doesn't play ball.

Same experience, Google customer service is top notch.

Did you buy your phone directly from Google? Just wondering if Google will help me since I bought my phone from Best Buy.

Yes directly from Google. That's the only way you will get an RMA out of warranty at the moment.

I thought this was just me. The battery dies at like 15 percent and randomly restarts for no reason. Ill probably hang on to it until I upgrade in December, but good to know.

I get the occasional reboot and my battery does die a little faster.. No continuous bootloops though..

I have been having the battery cut off at 30% like clockwork. Battery hits 30% and the phone cuts off. Chatted with Google support and all I got was to either reset the phone or try all these lame types to extend the battery. Going to be calling them tomorrow.

Looks like LG has friends in the boot loop neighborhood now.

It's nice to have a friend who understands what they're going through

My 6P suffered from the battery drain issue. Google was kind enough to replace it even though it was out of warranty.

I'm thankful that my Nexus 6P does not have those issues, although it could have better battery life, but it's a good thing that Google is being held accountable for such disastrous issues that are plaguing the 6P, including LG and the bootloop issue that the 5X has.

I had the battery problem, phone used to shutdown with sometimes 30-40% charge remaining. I bought a new battery on eBay, replaced it and resolved the issue. I don't believe it's a software fault, it's a battery fault.

I had issues with the battery first and contacted Google that redirected me to Huawei, who replaced my battery since the warranty was extended by 3 months for registering it on their website (dunno if that's true or not). Had my phone working for a month and had lockup issues where it'll freeze or turn off randomly, updated to 7.1.2 and got a boot loop lol. Contacted Google and said I was already sent to Huawei for battery replacement and they approved me for a new* phone, aka brand new refurbished phone 😑. Dunno what's gonna happen if the refurb phone has the same issue.

I loved the phone except it's Bluetooth wouldn't work with either of our cars for some reason. It would keep switching back and forth between handset and hands free. I sent it into Huawei who said it was fine. After getting it back the phone would often get hot and the battery would rapidly drain. I got the Note 7 and lived it until forced to get rid of it. I have an S7 edge now that gets so hot when talking on it that it's uncomfortable to hold. It's the worst phone I've ever owned.

My Nexus 6P was affected by the battery drain issue, but the last software update seems to have fixed that. Now, the phone locks up 3-4 times per day. I bought mine from Huawei, and of course it's out of warranty. I'll contact Huawei, but I think I know what their answer is going to be...

My 6P just suffered the bootloop woes. I bought mine from El Goog through Project Fi. I called up Fi customer support and they sent me a refurbished out of warranty with no questions asked. I just wonder how long until the refurbished unit has the same problems.

Prob just over a year? I think there is a problem with battery degradation.

Yeps, around the 1 year mark. That's guaranteed.

My 6P decided to shutdown last night at 72%, plug it in and it powers back on. Its doing it way to regularly now. Time for an RMA i think

Mine drained battery almost like my old Blackberry Z10, on 7.1.2. I'll see if my downgrade to 6.0.1 helped.

It's the battery 100% dude

I will never buy another Huawei product after the issues I had in the past with their horrible customer support. Google on the other hand gave me great customer support.

Pixel should be next with all of its on going issues since inception. Every software update breaks something major, poor battery, poor wifi, poor bluetooth, all the major reasons one invests hundreds of dollars for. Especially since the state in which I reside won't allow talking on cell without bluetooth. This has honestly been the poorest excuse of a phone I have ever owned and I am on my third one. Stuck with this piece of garbage

I haven't had any issues with mine. Sometimes the battery will drain faster than normal but a power cycle fixes that.

So... I waiting for google credit :D

My 6p is in for warranty repair now. It died while charging. We'll see if Huawei fixes or replaces it....In the meantime I got my S8 in yesterday.

Who wins with these cases? Consumer payback or money to the FCC?

It sucks , but sure Huawei & Google are 'honoring' in Warranty claims ...and that is it ..no more ..no less . Although it has been reported numorous times that without the Google add'l rwarranty purchase it was very hard to obtain any service from Huawei - repeatedly . Kenny

I've had the 6P since it was released fortunately it's the best phone I've ever owned all around. I even had a replacement phone sent to me about 6 months ago because I bent the first one in my front pocket I think that's how it happened and the replacement has been great also. I'm part of the beta program also. How many 6P owners has this happened to say out of 1000 phones?

Battery life Sucks on my 6p .. I'm barely getting 3 hours of screen on time only also performance is bitter experience

Never gonna buy another phone from Huawei. This phone doesn't even support VoLTE. Even the Nexus 5X has it. Upon asking them about this issue, they said it's a Google issue.

"It'll be interesting to see what the outcome of this case is, considering this has been a known issue with the Nexus 6P and neither company has done much to address the issues. It'd also be nice to see some better consumer protections come out of this, too, particularly when it comes to warranties." AGREED!

And to think that in 2015 this was being labelled as the crown jewel of Android.

I have the battery draining issue. Sometimes mine shut off at 60% battery, and it was annoying as hell. Out of warranty a month before it started. I'm still pissed off about it because it was a great phone.

whats the likely outcome should the lose?

I get random reboots, nothing crippling but ill go to unlock my phone and it will say must enter patern after reboot and ill be like i didnt reboot it

Mine started doing that a few weeks before it started to bootloop and became a brick. Good luck!

Haven't you all been keeping up? Don't you realize that corporations are running the U.S. government now? Why should they give a hoot about the peasants whose phones won't work? There are already quite a number of tech companies with billions of dollars in offshore tax havens who pay zero income taxes. The current administration is making it even easier for corporations to screw the people. Wake up !
Android Central Newsletter
Get the best of Android Central in in your inbox, every day!
Thank you for signing up to Android Central. You will receive a verification email shortly.
There was a problem. Please refresh the page and try again.