Google accounts are on the fritz but nobody is getting hacked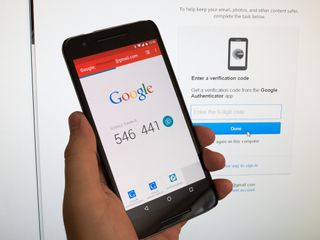 (Image credit: Android Central)
If you have a Google account error that says "something has changed" and asks you to log in again, there's no cause for alarm. Google tells us they know something's up and it's not related to any suspicious activity.
OK, cool. Nobody is trying to get into our email accounts, but signing in again isn't as easy as they make it sound. If whatever is going on glitches your account, all the things logged in with that account can be royally hosed and need to be set up or attached to your account again.
We know Google Wifi went crazy for some users earlier, and they tell us there were "issues with the Google Accounts Engine today" which caused problems, and that could be tied into whatever is happening with Gmail, Google Home, and Chromecasts that are being reported as not working tonight, but Google hasn't said anything just yet.
We're happy that it's not a security thing, but it's still a thing if you're one of the unlucky people affected. For now, you can follow the advice and log-in again from your phone or computer. Hopefully, Google tells us more if only to satisfy our curiosity.
Senior Editor — Google Ecosystem
Jerry is an amateur woodworker and struggling shade tree mechanic. There's nothing he can't take apart, but many things he can't reassemble. You'll find him writing and speaking his loud opinion on Android Central and occasionally on Twitter.
Figured that since I have two steps verification that never mentioned someone tried to log in somewhere. I had to use my backup codes to get rid of those messages on my several android devices. My logs were clear so I figured Google was testing some weird skynet schnanigan

Ditto to all of this! Never a real worry, knew it was something wonky with Google.

I had the same issue today! After I logged back in on my phone, it messed up my 2FA settings and now I cannot use my phone as as "Phone Prompt" option instead of using an Authenticator code. The 2FA configuration page simply tells me I have no compatible devices when I click "Add Phone". Hope they fix it eventually without needing me to wipe or remove my Google account from my phone.

Same thing happened to me. I changed my password for Google just to be safe then when I was promoted, re-logged into my phone. After re-logging in with the new password, it allowed me to use my Pixel XL again as my prompt device. So strange.

Thanks for the reply! Just to clarify, did you have to log out from your phone, change password, and then log back in? Or did the password change to your account from another device then cause your phone to prompt you to login to your Google account again on the device?

For anyone wondering, after waiting overnight, I was able to add my phone again for 2FA Phone Prompt. I didn't have to sign out of anything, change a password, etc... just had to wait about 24 hours and then try again.

Yeah. Had to do this on several devices earlier. Took a little while for my 2 step codes to come through but they eventually did and all is right.

Happened to me too but cleared right up

Received a notice on my Blackberry to login into a Google account. Had to re-enter my password and the account was 'reconnected'. However, I am unable to reconnect to the same account via the Windows 10 Calendar App. Keep receiving "Something Went Wrong. We're sorry, but we aren't able to do that. Error code: 0x8007042b". So there seems to be an issue between Google Accounts and Windows 10.

I had that notification with the exclamatory sign board when I was at work. A few Apps prompted me to grant the access to the Google Account and it worked just fine.

Well described. I had exactly that notification icon with a prompt message that something in my google account has changed and to sign back into Google Account. Signed in and all works fine. Did a Google Account Security Check Up and noticed nothing suspicious. My guess... It's linked to a Google Play Update of Android System Webview App.

That's good. I had to sign back in so I'm glad it's not hacking and I have 2 step so I'm good with that also!

Stuck in a sign-in loop. Sign-in, they SMS verification code, it goes to verify and prompts me to sign in again...and again.....and again....

Just close the 'window' from the recent apps menu (assuming you're on your phone). Go into Google Now and swipe down to refresh, it'll stop asking.
It asked me a second time on my phone, too, but I did the above steps and I didn't have to enter my password a second time.

Don't wait for SMS. Touch 'Having trouble?' and use one of your codes.
I woke up to three alerts this morning. Frit me half to death at first. Fumbled around the 'net before checking with AndroidCentral. Lesson learned.

I got the prompt and I just signed back in with 2 step verification. I was only prompted once, and have not run into any other issues.

Using two accounts on all my devices. A lot of pop-ups to reconnect. Logged in on computer to check security setting then re-logged in on devices. Chromecast included.

I was out at lunch, and suddenly my work email stopped working and I couldnt re-login. "Omg, I'm getting sacked when I go back."

That's what I think every time my vpn stops letting me log in at home. Last time it accepted my security crews and then said, you aren't allowed to log in. Like we see you have access but you still can't work.

Just experience it here in Malaysia this morning when my Android auto ON at 6am(24/Feb). Irregardless am changing my password again after only 3 months last change and mine is a 16 character pwd. Need to change to 18 character password. I dont trust Google when they say "no worries" since they learnt from Yahoo experience, who would want to admit a security breach of a bigger magnitude than Yahoo?

All my Google stuff just stopped working. Fortunately all I had to do was log back in to everything and it was fixed.

Ohh, so that's what happened. Man, I got signed out of Chrome, my phone, my tablet, the W10 Outlook app on my PC and W10 tablet all at once. Thought somebody breached my account.

Had the same problem. Also, sms retrieval code didn't work so I had to use the recover option. Had me scared for a short while.

Well. ... I have received an email with 'Someone has your password' So I'm note quite sure that nobody is getting hacked. One good thing for Google is that they blocked the attempt to log in (I'm form Poland and attempted was made from US)

Three alerts this morning. Scurried around the 'net on my Win10 PC thinking the worst. Should have come straight to AndroidCentral. Lesson learned.

The part that had me a little worried was that the log in screen is slightly different than what you typically see when logging into your Android account on your phone.

It hzppened to me this morning! I got a bit scared so i changed my password before reading thos article now. Better feel safe than sorry

Yes. Weird stuff going on. My S7 crashed after software update and I'm having a devil of a time trying to log into most things... eventually logged in here after many tries using hotmail account which ironically won't let me log in...😡😠

It happened to me this morning. I thought I was getting hacked! Glad it didn't turn out that way. Oh well, a reminder for me to change my password anyway.

Out of all my devices (Home/Google WiFi/Asus OnHub/Nexus Player/Googlecast/Nvidia Shield) it appears that it only effected the Nexus Player and GoogleCast... Strange how it effected only a couple of devices for me...

"SMS codes may be delayed...." As in, never got them. Finally was able to login and did reset password, as some of the earlier Google prompts indicated my phone wasn't recognized and had a problem. They can say it wasn't hacking/infiltration related, but man, it had all the indications of being such. What a mess. Now the login cookies for all our GSuite users that use a 3rd party client have been reset as well, forcing new logins.....

I was wondering why I kept on getting shouted at by my devices to log back into my Google account... Happened on my grandmother's Android device as well...

Received this message early this morning on my GS7, but none of my other devices. Logged back in and checked the login history. Nothing. I figured/hoped there weren't any other issues. Thankfully, there wasn't anything larger going on, since I'm in the middle of resetting a few passwords related to Chartbleed.

I was hesitant to do the sign back in on my phone until I realized chrome on PC and a few desktop apps started freaking out too. The message literally looked like one of those pop up boxes on a freeware site that if you click on it a virus will get installed on your computer. Didn't look like a typical google/android warning, very strange.

I was wondering why google requested me to sign into my account yesterday.

Happened to me on business and personal accounts. Signed back in and for about 3 hours after I got about 5 spam phone calls! Probably unrelated but weird...

It really freaked me out. I first noticed it on my iPhone when I went to check Google Calendar. The app acted like I had just downloaded the app for the first time and then made me sign in. Other google apps acted the same way and I had to relog into each one separately. I was more scared when Chrome on my desktop made me re-sign in as well, and it required a two step code to be sent. I checked around a few times during the day yesterday but no one had any articles written about it, so I thought it was just me. Didn't see anything other there until today.

I couldn't use Gmail on my phone last night. It kept saying "Unable to sign-in". I was able to login just fine on my Chromebook or any other web browser.

This isn't resolved. At work, it keeps saying that my gmail settings are out of date. After i update, it comes back with an error message saying that it doesn't work? Something went wrong
We're sorry, but we weren't able to do that Error code: 08x0072efd

I got the same message,logged in again& thought everything was fine until I tried to send a message through ok Google, then it kept saying that my phone was locked, but it wasn't. I assume the two are related?

I had the same problem it happened while using Google Maps for navigation. The sun was bright and I couldn't see half the browser windows that were popping up, but they were mostly related to Google accounts help and managing my Device I left them open to deal with afire the drive. OK Google was not giving me the cotreat information. I pulled over to reset the maps route because my route home was reset to a cross country route to my address, I changed it and it was incorrect again this time taking me to San Diego and back towards LA. Weird I finally just entered a destination I knew of en route and it worked for me. Then my acount were all disconnected from Google. I believe it's all OK again now.

I use Google WiFi with the Google OnHub by ASUS. Somehow many of the unit received a factory reset, making the network unusable. I lost Internet (everything is on WiFi), home phone light control (via Alexa). This is a warning sign to avoid putting all network needs on a single access point. I was down most of a day because I wasn't available to diagnosis the problem.

Had this too one two of my several accounts which just logged back in and everything was OK

got the "something changed, need to log in again" thing on chromebook. I did that, 6P requested I tap YES for two step. I immediately went to account and reviewed devices. all looked fine.

Got that same warning. It was associated with my YouTube account. I just signed in and everything was back to normal. Although I must admit, I was a tad trepidacious about the warning when I first saw it.

I didn't get the something changed, but my Google On-Hub/Wi-Fi router died at like 3:45 this morning while I was working on a presentation due at 9am and I was in the middle of using digital creative tools. Thank God, I was able to use my phone as a Hotspot for the next several hours!

These comments seem mild. When I logged back in from my Chromebook after being kicked out, it appeared that my Google Drive was empty!!! I logged out, restarted the Chromebook and checked again. Just the folders were visible, no files. Only after doing a search for photos did the folders fill in.

I am a bit upset and angry. Google log me out from my account 17/2. They say something have changed- log in again. I did try that but it is not working. I got a new sms code- that didnt work either. i got a new mail: I have done something wrong; read and look at the Terms of servise.
I read the small text but I cant understand what i have done wrong.
I was send a mail back and complain because i like my account back. The answer i got say that is not possible.....after a while everything will be delited.
My contacts, calendar, al photos of my kids saved in the dropbox will be gone forever. I did try reach photos from picasa album....not allowed.
Places i have used my gmail to log in at internet will be locked.
i was try make a new gmail accout - but that is not working either because my personal birthday number, phonenumber and other hotmail ( as i use for 2 steps verification) already belongs to one google account......
I hope google fix this problem quick......

Syncing up nanohorde. It's what the borg does...

Happened to 2 of my Gmail accounts and 1 of my wife's.

My phone stopped logging into gmail for the past week or two. How do I fix that. I don't believe logging into chrome is going to fix my gmail account.

Remove the Gmail account and then re-add it, that will fix the problem.

Might have fixed gmail account on my phone. I had to relogin to app store. Then I upgraded gmail. Then gmail worked on my phone. However I use Galaxy S7 mail app as I access other accounts. Tried sending through my gmail account in mail app and that worked now too. Probably have to figure out how to disable gmail app or ignore it now. Note app store stated that something changed in my account and I had to log back in. I didn't change my account. Google must have. I like how they make it sound like its my fault. I would have preferred the notification that Google updated my account and requires me to log back in. Place blame with where it lies. Take responsibility. No one does that anymore. Imagine all us frustrated customers.

When ever you think of secured hack on school grade, fbk hack, twitter, whatsapp, credit repairs, private investigation/spy on anyone and infiltrating any server reach out to hotcyberlord@gmail.com for a legit hack business.Estes

About 2 weeks ago i was surfing the internet on how i could spy on my wife's phone discreetly as i was suspecting her of infidelity/cheating. I ran into a page on Google and found: pyramideye (dot) hack @ outlook (dot) com, I had to email him because of some other good reviews i saw on his reviews, I was able to gain access to all her social media accounts,texts and all other info i needed within 24 hours. This hacker is the best out there believe me he exceeded my expectations and did cleared my doubts. He is an expertise in hacking credit scores and removal of bad credit report, website & phone hacks and many more. Email him and be at peace because he is totally legit and quite affordable too.
Android Central Newsletter
Thank you for signing up to Android Central. You will receive a verification email shortly.
There was a problem. Please refresh the page and try again.