Gmail's massive redesign is now live: Here's a look at the new features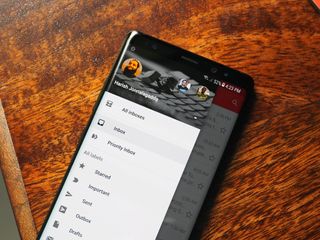 (Image credit: Harish Jonnalagadda / Android Central)
Google announced earlier this month that it would revamp Gmail's design on the desktop, and the changes are going live today. Gmail is getting a significant design overhaul that makes it more in line with its Android counterpart, and Google is introducing a whole host of new features centered around security and ease of use.
There's a new confidential mode that lets you set an expiration date for a particular email, smart replies, easier options for snoozing emails, an offline mode, high-priority notification setting that cuts down on the push notifications, and much more. Here's a look at all the new additions in Gmail.
Confidential mode
The major new feature in Gmail is confidential mode, which allows you to set granular controls for sensitive emails. Confidential mode lets you remove options to forward, copy, download or print messages, and you can also set the message to expire at a specified time. There's also an option to revoke access entirely.
Google is able to offer these controls by limiting access to the content itself. When you send a message in confidential mode, Gmail essentially creates a link to the content, and delivers that to the recipient. Upon clicking that link, the recipient will be able to view the content as if it were a normal mail, provided they're using Gmail. For other email providers, the link will redirect to a Google-hosted site where the content will be viewable until the specified date.
Google is also introducing two-factor authentication for individual emails, which will require recipients to key in a passcode delivered by SMS before they can open a message.
Google is hoping that the new additions like confidential mode and 2FA on a per-message basis will cut down a hacker's ability to access sensitive information, particularly at large organizations. Speaking to TechRepublic, Google's lead product manager for Gmail Jacob Baker said:
Email snoozing
With the redesign, Google is offering easy options to snooze emails. You'll be able to access the snooze option — along with commonly used options like archive, delete, and mark to send — via a new hover menu. Just hover over an email, and you'll see all the options highlighted.
Another change on the UI front has to do with attachments — you'll see thumbnails for the attachments under the mail, allowing you to open an attachment without having to load the message itself.
Integration with Calendar, Tasks, and Keep — and nudging
Gmail is now getting a right-hand side panel that integrates Google Calendar, Tasks, and Keep seamlessly into the email client. The panel allows you to copy or paste content from Gmail into other apps, or just quickly jot down a note or add a task.
Gmail is also getting a nudge option, where Google will bump messages it deems important to the top of your inbox. It will leverage its machine learning smarts to surface messages that may need a response, with Baker noting:
Smart replies
Smart replies debuted last year on the Android app, and now they're making their way to the web client. The feature works the same way it does on Android, giving you a few options for canned responses based on the content of the mail.
New security features
Google will also start rolling out phishing warnings within emails, displaying colored banners at the top of the email in red, yellow, or grey based on the perceived risk factor. Gmail had these options for some time, but Baker said that prominently highlighting them at the top of messages will better inform users of the risk:
Native offline mode
Google will also offer a Gmail offline mode that has the same UI as the online version. You'll be able to continue working in Gmail even when offline, and the changes will be synced the next time go online.
High-priority notifications
While most of today's features are focused on streamlining Gmail on the web, Google is introducing a high-priority notification settings for mobile users that drastically cuts down on push notifications. With the option enabled, Google will only deliver push notifications for messages that are deemed important or urgent, with Baker noting that the feature will cut "97% of all push notifications across Gmail users."
When will I be able to use it?
Confidential mode will be available in the coming weeks, but if you're looking to get started with using some of the new features right away, head to the Cog wheel icon in the top right corner of your inbox and select "Try the new Gmail" at the top, provided it's available to you.
The option isn't available for everyone right away, but Google says it will roll out the changes internationally in a phased manner over the coming weeks and months.
How to enable the new Gmail web interface
What do you make of Gmail's new features?
Harish Jonnalagadda is a Senior Editor overseeing Asia at Android Central. He leads the site's coverage of Chinese phone brands, contributing to reviews, features, and buying guides. He also writes about storage servers, audio products, and the semiconductor industry. Contact him on Twitter at @chunkynerd.
So..... I can leave google inbox now??

Yes, you both have my permission to leave it now

Hmmm not sure if it's worth re-enabling this bloat to check out the changes...

are those new features for both Gmail app and web interface or only for web interface i can see that this article mentioned only one new feature for the Gmail mobile app

As long as conversation view can't be disabled in mobile app they can change as much as they want. I'll never use the app again. And desktop? For me at least I couldn't care less. Haven't used it on my laptop in years.

I agree on the conversation view. I think for mobile Blackberry Hub is very good.

So, can I send an email to a contact group in the Android app yet? I'm guessing not.

Interesting changes...It sounds confusing as heck...Nonetheless, I have to applaud Google for what they are trying... After the Facebook data fiasco (which I wasn't really affected), I am interested in some additional "general" privacy options than Google currently offers before I use Google products and services any more than I currently do.

Does anyone know if you are using a different theme (mine is set to Cozy, and my unread email is at the top of my Inbox), if all that will translate when the upgrade happens? I also do not have the multiple tab thing that has "Primary, Social, Promotions, whatever" on it. I couldn't stand that when they rolled that out. I hope they don't force that aspect.

The same layout, theme, etc remains after it is updated. And it appears to have all of the same options in that regard as well.

Is this new feature live for everyone?
Coz I'm not able to see the option to try New Gmail. I'm from India region.

I don't have the option to enable this yet. Any way to force it?

I currently use Inbox by Gmail to me it's better more user facing capable than Gmail app. Like I can swipe one way to delete and another way to archive, while the Gmail app can only do of those irrespective of swipe direction. Also Inbox doesn't jump out of combined inboxes the way the original does. I hope they can bring all those changes to the Gmail app since it's bloatware I can't remove from my phone. At least I would then be able to use it. And get rid of that red colour....

The calendar pop-out doesn't show anything that's not on your main calendar...

Update: I refreshed Gmail again and it's now available

New options not available in my G Suite accounts. Shocked. Shocked I am.

Your G Suite administrator has to enable it.

This still doesn't address the issue that Inbox at least corrected for me - The ability to group together "Labels" in their own kind of inbox, essentially getting them out of the way. Now, in inbox I can make a label and when a new email comes in, that email gets labeled, grouped with others with that label in a "folder" and that folder moved to the top to let me know I have a new email in that group. In gmail it gets labeled, and stacked in the inbox pile with all the others just like a stack of mixed up papers. I can't add other categories to the top to help filter them into something more specific. It's just not as helpful as I'd like. I am interested in checking out the new task and integrations, but I need better filtering and organization than gmail is still providing.

WTF is anuidge? Lol. Android Central's non-existant proofreaders, at it again! "Gmail is also getting anuidge option,"

Olde English spelling for nudge?? :P

It's live on my personal Gmail account and looks pretty good. Waiting for it to become available for my work account and we'll see how well it works. Might make me leave Inbox - though I really do like Inbox a lot. Has a couple of things that drive me nuts, but pretty clean and straight forward.

Your admin has to enable it on his end.

Meh. I'll keep using Inbox. Gmail is still a cluttered mess.

I like the changes and will use the new Gmail on my computer. I find that synchronizing 'keep' & 'Calendar' with my phone very convenient tabs and easier to navigate. Is there a way to expand that side bar so you can see more of the tasks and less of your mail?

So the phone app isn't getting a makeover?

As mentioned in the article above only mobile update "Google is introducing a high-priority notification settings for mobile users that drastically cuts down on push notifications. With the option enabled, Google will only deliver push notifications for messages that are deemed important or urgent, with Baker noting that the feature will cut "97% of all push notifications across Gmail users." This was more about synchronizing google mobile apps with google mail on your desktop and seamless integration.

All I want is the ability to BLOCK email addresses. Not send to spam, BLOCK. I get very few emails on purpose, including my spam folders. I am constantly getting spam mail from about five different senders and I can't stop them. FFS BLOCK!

I tried the new Gmail and most part liked it too. The machine AI is too aggressive to throw my important emails in the spam folder despite telling it it's not spam. Changed back to older version and it's all good now.

Wow, really liking the updated desktop. Nice touches, Google.

Love the new look! However I used to be able to view my contacts by clicking on a toggle (for lack of a better word) in the upper left corner of gmail, seems like that feature is now gone. Is there no longer a way to view your contacts from gmail without clicking on the "Google Apps" grid in the upper right corner?

How did you add that picture of the stormtrooper coming out of the keyboard behind your account badges? Nevermind figured it out.

Is it me or did Google forget to include the Contacts tab in the new version? Had to switch back to the old version to edit a contact.

Google Calendar you have to select Reminders OR Tasks so why not have both on the sidebar? Why it only displays one or the other is pretty ridiculous because I use both, but that's for another thread.

Where is Select All button on mobile app version?

I haven't check email on a computer in almost a decade....
Android Central Newsletter
Thank you for signing up to Android Central. You will receive a verification email shortly.
There was a problem. Please refresh the page and try again.