How to enable the new Gmail web interface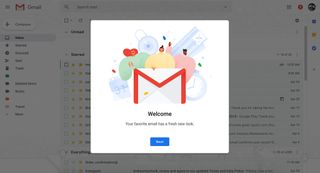 The new Gmail web interface that was announced just a couple weeks ago has launched, bringing both a refreshed design and also a handful of new features. The overall look is a bit cleaner, like what we saw in the Google Calendar refresh earlier this year, with lots of Material Design influences. There are new features like a "confidential mode," email snoozing, better integration with other Google apps, Smart Replies like in Inbox, an improved offline mode and more.
That's all great, but it's actually not enabled by default yet. Here's how you can skip the line and check out the new Gmail interface right away:
Load Gmail on the web and sign in.
In the top-right corner of the inbox, find the cog/gear icon and click it.
If it's made available for your account, you'll see an option for "Try the new Gmail" at the very top — click it.
Most people will like "Default" because it shows the most information per message, but "Comfortable" is a good choice as well.
You can always change this view later at any time from the cog/gear icon.
If you want to go back to the "old" interface, repeat the steps from the cog/gear icon to return to it.
The option isn't available for everyone right away, and Google says it will be rolling it out to all users over the course of several weeks before finally enabling it by default. Most of the team here at Android Central has the option to enable the interface now, so there's a good chance you will too. One of the caveats here is that the "confidential mode" isn't available for a few more weeks — so don't be surprised when it isn't available after you make the switch. Google will likely be refining and improving small parts of the interface as it rolls out to everyone as well.
After enabling the new interface and giving it a try, what are your thoughts on the changes? Let us know in the comments!
Get the Android Central Newsletter
Instant access to breaking news, the hottest reviews, great deals and helpful tips.
Andrew was an Executive Editor, U.S. at Android Central between 2012 and 2020.
It's refreshing. I love the task panel on the right side of the interface. Syncs with the Google tasks app instantly.

I have it for my email using the gmail.com domain, but not for the account with my own domain.

Would like to be able to pin that calendar on the right side. Enjoying it. Can't wait for it to come to my work email.

Interesting. It wasn't there for me until I went in and disabled a couple of old Labs features I had installed. As soon as I did, the offer to try the new version appeared.

I like the redesign and the new features very much, especially that now I am able to postpone emails. Now I hope they will do the same for the Gmail app for mobiles.

Good news!
https://www.androidpolice.com/2018/04/25/google-rolling-email-snooze-gma...

personally, I don't see a lot of design changes. there are some new features added in and some buttons moved, but ehh, I can live with it or without it.

So far it's been super buggy and laggy. I switched back to the classic.

What kind of bugs have you experienced?

Liking it so far! will need to spend some more time with it obviously, but at first glace get UI

It's a nice visual refresh, and a lot nicer to look at. Message snooze is a huge addition, and I really like having decent Calendar integration. Tasks needs a LOT of work before it becomes something that I even care about having easy access to, though.

I like the new interface , especially the Calendar, Keep and Tasks on the right.

Looks great !!! Much needed refresh. Google knows design and love the right addon pane, along with the new Tasks app.

New look with dark theme looks a-nice!!

No matter what, do NOT get rid of InBox!

Changes? Really? All I see are cosmetic changes. There are still way too many folders for my tastes. If I were to categorize my emails into folders, I want to create the folders myself & be able to delete the categories already there. I stopped using the app about 4 phones ago because it's less than useless for me. For it to be of any use, I need to see what I see on my laptop when I open the app, and I don't, and I don't see where I can make those changes to sync anything other than the InBox.

Yes, cosmetic changes. Which is why this is being referred to as a "design refresh," or a "new interface."

I am unable to see confidential mode on compose email box while it is the part of this new version.

Sorry for the naive question, but does this affect the app in any way? My Gmail app looks the same.

No, this is only for the web interface.

Has anyone found where they stored the Contacts section? It used to be under the Mail menu button.

It's in the "Google apps" grid and opens to a new tab now.

Unless I'm missing something it now takes more effort to edit the contacts list. The old 'Contacts' option from the main Gmail screen has gone, and instead I have to click on Google Apps, then More, before I can select Contacts. I can see that logically it might be better as a separate app, but I had to go and hunt for it.