Gmail update for Android will help organize all your email accounts, even if they're not Google's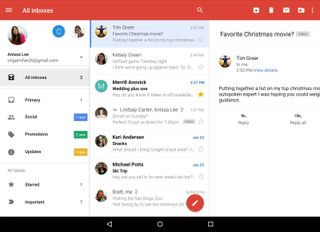 This new feature will alllow Gmail users to simply read all of their emails in one place, without having to switch to their other accounts like those on Outlook or Yahoo Mail. Also, emails from accounts other than Gmail can be read in a conversations view. Google says
In addition, the auto-complete feature has been improved in this new version of Gmail, along with larger attachment previews, a way to save emails to a Google Drive account with a single tap and some more responsive animations. As usual, it may take a few days before this Gmail update is available for all Android device owners.
Source: Google
Just got to android police and download the APK Posted via the Android Central App

Finally! I've been waiting for what seems like ages for this (though realistically only since they added the ability for other email accounts, so only a handful of months I guess).

It'll be even better when they add messaging and calendar integration.

Took my hotmail account from the stock email app to gmail. Every email I deleted would reappear, unread, in my inbox 5 minutes after deleting it- complete with "new email" notification. Sort that out Google if you want people to use gmail as their default email app.

Same with my msn email account. They eventually sync up and go away, but it's very annoying to get notified immediately after you delete them all.

Same here with my Nexus 5. If a read or delete an email it appears in my inbox, unread, a couple of minutes later.

Did you set it up as an outlook account? I added my Hotmail in the app. Did you ever add Hotmail under your Gmail account on the Web? Hotmail is working fine for me
Posted via the Android Central App

Happened to me too! Whats up google? How can you skip the basics? Multiple accounts is a basic feature that samsung has had for many years. Ive given up on the gmail app! Posted via the Android Central App

Arrgh! How about integrate the option to have my "no conversation view" follow to mobile?! Conversation view makes it harder to edit individual emails out of a "conversation." Google has lots of great stuff and features, but not this one. Posted from my XT1080M

Amen! Posted via the Android Central App

I couldn't agree more. Conversation view is a mess. I can't believe I can't turn it off on my nexus. Posted via the Android Central App

Seriously?
Personally, conversation view is the single greatest leap in email usability I have ever experienced.

It's not. It's a mess for any true professional on email. Posted via the Android Central App

It makes editing e-mail "conversations" impossible on mobile. With many e-mail chains, there will be a bunch of the individual emails I don't need or want. With Google's setup, I can only delete those in web view on my computer, and they can come back to life on mobile as the "conversation" gets more replies. It is the major annoyance with GMail. Posted from my Dell 7840

Have to agree.. Hate conversation mode... Wish I could shut it off.. Posted via Android Central App

Already got my yahoo synced to gmail Posted via...The One

How about an option to type a group name instead of a user name on the mobile version?

Very nice! As long as it remains optional... Seems like the sort of thing that can be incredibly useful or super annoying based on who's using it. Wubba lubba dub dub!

It was super annoying to me. Gmail didn't handle my MSN account as well as the stock email app, and I kept getting these suspicious sign alerts from MSN. It's optional on Kit Kat, but on my Lollipop Nexus 7, I ended up switching to another email app. Posted via the Android Central App

I thought they would stop adding features to this app and focus on Inbox

Problem is that I synced my Yahoo to the Gmail app after the last update. My major complaint was not being able to check my Yahoo spam folder thru Gmail. Posted via Android Central App

This is very cool. Google+ All Day Everyday

Should I still with CloudMagic or uninstall it and use Gmail app? I have Gmail, yahoo, Outlook, and mobile me I use with CloudMagic Posted via Android Central App on 1+1

Cool! Just like iphone...4 years ago!

Cool! I heard that you could finally attach a file to an already created email on your iPhone ever since iOS 8. Only like 10 years late.

But still no mark all read or delete prior. I'm an Android user but BlackBerry still wins on email for this feature alone if you get the email load that some of us do. I am the one that knocks...

Does this mean that my Labels are universal now across my different accounts? Posted via Android Central App

Interesting very much, if this new GMail support push for Outlook.com. 15, 30, 60 etc. minute poll times - no thank you.

For a second there, I thought I had this feature already. And I nearly do, so much so that I'm not inclined to change anything at this point.
I forwarded my other email accounts to Gmail, and then went into: Gmail > Settings > Accounts and Import > Send Mail As where I set them up to automatically reply from the proper account, using the smtp of the proper email service. Different signature files populate automatically. All mail comes into the one inbox, but that is what I prefer anyway. Nice to have the new option, however. Thanks Google.

Yep, I've been doing this for years. Posted via the Android Central App

I'd forgotten all about doing something like this, thanks! Posted via the Android Central App

Nice, they are making a mail hub. I will appreciate this.

The current stock Gmail app has been working very well for me. I have Hotmail and Yahoo accounts running through it with no problems at all.

I just need gmail to have some sort of backup and sync feature like mailbox does so that I do not have to manually add all my accounts again...it is a real pain Posted via the Android Central App

Please show email id below inbox, else we are confused each time, which mailbox is opened, whenever we have configured more than 2-3 accounts.

You can find the apk file here if you want to check it out http://www.apkmirror.com/apk/google-inc/gmail/gmail-5-1-89745174-android... Posted via the Android Central App

I wonder if they will force conversation mode on other account types, or leave it as an option. If they do give the choice, then were will be more options for non Gmail vs. Gmail! Posted via the Android Central App

Meh, I won't consider updating GMail until there's an option to change that hideous red bar at the top to some other color.

That would be awesome. Can't wait for the update! Posted on my OnePlus One

Hey Murali Tharan2! What's your take? Leave a comment.

As someone with vision problems, The ONLY thing I need from Google is a dark mode. I literally cannot read my emails with their app. Posted via Android Central App

My touchwiz has stopped need app to download

I'll start using it again once the add a dark theme option...like BlueMail.

Now they just need a widget for all inboxes!

Great feature added in the depot of Gmail. Switching to different email accounts frequently remains quite annoying. This app will organize all email accounts at one inbox. However, you don't have to rely on Gmail only to enjoy such feature, there is one more good email app called Mailwise http://appsthunder.com/mail-wise-review/ which possess same feature too. This app is time saver and convenient way to manage several email accounts in a unified inbox whether its Gmail, Exchange, Aol or others. It provides clutter free conversation, include information from various categories like sports, business, health, entertainment and offer the best experience to the users.
Android Central Newsletter
Get the best of Android Central in in your inbox, every day!
Thank you for signing up to Android Central. You will receive a verification email shortly.
There was a problem. Please refresh the page and try again.