Give your friends a reason to snap with Snapchat's custom stories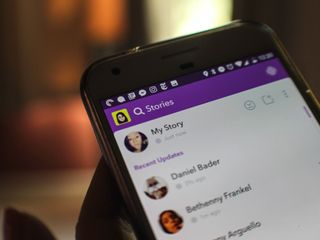 A new Snapchat feature could help you when encouraging your friends to at least install the Snapchat app for the weekend. Snap has introduced custom Stories, which are designed to help friends and family groups collectively snap even the most mundane of events on the fly.
Custom Stories are easy to set up and don't require that much planning beforehand. Tap the new Create Story icon in the top-right corner of the main Stories screen. Type in a name for the event, and then invite your friends. You can extend the invitation to anyone you'd like to participate in the as-it-happens festivities, regardless of their location. The new feature isn't geofenced. You can also invite nearby Snapchat users to participate if it's, say, a public event, like a high school prom or college graduation. Snapchat will create a one-block geofence around your current location.
Custom Stories will stay up on the main Stories page for as long as they are live, or until no one contributes for 24 hours. Each user is limited to three custom Stories at a time.
Is this a killer feature that will bring back hoards of budding Snapchat users? Not likely. It's hard to ignore Snapchat's declining numbers, especially when Instagram has all but run rampant with its own story-making features. But in the realm of mobile-first apps, it's encouraging to see social networks attempting to become more of an extension of our social lives rather than a replacement.
The update is slowly rolling out to Snapchat users right now. If you don't see it in the Google Play Store (opens in new tab) just yet, hang tight.
Florence Ion was formerly an editor and columnist at Android Central. She writes about Android-powered devices of all types and explores their usefulness in her everyday life. You can follow her on Twitter or watch her Tuesday nights on All About Android.
Snapchat is filled with annoying ads and produces pixelated blurry out of focus photos on my S7. Instagram and Facebook have similar story features now, more users, and significantly better image quality. Snapchat deserves to fail as they only care to optimize for iOS.

Snapchat has actually gotten far better on my OnePlus 3 device than other Apple products! I don't know if it is Snapchat or OnePlus but every Software or app update Snapchat gets better and better!

Got better for awhile, uninstalled it a few weeks ago. Last update whenever I opened it the preview for the image was very dark and underexposed to the point it was difficult to see what I was taking an image of. Fixed itself after taking the first photo, but still annoying.

Got rid of Snapchat. Such a heavy, bloated app that does nothing more than drain the battery on a phone. Instagram is far superior.

Nobody wants to look like a dog 😂

If only Snapchats camera didn't turn your 800$ flagships camera quality into a 2006 flip phone...
Android Central Newsletter
Get the best of Android Central in in your inbox, every day!
Thank you for signing up to Android Central. You will receive a verification email shortly.
There was a problem. Please refresh the page and try again.