Give Best Buy your old tablet and save $100 on a Nexus 9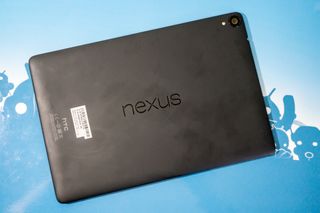 If you're looking to upgrade to a new Nexus 9 tablet from Google, Best Buy is looking to sweeten the deal for you. From now until November 29, if you trade in any working tablet that may be collecting dust around the house, you'll get at least a $50 gift card for that tablet plus a $50 coupon to knock down the price of the Nexus 9. There are some restrictions to the deal, mainly that Barnes & Noble's Nook tablet and e-readers do not qualify.
Depending on your tablet make and model, you could make out with more than a $100 savings on the Nexus 9. With the $100 trade-in offer, the Nexus 9 would essentially go from $400 to just $300.
Source: Best Buy (opens in new tab)
Wonder if they'd take my viewsonic G tablet

How about my old blackberry playbook? Posted via the Galaxy Note 4

That would be awesome...mine's been collecting dust on my nightstand for the last 2 years.

Meh, I'd get more value by selling my Nexus 10 on Swappa, eBay, or Craigslist! But I don't see much use in upgrading to a Nexus 9 from a 10 since I installed Lollipop. In fact, I've been considering the iPad Air 2 instead! Posted from my HTC One M8 via Android Central App

Don't give them your Nexus 10, especially after you've loaded Lollipop, I got $335 AUD for mine, I took the Amazon $100 AUD discount. So for the 32 GB Nexus 9, I paid $570 AUD, so it only cost me $235 AUD. To be honest though eBay cost $10, post cost $28, thus $273 AUD, for the $100 AUD more 32 GB Nexus 9. Nexus 10, more pixels on the Nexus 9, just as much RAM, two A15 cores, instead of two 64 bit cores, great media tablet, get good value for yours. iPad mini 2, 4G, retina, 64 bit, cheaper, with LTE.

The Nexus 10 is still a highly capable tablet. Don't give it to Best Buy! It runs great on Lollipop too

My 2013 7 works great... No thanks Posted via the Android Central App

Do they take my Xoom WiFi ?? That's great! I can't sell this for 50 bucks even Posted via the Android Central App

I just tried to trade in my Xyboard and they said they do not take back any Motorola tablets. They told me the tablet just be in their trade in system. Posted via the Android Central App

can i trade in more than one and get the gift cards for both? Ive got an OG kindle fire and nexus 7 sitting around..

Yeah I was wondering this, I've got two HP Touchpads I could bring in.

Says limit 1 coupon per transaction. Posted via the Android Central App

Coupon yes. But theyre giving a $50 coupon and a $50 gift card per tablet. So id be happy with throwing away the second coupon and considering it like i just got $50 for the old kindle fire.

Might work. Let us know if it does. Posted via the Android Central App

How about my Visual Land tablet? Posted via Android Central App

How about my $40 Aldi tablet? Do they really have nothing other than "Not an e-reader" Posted from the amazing whatever device I can afford because I'm a broke college kid.

I have a spare Azpen a1023 (http://www.microcenter.com/product/436357/A1023_Tablet_-_Black) On sale @ Microcenter that cost me $50 (New) that works. so even if I just got a $100 = PROFIT! I, however, also have a N7 (2013) that suits me just fine. Too many bad reviews for the N9 for me to seriously consider buying one.

Best buy for them worst buy for us. Posted via the Android Central App

I have a 2012 Nexus 7 and Galaxy Tab 3 10.1. Their trade-in calculator says my Nexus is worth $7 and my Galaxy Tab 3 10.1 can fit a 32GB sd card full of movies so I won't trade it in even if the Nexus 9 is faster.

I got a 1st gen galaxy tab 10.1 if they take it I might do the trade in Posted via my Xperia Z2

Damn, I was about to throw my nook color in my bag and take it in tomorrow. Posted via the Android Central App

Is this offer only in the US or do Canadians have it to? Posted via the Android Central App

looks like US only - but that is only based on changing .com to .ca - I have no other proof.

You mean my fire sale HP Palm Pad is still wort 100 bucks? Man! That thing holds its value!! Posted via the Android Central App

Touchpad value is ZERO when you put it in the value finder.
So at most it's worth $50 gift card.

Seems like a decent deal. I'm going to check out how much they will give me for my G Pad Google Play Edition. I want the nexus 9 anyway, if I can save $200 that would be great! Posted via the Android Central App

I'd just sell that on ebay. LG G Pad 8.3 GPE held their value much better than normal ones.

Why would you trade your G pad GPE? It's worth much more than $100 Posted via the Android Central App

The LG G Pad has so much going for it. The construction for one and the SD Card slot something the Nexus 9 lacks. Plus it still has a capable Snapdragon 600 and 2 Gigs of RAM.. I wouldn't do that if it were me, but to each his own and its worth so much more than 100 Posted via the Android Central App

I'll have to look and see what they are going for. I have the box and the manuals still too. Posted via the Android Central App

I've got 3 PlayBooks. I'll give them all of them for $100. Posted via Android Central App

Regarding the restrictions: check your local Best Buy. Mine requires that the tablet being traded in was purchased at Best Buy and that I have the receipt, or that the old tablet was purchased with my Reward Zone number.

They can take my Zee Pad, ZT-180. Still rocks!!! But $300 is still too much for such a poor quality tablet. $200? I'll bite. Huge inventory can't be sold...way too many nexus 9 tablets on hand...Other than K1, less than ordinary.

I'd love to trade in my lag-infested pos 2012 Nexus 7. Too bad not one Best Buy in my entire state has the Nexus 9 in stock.

I have a 2012 Nexus 7 and I just threw lollipop on it, now it's rocking again. Lag is gone bye bye. Running showbox and xbmc with no issues. Plus I have Kali NetHunter installed, runs great. That Nexus 9 is going to be half off in a few months when sales are tanking, for $400 I don't want a "good" tablet I want it to be "fantastic". 2013 Nexus 7 or N10 are on my wish list now. Posted via the Android Central App

OK deal if your tablet is worth less than $100 Posted via the Android Central App

this deal looks like a rip-off of sorts. my touchpad is worth $0 so i only get the $50 coupon. and my htc flyer is worth $2 + the $50 coupon. So somewhere there is a qualifying tablet (prolly an ipad 6 or so) that gets the minimum $50 to add to the $50 coupon....grrrr.

you are misunderstanding this - if the trade in value is <$50, you get $50 GC + the coupon for $50 off the Nexus 9.

If I trade in my hp touch pad I get $50 GC plus the $50 off coupon?

My old tablet is invisible and is lighter than air. Will that count? Posted via Android Central App

I'll stuck with my nexus 7 Posted via Nexus 7 2013 or verizon Galaxy S5 or maybe one day through my moto 360

Dang it I just threw away this old ass cheap tablet from newegg...

Wonder how much I can get for my retina mini? Posted via the Android Central App If I can get a total of say $250 that would be perfect. Time to bring everything under one roof again. Plus I see no advantage app wise. I understand people disagree but I see no must have apps for iPad at all. Nothing rocks my world.

I have the Air and considering the similarities with the mini retina, the retina is a much better bargain in my opinion than the Nexus 9 Posted via the Android Central App

They are out of their F'n minds... The trade-in value of my Nexus 7 2013 32gb in "Good" condition is only worth $22.00 and I've had it since the day it was first released... My Nexus is in Excellent condition and there wasn't even a selection for that... What a Rip Off!!! Posted via Android Central App

Nah! Get the Galaxy Tab S 10.1 for $325 at Costco, no stinky coupons or trade ins required, thank you very much.

How much for a Samsung 12.2 note pro?

I was really disappointed when I read about this device and its price points. I hope it flops completely, then Google comes to its senses and brings back the Nexus 7.

+1 Posted via the Android Central App

The trade-in offer is a moot point. No Best Buy in my area has the Nexus 9 in stock, anyway. Or if they did, they only had a few on hand.

I wonder if my old Apple Newton would qualify?

Thinking about pulling the trigger at this price point - I have my old Acer A500 still; not in use either way :)

Exactly, A500 mounted in my kitchen, but it's so old and slow it's painful to type recipe searches... $300 is an expensive recipe look-up device, but it would be a nice upgrade....

Well, I just pulled the trigger on this... About an hour ago, so I've not had time to do much... Trading the a500 worked well, and it was the last 32gb version in stock (black) for a BB in reasonable proximity. Initial observation - the back is fine, no bubble or signs of pealing. Looks like some light bleed but minor in screen... How much may vary as I change background. I'll monitor close and determine if there's developing issues for all of it. Posted via Android Central App

Good Bye laggy 2012 note 10.1 that they forgot about in 2013.

Can I give them four that we can't use for testing here and take one for free?! I'm in.

Even at $100 off the Nexus 9 is overpriced.

Even my Xoom? Posted via Android Central App

So I just tried to take my Motorola xyboard and they turned me away because they said it wasn't in their trade in system. I showed them their promo of ANY tablet, but then they quickly pointed out that it does say qualifying tablets. Anyone else run into this? If so it's a pretty misleading promo. Posted via the Android Central App

Rep at local store said my N7 2013 was only valued at $22 but they had no stock for the N9 but the big store 15 miles away had 2 left. I said, "are you sure it's only valued at $22" and she replied, "yes". I drive my happy ass over to the big store and the rep at the customer service area has no idea WTF I'm talking about. He checks inventory and 2 are left. He excuses himself because he's "new" and asks the manager. Manager says trade in is a green light and new guy proceeds. He checks for trade in value and says, "50 bucks" and I said, "DEAL". While ringing up the N9 he goes, "oh, looks like you get another 50 off" and I'm giggling like a little child inside. Deal...done and done! $330 out the door! Goes to show you how one rep at Best Buy didn't know her ass from a hole in the ground and the other gave me the full trade in value. Posted via the Android Central App
Android Central Newsletter
Get the best of Android Central in in your inbox, every day!
Thank you for signing up to Android Central. You will receive a verification email shortly.
There was a problem. Please refresh the page and try again.