Fleksy's new developers strive to revive the app as the next keyboard platform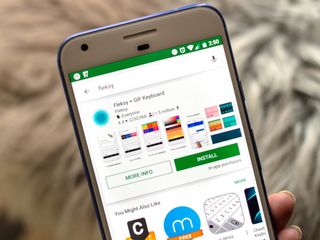 Consider the fact the way you type to a friend or family member is kind of like a language of its own. Think about it: the emoji you use, the shorthand you elect, and the sentences you choose to complete are all part of a system of rhetoric you've developed around communicating with others via a smartphone.
And what if your keyboard doesn't support the kind of fluidity you need to have conversations? Well, then it's frustrating to use. These sorts of scenarios are what ThingThing is attempting to eliminate, in addition to seeking to make its users feel like they're able to express themselves regardless of the messaging app they're conversing in.
"We take for granted the keyboard for just being a key input, but if [what you need] is one tap away, you can eliminate having to switch between apps," said Olivier Plante, the co-founder of ThingThing. The popular iOS keyboard app recently announced it would take over development for another popular keyboard app on Android, Fleksy, which wasn't actually left for dead as we'd all initially thought.
The idea is to bundle in ThingThing's integrated services abilities with Fleksy's impressive auto-correct capabilities. "We started to exchange visions — of what is the role of the keyboard in the market, and how the OS is going to evolve in the future," Plante told TechCrunch last month. "[Our visions were] aligned in values."
The plan is to open up Fleksy to third-party developers to turn it into a bonafide platform of sorts with plug-ins and quick access to shortcuts and other apps and services. I spoke to Plante about what's next for Fleksy, and what users of the iOS and Android apps can expect with something like a "keyboard platform."
The keyboard as a platform
If you're a seasoned Android user, you're already privy to the idea of the keyboard as a platform in of itself. Think about it: you've always had the option to ditch whatever default keyboard app came with your Android-powered device. Well, that's the same idea behind the next version of Fleksy; essentially, that it becomes the app you want to type with in every app that supports keyboard input because it offers everything you could need.
"We see the keyboard as the perfect gateway to sort actions in any app," explained Plante in a Skype call. "As Facebook Messenger has evolved into a platform, as iMessage had enabled the ability for developers to build micro-apps…if you have this approach of having a silo, it ends up being a big mess for developers. It creates a cluster of multiple things to manage."
Plante continues, "The platform enables users to access content in any app and share it in any app where the keyboard is. It's as simple as that. We'll enable third-party developers and service providers to build on it but in a very careful way. We're talking about different types of services, from GIF services to places on Yelp to songs from Spotify. But it's always the same principle of being able to access things and share them."
What separates it from other keyboard apps?
With GBoard (opens in new tab) already featuring integrations into its services and plenty of users flocking to Google's stock offerings, it may seem like using any other third-party keyboard app is moot. But not so, explains Plante:
"We see other keyboard apps have tried something similar…who have created a bloated experience, something that is very messy. [Our] team is very attentive to the core user experience — It's one of our core values: to create an experience that's simple to use."
Plante added that what will help separate the next Fleksy is how much more private it is compared to other keyboard apps. "The users know that, with us, they will have a private experience that's completely local with nothing in the cloud. The algorithm sits on the phone; everything is processed on the phone, and we're [the ones] directing services."
Any unique features for Android users?
Android users will see the same keyboard experience as their iOS counterparts when the new app relaunches. However, Plante promises, the app will continue to be developed specifically for the Android user:
"We want to unify the experience, so if a user has an Android tablet and an iPhone, he'll be able to have the same experience. We're going to focus our attention on making both platforms compatible. But we know Android has specificities, and we'll always care about those specific features."
"We want to provide a premium feeling product, so we're thinking carefully about behaviors of users and asking people if they understand how things can be used. We're centered in on that experience of the user."
How Fleksy plans to remain private
"We're very serious about this. We want to empower what the user wants [while also being] respectful of their privacy. Do you want to search with Google? Fine, but you don't need to tell anyone what's happening behind the scenes — cross marketing, advertising that suddenly shown what you've been typing to your friend. We don't believe this is the future. These kinds of things are happening, and we think we need to bring something valuable to the world. It's what we care about."
Download Fleksy (free) (opens in new tab)
Android Central Newsletter
Get instant access to breaking news, the hottest reviews, great deals and helpful tips
Florence Ion was formerly an editor and columnist at Android Central. She writes about Android-powered devices of all types and explores their usefulness in her everyday life. You can follow her on Twitter or watch her Tuesday nights on All About Android.
Interesting. I'm now stuck with Gboard as my main keyboard but I always like Flesky's big and no frill alphabet and number row. I'll give this new "platform" a shot but I'll keep a backup of the old one just in case it becomes one of those "lemme take over your successful app and lemme take it down to hell" thingy.

You can add a number row to GBoard.

We won't and never create this kind of experience. We're not like other cheesy - creamy keyboards. We care about premium user experience. More about it this Fall.
Olivier
CEO of Thingthing Ltd.

the 'no cloud' mantra is actually a giant PITA for those that like to switch phones regularly. Similar to gboards private dictionary...totally non transferable

Totally agree... They could easily do what some launchers do and give an option to backup the settings (and dictionaries) to a cloud drive of the user's choice. That way they still don't have to deal with the privacy thing and additional servers, but it gives users the option for easy phone transfers, at least.

You read in our minds! That's the way to go for full privacy!
Olivier
CEO of Thingthing Ltd.

In the way we'll do it, it'll be dumb simple and PETA-free!
Olivier
CEO of Thingthing Ltd.

It's pretty much simple process! http://showboxupdates.online/

Maybe it's because it's Monday, but I'm not comprehending what this "platform" proposes to do.

Monday are always harder - agree! Stay tuned, you'll know more about it this Fall! Have a good Monday!
Olivier
CEO of Thingthing Ltd.

why does Oliver seem like an A.I. Reply bot? anyhoo, I really, really tried out Flesky and wanted to love it but I really missed Swiftkey. Maybe I'll give it a go again.

Hey ! Sorry for the bot replies, was trying to be clear and inform where I'm coming from too ;) - have a good day !

I was so bummed when Fleksy was abandoned, I tried replacing it with SwiftKey, Swype, KiKa, TouchType, Go Keyboard, Chrooma, Minuum(this one I liked but it's ugly) and stuck with Gboard. I'm so glad Fleksy is back! still a lil nervous that Thingthing will change it too much.

We got your back! Thanks for your loyalty! Exciting things coming soon! Best, Olivier
Android Central Newsletter
Get instant access to breaking news, the hottest reviews, great deals and helpful tips
Thank you for signing up to Android Central. You will receive a verification email shortly.
There was a problem. Please refresh the page and try again.