Get ready for 30-second video ads on Instagram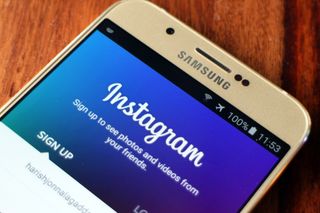 Previously limited to select brands in the US, Instagram has announced broad changes to its advertising platform that gives companies of all sizes in over 30 countries the ability to serve ads on the service.
Ads are now rolling out in Italy, Spain, South Korea, India, and Mexico, with all users globally receiving ads in their feeds by September 30. After adding landscape and portrait modes last month, the service is giving advertisers the ability to roll out ads in the new formats.
Users are still limited to 15-second videos, but advertisers will be able to roll out ads 30 seconds in length, which according to Instagram will allow brands to "engage in richer storytelling."
Brands can also take advantage of a new ad option called Marquee that's designed to reach a lot of users in a short time-frame, which the service mentions will be ideal for movie premiers and product launches. Finally, advertisers will be able to use call to action buttons to further engage users:
Source: Instagram
Harish Jonnalagadda is a Senior Editor overseeing Asia at Android Central. He leads the site's coverage of Chinese phone brands, contributing to reviews, features, and buying guides. He also writes about storage servers, audio products, and the semiconductor industry. Contact him on Twitter at @chunkynerd.
At the risk of getting nailed to the "butt-kisser" cross I'm going to say this is totally lame. Posted via the Android Central App

Why? I'm pretty sure ads will appear as "classy" and "descent" as they appear on blinkfeed. Lol Posted via the Android Central App

LoL Posted via the Android Central App

Wanna know logic? Make the stuff we want to watch shorter in length but make crap that we don't want to see longer in length. This is really lame.

I also noticed that as well. WTF Posted via the Android Central App

Not sure if they autoplay. If they do......... ....RIP data cap

Dam......................... Posted via the Android Central App

Here's what carriers suggest. Pay them more money, which is probably why phone makers are pushing cloud crap so hard. Probably because carriers are telling them to do it. All part of some big they're working together to give as little as possible and make as much as possible together scheme.

I'm sure the majority of users would happily pay for a years use to avoid any ads all together? Similar to Whatsapp. Posted via the Android Central App

This. We should at least be given the choice. I've been used to paying for things if I see superior value (here it'd be a clutter-free experience). Not a big enough fan or user of instagram to warrant any of this (ads or yearly fee) though. If these ads become the least bit intrusive, Ill just stop using Instagram. As simple as that.

Im just surprised this hasn't happened a long time ago Posted via the Android Central App

good thing I don't use Instagram

You and me both. I don't do ads, period. Posted via Android Central App

If I have to sit through 30 seconds of a video commercial to brows pictures then I will stop looking at pictures. Especially if I'm on the tube or the bus. So you can guess where I'm going with this... Posted via the Android Central App

As if they do not make enough money? Posted.

Do they? Facebook obviously makes boatloads of money, but I wonder how profitable Instagram is, as a division. Posted via the Android Central App

What about my data usage? Posted via the Android Central App

The downfall of Instagram... Posted via the Android Central App

Uh Instagram has just lost me, why no place is sacred any more Posted via the AC App on SM-N910F

Just great more ads like the spam isn't bad enough Posted via the Android Central App

I rarely have Instagram open for more than 30 seconds at a time...

I can't really think of a better way to drive away users. Maybe they will go with 1 minute ads next?

While not a fan of this, I can tolerate it as long as they: 1. Do not autoplay
2. Give me the option to flag them the way Twitter does as "too frequent, offensive, etc"
3. Do not force users to watch one on order to begin scrolling through their feed If users who made the service as big as it is today do not get to create videos longer than 15 seconds, neither should the advertisers. Posted via the Android Central App

I think I'll be able to tolerate it as long as I can just scroll past the ad. But I fear this is only the beginning. I don't want to hate using Instagram as much as I hate using Facebook. Posted via the Android Central App

This was only bound to happen since fb bought them -_- Moto G 2nd Gen 2014 on Cricket
Motorola IronRock XT626 on SouthernLINC
Asus Nexus 7 2013 on WiFi

Everyone remember this day. Tell your kids this is the day Instagram started losing relevance. 3rd party Apps ftw? Ad blocking can't be that hard? I've used YouTube Apps that never show ads. Posted via the Android Central App

30 second commercials yet users only get 15 seconds go f*ckin figure. Hopefully its like YouTube and u can skip after the first 5 seconds. Posted via the Android Central App

I was way tired of instagram anyway Bye Bye
Android Central Newsletter
Get the best of Android Central in in your inbox, every day!
Thank you for signing up to Android Central. You will receive a verification email shortly.
There was a problem. Please refresh the page and try again.