Genshin Impact: How to enable cross-save by linking your PSN and miHoYo accounts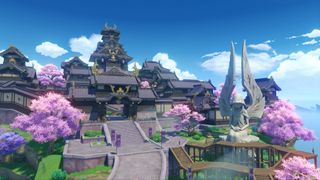 (Image credit: miHoYo)
Cross-saving, or cross-progression, will be added to Genshin Impact with the 2.0 update, along with the new city of Inazuma and several new characters. This means that, before you had to maintain different characters on different platforms, you can now play as your Traveler on multiple devices.
Developers MiHoYo recently detailed how this works, and while the linking process is a bit tricky, it's not as complicated as it sounds. Here are the steps, and given that the update is relatively recent, users should make sure their version of the game is up-to-date.
A note on terms: We'll refer to a general "iOS/Android/PC" account as a "MiHoYo account." This is because you must create your own account to play on those devices. The PlayStation, on the other hand, creates its own MiHoYo account when you open Genshin on it for the first time that is separate from that on the aforementioned devices. So for the sake of differentiating, we'll refer to that as a "PSN account."
If you have thus far only played Genshin on one device — either on your phone/PC or your PlayStation — then there is good news: Linking the two and enabling cross-save is possible. Note that once you link accounts, you cannot unlink them. So if you want to keep your playtime between the two devices separate, don't follow the below steps.
If you want to benefit from cross-progression and want to play as your characters anywhere, then here's what you need to do.
PSN to Android/iOS/PC users
If you've played Genshin on your PlayStation up to this point and have yet to log into an account on any other device, then you're in luck. This process will be relatively simple.
Open Genshin Impact on your PlayStation.
Open the Start menu and go to the Settings.
Navigate to the Account submenu, and then select the User Center.
A browser window will open up, showing you the name of your PSN account and giving you the option to "Link account."
Once you click the blue "Link" button, you must enter an email address that is not already associated with a MiHoYo account.
You'll get a confirmation code to your email that you'll have to enter on the Link page, but after that the account on your PlayStation will be linked to that email address.
Once you've logged into this corresponding account on your Android phone, your progress between the two will be linked. You'll even be able to unlock PlayStation trophies playing on your phone.
Android/iOS/PC to PSN users
For those of you who want to move the progress you've made on Genshin from your MiHoYo account to your PlayStation, this is going to require some alertness on your part.
Open Genshin Impact on your PlayStation for the first time.
Read and agree to the terms of service and the privacy policy.
Enter your MiHoYo account email address in the pop-up window. DO NOT click past this window. This is your only chance to log into your account and link it to your PlayStation before it creates a MiHoYo account for you.
Once you've logged in with your email address, your MiHoYo is now linked to your account on PlayStation, and your progress will be shared across both platforms.
What if I've played Genshin on both?
There is some bad news for those who already have progress on PlayStation and another device -- you can't link the two active accounts. You will basically have to pick one or the other or abandon the idea of linking altogether. Here's MiHoYo's official explanation: "The reason for this is that your account for PSN automatically registers a miHoYo Account after logging into Genshin Impact. Thus, it cannot be linked to an email address that is already associated with a different miHoYo Account."
If you do have progress on both accounts, the easiest way to keep both and play at least one on two devices is to use a different or new email to link to your PSN Genshin Account. When you log into this account on your PC or phone, you'll be able to pick up progress on your PS saved character. You won't be able to play with your other character on your PlayStation, but you will have at least one character on multiple devices.
There are some caveats to cross-save. For example, it's not supported on different servers -- you can only have cross-save on a single server. It's also not supported for TW, HK, MO servers, as those don't yet exist for the PSN. For a complete list of all the caveats, read MiHoYo's FAQ on the topic. If you're preparing to play Genshin on your phone, you might want to invest in some good mobile gaming accessories to make the experience better.
Traveling the world
Travel to an ever-expanding world in this free-to-play online adventure game, which is about to get much bigger.
Genshin Impact is growing even more as the 2.0 update adds a city and several new heroes to the game. With so much more content, Genshin's looking bigger and better than ever.
Sign up for Black Friday email alerts!
Get the hottest deals available in your inbox plus news, reviews, opinion, analysis and more from the Android Central team.
Rachel Kaser is an Android Central gaming contributor, who's been writing since 2013 and gaming since the age of five. She's covered everything from gaming news, reviews, and analysis -- if it exists in gaming, she knows about it. She also contributes to Future's other sites, iMore and Windows Central. If you want to hear her opinions on games, pop culture, tech, and everything in between, follow her on Twitter @rachelkaser