GE has new switches and dimmers that will work for almost any home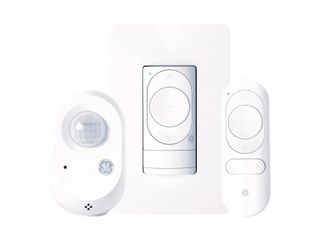 What you need to know
C by GE is launching a new Three-Wire Smart Switch and Hubless Dimmer with smaller designs that don't require a neutral wire.
The new switch and dimmer will also work with Amazon Alexa and Google Assistant without the need of a smart hub.
It is also adding a wire-free battery operated switch, dimmer, motion detector, and remote to its lineup of smart lighting products.
GE is looking to solve some common issues with smart lighting with its new lineup of products. Beginning with the C by GE Hubless Three-Wire Smart Switch and Hubless Dimmer, which feature smaller designs and don't require the use of a neutral wire. This will allow for installation in a wider variety of homes, including older ones that may lack the neutral wire or have smaller junction boxes.
The new products are also compatible with Amazon Alexa and Google Assistant without the use of a smart hub by connecting directly to your Wi-Fi network. Apple HomeKit users, however, will be required to use an additional hub for voice assistant integration. If voice control isn't your thing, the new products can also be managed through the C by GE app.
Image 1 of 3
Another problem GE is tackling is the "flickering" or "ghosting" you can see when using some smart lighting solutions. To do this, GE is including an adapter in the box which can be used to mitigate these issues.
GE is also adding a lineup of wire-free battery operated switches and dimmers that can be mounted anywhere with an adhesive strip. This will allow users who are uncomfortable with wiring or that live in apartments to upgrade their home with smart light technology.
Image 1 of 3
The switches will last up to two-years using a coin cell battery and communicate via a Bluetooth connection. Along with the switch and dimmer, GE will also launch a wire-free battery operated motion sensor and remote into the C by GE line of products.
The new C by GE products will arrive early in 2020 with the wire-free products beginning at $22.99 and the Three-Wire Smart Switch retailing for $39.99. The Hubless Dimmer is expected to launch a little later in the second quarter with a price of $49.99.
I'm confused... It says these are a brand new thing that's coming out soon... But Amazon has these switches now and some people left reviews of them back in July. Are you referring to a different product??
GE Lighting 48733 Smart Switch Motion Sensing and Dimmer, Wi-Fi, Works with Alexa/Google Assistant Without Hub, Single-Pole/3-Way Replacement C by GE On/Off Toggle, White https://www.amazon.com/dp/B07J62P5BK/ref=cm_sw_r_cp_apa_i_60-dEbDHJ0W0E?...

Your link is for existing products that require a neutral wire.
Android Central Newsletter
Get the best of Android Central in in your inbox, every day!
Thank you for signing up to Android Central. You will receive a verification email shortly.
There was a problem. Please refresh the page and try again.