The Galaxy Watch Active could be one of 2019's best smartwatches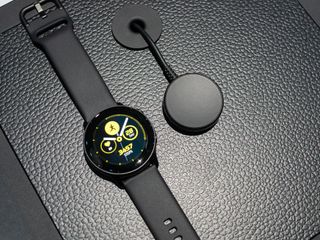 (Image credit: Android Central)
This past Wednesday, February 20, will be one of the most memorable days in the tech space for a while to come. It was the day that Samsung unveiled its foldable smartphone to the world — paving the way for what's shaping up to be the future of smartphones as we know it.
The Galaxy Fold is immensely exciting and is the device that has most people talking from Samsung's Unpacked event, but it was far from the only new gadget to be unveiled. No, I'm not talking about any of the Galaxy S10 phones. What I want to focus on today is the Galaxy Watch Active and why I think it has potential to be one of the best smartwatches in the Android space by a long shot.
First, let's take a brief look at the market's current offerings.
With Wear OS, things are — fine. The Fossil Sport (opens in new tab) is the best option currently available (at least if you ask Mr. Mobile) thanks to a solid design and a wealth of features. Aside from that, you have budget picks like the TicWatch S2 (opens in new tab) and E2 (opens in new tab). And, well, that's about it.
Fitbit's still offering its Ionic (opens in new tab) and Versa (opens in new tab) smartwatches, and for someone that's already invested in the Fitbit ecosystem or wants a smartwatch with a heavy focus on health/fitness-tracking, they continue to be pretty compelling options.
Then, you've got Samsung. We named the company's Galaxy Watch (opens in new tab) the best smartwatch/fitness tracker of 2018, and to kick off 2019, we have the Galaxy Watch Active — a smaller, more affordable variant of the Galaxy Watch that could be even more appealing for a lot more potential customers.
Compared to its older brother, it's pretty impressive just how many features the Galaxy Watch Active retains. There's an AMOLED display, heart-rate monitor that can detect irregular heartbeat patterns, NFC chip that enables Samsung Pay, up to 50 meters of water resistance, built-in GPS, and a multi-day battery that can be easily refueled using Qi wireless charging.
The display's smaller at 1.1-inches compared to 1.2 or 1.3-inches and the iconic rotating bezel is gone, but aside from those few omissions, the Galaxy Watch Active is basically the same device.
Oh, and it costs $150 less at just $200.
What else can you get for $200 in the current smartwatch market? The Fitbit Versa (opens in new tab) has the exact same price tag, but it also has a worse display, no NFC (unless you spend another $30 for the Special Edition), a weaker app/watch face library, and a proprietary charging system. Then again, you get access to Fitbit's excellent heath platform and 4-5 days of battery per charge.
The TicWatch S2 delivers a lot of goods for $180, including up to 2 days of battery, up to 50 meters water resistance, and even built-in GPS. Unfortunately, it's powered by the outdated Snapdragon Wear 2100 processor with performance to match and lacks the ever-convenient NFC chip.
Samsung's Galaxy Watch Active certainly isn't perfect, but if you ask me, it offers the best and most complete package for its price. The design is accessible, the software experience is a joy to use and better than ever thanks to new, easier-to-understand fitness tracking goals, and Samsung Pay is readily available for all models.
Even if the experience is just remotely similar to what the Galaxy Watch offers, the difference in price will make the Active worth it.
With that said, the smartwatch landscape could change a lot in the coming months. There are rumors of a Fitbit Versa 2 in the near future, and towards the end of the year, we're expecting Google to finally release its Pixel Watch.
Even when those devices do get released, however, the Galaxy Watch Active could still stand as a gadget worth competing with. It may not have every single feature out there, but it absolutely nails the value proposition. $200 for a smartwatch with a great design, robust fitness tracking, Samsung Pay, a native Spotify app, and Qi wireless charging? It doesn't get much batter than that.
We'll have more to say about the Galaxy Watch Active when our full review is ready, but based solely on first impressions from what Samsung's showed us so far, I cannot wait to get my hands on it.
There may be better, more powerful smartwatches, but as a complete package, I think Samsung may have a knocked this one out of the park.
Joe Maring was a Senior Editor for Android Central between 2017 and 2021. You can reach him on Twitter at @JoeMaring1.
I'm very torn on this device. The rotating bezel of Samsung tizen watches is a huge differentiator compared to wear OS. Losing that is a step backwards. On the other hand, I love the idea of standard qi charging. I'm still wearing a Gear Sport, and I was considering either the Galaxy Watch for a more watch like look, or the Galaxy active, but will probably just keep with what I have for the medium term.

I don't consider it a step backwards for $150 less.

What was so great about that bezel? It made the watch look so bulky. That was the reason I didn't buy one.

Then you obviously never used one. I've owned at least 8 smart watches in the last 5 years and the rotating bezel ring on the Samsung Galaxy watches are by far the best way for quick navigation. There's a version of the bezel on the Samsung Galaxy watch S2 there was much thinner but still worked perfectly fine. And I'll let you know that I have yet to use a rotating crown that beats out the ease of a rotating bezel.

Agreed, but it is also the ONLY good thing about them. The app store is practically barren.

According to the spec sheet on Samsung's website it does have GPS?
Connectivity
Bluetooth4.2, Wi-Fi b/g/n, NFC, GPS/Glonass/Beidou/Galileo

I'm hearing conflicting reports about GPS on the watch, but all of the retailers ive seen (Samsung, Best Buy, etc.) list GPS as a feature

I'm curious if you need to be in the Samsung ecosystem (ie, have a Samsung compatible phone) to take advantage of the blood pressure tracking. I tried downloading the My BP Lab app and it says it's not compatible with my device (Pixel 2 XL). Would I be able to to do blood pressure stuff without the app and solely track on the watch?

I want to know too as I also have a Pixel and want the Galaxy watch.

From what I know you have to have an S9/S9+ or note 9 or the upcomking galaxy watch. It's also US only.

This is the first I've heard of no GPS. Samsung.com lists GPS as a feature.

It is probably the best smartwatch if you live in the Samsung eco system. Tizen lack of apps except for a few. You have to install tons of Samsung bloated apps if you want it to work well on a non Galaxy phone.

May be a trade off some will be willing to make if wear os doesn't get better.

In what ways is it worse? I left Tizen and went back to WearOs. Such an improvement.

I've read reviews on a lot of watches and they say wear os is sluggish, even on watches with the newer snapdragon 3100 processor. I don't have first hand experience with wear os watches so maybe it's not as bad as it is made out to be. But a lot of reviewers say the same thing.

I don't know what they are talking about. It works fine for me. It was far beyond what I was used to with the limited capacity of Tizen, which is laggy.

My gear s3 works fine on my honor view 20. Installed 3 Samsung apps and no bloat ware.
Samsung health is really good and you need the wear app for the store apps for the watch.
Don't let it put you off if you don't have a Samsung.

They really don't take up that much space, unless you have a 16-32gb phone it won't make too much difference. Having a folder of Samsung apps isn't very inconvenient.

Please update your article the Active does have built-in GPS, where did you even get your information from... Seriously did you even read the spec sheet??

It might be the pre production model for reviewers that doesn't have GPS.

I believe you need to update article information regarding GPS feature. Samsungs website states it does in deed have GPS unless their website is incorrect.

I have never cared for smart watches because they have never done anything extra that justified buying one to me (my opinion, others might find great use in them). But now that they are adding blood pressure monitoring they have peaked my interest. I am curious how accurate it is going to be and how often it will monitor it.

I'm all Samsung but when it comes to watches I will never spend another dollar on a tizon OS watch.... Needs to have Android basic apps so it can play nice with the Eco system

Apps are over rated. I've had 2 Apple watches which have all the apps and I don't open any of them on the watch. It takes too long and the screen is small. I use my watch to see and respond to my notifications, make mobile payments, set timers, alarms and add events to my calender and to find my phone when it's lost. The Samsung watches can do all of these things even if it doesn't have anywhere near as many apps. My Apple Watch doesn't have google maps on there. I use google maps.

For some, perhaps. Personally, I want a smart watch, not a Samsung fitbit

so how many apps does one need to be a smartwatch? 20? 30? 100? 1000? how many apps does the apple watch have? What function does the samsung watch not have that keeps it from being a smart watch?

I presume that Apple Watch has Siri? WearOs has Google Assistant. Tizen...has S-Voice...which is a bit of a joke. I don't know what the ideal number is, but the point is that it doesn't have much of an app store, which some people might want to have. I communicate more with Facebook than text, so Facebook support would be a good idea. Tizen doesn't have it Uber? No
Pandora? No It's lack of real app support hinders Tizen.

That is almost exactly what I use mine for. I only wish that s-voice/bixby was a bit more responsive and worked with smart home functionality (better I mean). But there is a stand-alone Alexa app now and with apps for IFTTT and Tasker I'm all set for anything. I find pretty much all the built in Samsung apps to be amazing and a joy to use because of their simplicity and they just work.

Joe, your article can't be taken seriously.... Get your facts correct. The Samsung Galaxy Active watch has built in GPS.... Lol, unless Samsung is lying on their web site.

I've preordered this. I'm upgrading from the Xs max to the S10 plus and the Apple Watch series 3 to the active. My carrier doesn't support LTE watches so my series 3 LTE has been underused for the past year plus.

I finally left my Gear S3 Frontier at Christmas. I was fed up with the continued lack of a real app store, or at least real apps. I got a Ticwatch Pro for Christmas, at under $200, and it blows the Gear S3 Frontier out of the water. Google Assistant can actually do things, unlike S-Voice, and there are actually apps. I also have continuous HRM and I rarely run out of battery. Sorry, but until Samsung makes an effort to get major apps on their app store, then they need to consider merging their UI with WearOs.

Ouch that sucks to hear. I have had nothing but a good experience with my gear s3 frontier. I too have a Ticwatch Pro and while its decent enough; the GA alone isn't enough for me. Especially since the Ticwatch Pro is super laggy and janky (I've done numerous factory resets too; its just slow compared to Tizen). I blame it mostly on the lack of ram and the old 2100 snapdragon processor. Samsungs processors with Tizen just run better. Now I realize your primary complaint was lack of apps and you are right that Tizen is a bit thin. Thankfully there is a fully functional Alexa app now (runs standalone; your phone isn't needed to make it work) and with options that allow you to make and run your own IFTTT and Tasker tasks I have found little reason to even both with WearOS. I don't like talking to GA on my watch anyway since its slow and my phone always responds when I say "Hey Google" anyway and its far faster than my watch. I don't know about continuous heart rate on the Gear's but I do get 3 days of battery out of my old S3. Again I'm sorry to hear your experience hasn't been that great. I hope with the Active; Samsung devs will take more of an interest and make some more/better apps.

I doubt it, since they haven't so far. I have yet to experience the issues that you are talking about with the Ticwatch Pro. Battery life was never that great on the S3. I never got it to a full 24 hours. It was better than what I had before, but the Ticwatch is on a whole other level. I had to bring my watch charger with me at DragonCon to get it to last until I got back to my room. I don't have that issue now

I have the galaxy s2 class and had it since it was released. what I like about it is the round bottom, which made it look thinner, and the bezel, which made navigation easier. Look like this new watch don't have either. the one picture with a partial side view gives it a thick boxy look. I think I will keep the s2 a bit longer.

I have the Galaxy watch 2018..I love it..now as I read in this article the pixel watch is soon to be release this year, wonder how that will be or look.. I also always wonder how pixel phn work

I have already ordered one! I was waiting for them to drop that totally lame rotating bezel. There simply is no need for it, and it looks silly. For $150 less and not having that rotating bezel, I could not say no! You do not use a watch so often that you need to have a rotating bezel to find an app, it's just as easy to swipe and click to pick and open. Smart watches are for simple controls, like music tracks, volume, notification quick reply's, seeing notifications on the fly, checking music you hear with shazam, and of course time. It's not a replacement for your phone. Wear OS is such a disappointment, the latest 2.3 H version has killed my LG Sport battery usage, many factorie restarts, don't even get me started. The Wear24 by Verizon has now shown BT disconnected for the last three versions of Wear OS, and The best watch ever Huawei Watch Original, which I'm now using, just didn't get the latest updates. (That might be a good thing.) You do Not need a Samsung phone for this to work. It does not take bloatware to make it work.
The Samsung health app is much better then google's lame fit app.
It does have GPS onboard. One disappointment is that it can only use NFC for Samsung pay point, which btw is much better then google pay, again Samsung has done what google can't seem to. If you do not know, Samsung pay also works with MST which is like a digital swipe strip, that would have been nice, but more pay points are going to NFC. Now we just wait for real world usage and how long that battery lasts. I only need a full day, as I charge each night. I got the green and have already used Samsung's Galaxy Watch Designer to create a purple Joker watch face to put on it! Once I get things going I will upload that to the Sammy store. The SGWD is super easy to use, so you can create all kinds of faces. Fingers crossed this steps me out of what really was a disappointing Wear OS and total failure!
Android Central Newsletter
Get the best of Android Central in in your inbox, every day!
Thank you for signing up to Android Central. You will receive a verification email shortly.
There was a problem. Please refresh the page and try again.