Samsung's upcoming Galaxy Watch 4 has a new health monitoring feature to challenge the Apple Watch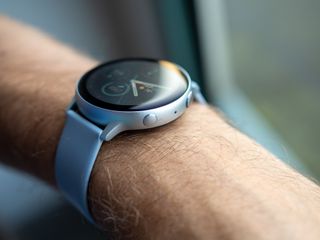 (Image credit: Android Central)
What you need to know
Samsung's next smartwatch is said to come with a blood glucose monitor
It'll work with an optical sensor that allows the Galaxy Watch to track blood sugar levels without actually drawing blood.
Samsung will put this against Apple's next Watch, rumored to also be shipping with a blood sugar tracker.
Samsung's Galaxy Watch 3 was already heavily health-focused, but the Galaxy Watch 4 may be even more so. A report from the Korean ET News claims that the company's next smartwatch may ship with a blood glucose monitor, The upcoming smartwatch, either branded the Galaxy Watch 4 or the Galaxy Watch Active 3 will come with an optical sensor that can measure the blood glucose levels without needing to draw blood.
Samsung has tested the technology in the past and has published research showing how it is possible, so it does make sense for the company to integrate this in a health-focused smartwatch. Though Samsung already makes some of the best smartwatches, it's ever-present rival, Apple, will also be shipping a smartwatch with a blood glucose measure by the end of the year. The inclusion of this feature in the company's next smartwatch will allow it to be competitive with Apple. Depending on whether it launches before or after Apple's product, it'll allow it a few moments of breathing room to grab customers who'd be interested in that extra bit of functionality.
Samsung is likely to debut this watch at Unpacked 2021, set to take place in summer if trends hold. Like last year, it's expected to launch a family of flagship devices at that event including sequels to the Fold and Flip series. It is not clear if the Galaxy Note line will receive an update at this point.
Samsung Galaxy Watch 3
The Galaxy Watch 3 offers stunning hardware and a variety of health-focused features, including an ECG and blood pressure sensor.
I would be grateful if they followed through with the features on the watch that I already have. Blood pressure, on the GW3 please.

Count yourself lucky, we haven't had ECG turned on in the UK yet.

There's a painless way to install it straight from your phone. A tutorial on YouTube with the files linked in. Works perfect on my Watch Active 2 along with the Blood Pressure feature. Absolutely not the point though however when it should be on there and functioning as standard from day 1. I don't think the UK will ever get that tbh

Yeah exactly. I know you can get it working, but we shouldn't have to install hacked health APKs from random Google drives to enable an advertised feature.

Spoke too soon. We're finally get it from 4th of Feb

But they won't actually be activated for at least a year and even then only in 1 or 2 countries at most.... That's how it works right?

Nope. Unless it ships with it already working, along with blood pressure monitoring, I'll keep the active 2 until it dies or someone offers something better with more than future promises, especially since the price seems to keep going up for their watch offerings.

And it will never be activated lol. Why don't they have a thermometer?

Thermometers are too unreliable on watches I believe. Garmin have one built in but don't let you use it for ambient temperature as body heat affects it too much. They let you connect a remote one instead.

That makes sense... Although I'm not sure how much more inaccurate a body temp sensor would be compared to the other sensors lol. They could definitely incorporate an accurate one into galaxy buds though.

PLEASE let this be true. And I hope it works well, and is FDA approved for managing Type 1. Dexcom CGM is so hit or miss with my son, even if it was just for a backup to the Dexcom, I will get this for him. It'll probably be huge on his wrist, so hopefully it will still work for him.
Android Central Newsletter
Get the best of Android Central in in your inbox, every day!
Thank you for signing up to Android Central. You will receive a verification email shortly.
There was a problem. Please refresh the page and try again.