Galaxy Tab 10.1 launches in the UK on August 4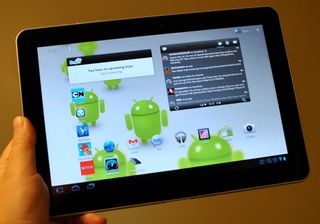 We'd heard an August launch was on the cards, but now we know that Samsung's Galaxy Tab 10.1 will go on general release in the UK in just under six weeks time, on Thursday, Aug. 4. In the UK, the Tab will launch with Android 3.1 Honeycomb, and we'd expect to see TouchWiz on there out of the box too, as it's featured heavily in Samsung's European promo materials.
The 3G version will also ship with a HSPA+ capable radio, though that won't do you much good in the UK just yet, as British networks have yet to roll out this technology. There's no mention of any price point, but we'd be surprised if the Wifi-only version exceeded the iPad 2's £400 asking price.
Press release is after the jump. Check out our review of the limited edition Google IO Galaxy Tab to see what you can expect from the retail version.
UK LAUNCH ANNOUNCED FOR SAMSUNG GALAXY TAB 10.1
Samsung announces its slimmest, lightest and smartest tablet will hit UK shops in August
24th June 2011, London, UK – Samsung Electronics Co. Ltd today announced the latest in its Galaxy Tab range, the Galaxy Tab 10.1, will be available in the UK on 4th August 2011.
The Samsung Galaxy Tab 10.1 comes in both 3G and WiFi only versions and launches with latest version of Android, Honeycomb 3.1, which is designed specifically for tablet devices.
The latest addition to Samsung's Galaxy Tab range features a 10.1 inch crystal clear WXGA TFT LCD screen, weighs only 565 grams and is the world's thinnest mobile tablet of its screen size measuring just 8.6 millimetres.
Supporting network speeds of up to 21Mbps and Wi-Fi 802.11 a/b/g/n connectivity, the new Galaxy Tab 10.1 is equipped to deliver fast mobile download speeds and reduce data transfer time. The Samsung Galaxy Tab 10.1 includes a 1GHz dual core application processor, with the latest NVIDIA® Tegra 2™ chip, ideal for entertainment such as movies, games and e-books, browsing the web or staying connected with email or messaging services. The Galaxy Tab 10.1 also has a 3 megapixel rear and 2 megapixel front camera with 1080p HD video and Flash playback and is available in both black and white.
The Galaxy Tab 10.1 comes packed with content and services, pre-loaded with Samsung's Readers Hub and Music Hub, providing instant access to more than 2.2 million books, 2,000 newspapers, 2,300 magazines and 13 million songs. Also built in is a specialised tablet version of Samsung's Social Hub, which integrates email, instant messaging, mobile contacts, calendar and social network connections into a single interface. The Samsung Galaxy Tab 10.1 also delivers console quality gaming, with Gyroscope and Accelerometer for interaction and motion control, powered by 'mobile super chip' NVIDIA® Tegra 2™ for mind-blowing graphics.
Simon Stanford, Managing Director, Mobile, Samsung UK and Ireland said: "The Galaxy Tab 10.1 is the latest example of Samsung's ongoing innovation in this market and commitment to the Android platform. Our Galaxy family all feature a premium design, excellent screens and are packed with compelling entertainment features. We plan to deliver exciting new user experiences and lead the tablet market in the months and years to come."
In addition to the Galaxy Tab 10.1 announcement, Samsung has also confirmed that the next in the Galaxy Tab range, the Samsung Galaxy Tab 8.9, will also be available later this year in the UK. Like the 10.1, the Galaxy Tab 8.9 is incredibly slim and light at just 8.6 mm and 470 grams.
The Galaxy Tab 10.1 and Galaxy Tab 8.9 join the original 7inch device to provide a range of Samsung tablets for consumers to choose from. The Samsung Galaxy Tab 10.1 will be available in a range of UK retailers alongside a portfolio of accessories on 4th August 2011.
Android Central Newsletter
Get instant access to breaking news, the hottest reviews, great deals and helpful tips
Alex was with Android Central for over a decade, producing written and video content for the site, and served as global Executive Editor from 2016 to 2022.
ok that's a lot of time to wait..... Dumb SAMSUNG!!!!

Bought this 2 days ago and have played with it for about 18 hours. 01. Does not connect as a mass storage on Linux.
02. Until I installed the Tab USB drivers on Windows, it would not be recognised. Even after that, it is still discovered as a phone (???)
03. No File manager, had to install "ES File Explorer"
04. I have a Samsung Phone, so once I used the same gmail ID to logon to Market on Tab 10.1, Market pushed all my phone apps to my Tab. Some of them would not get installed, as it is not available for Tab.
05. No Netflix, though PlayOn (windows Only Server), works well to get Hulu and other online only streaming. (Netflix still does not work via PlayOn.)
06. Built-in Video and Audio Players are not great, MoboPlayer is a good replacement.
07. Battery life has been great, of course it has only been 3 days.
08. Games are ok, though some games designed for phone screen does not respond well, viz, "Tank Hero" the controls gets stuck.
09. Camera is horrible, 3.2 MP and holding it unyieldy. Video is alright, though it is hard to take video with such a wide thing.
10. Played video over the network, AVI files streams alright. But If I use PlayOn, AVI and MKV files play very well. I recently purchased Matrix 7 disc Blu-ray collection and converted them into MKV(20 to 45GB fileS) to play from my BoxeeBox, they streamed very well via Playon, though it was performing 3 jumps. BoxeeBox->Wifi->PC With PlayOn -> wifi -> Tab 10.1.
11. Reading Books using Adobe PDF reader or Aldiko or Android Comic Viewer is great. Auto-Brightness can be annoying at times as it darkens and brightens without reason.
12. Built-in browser and Firefox is blocked directly by Hulu and you-tube will not show channels, so MaxthonTab rescues, those who would like to watch Flash directly from within the browser.Though, it(browse) is sluggish at time.
13. Speakers are great, headset that comes with the Tab is also nice, though I am not a fan of inside the ears headphones. Bluetooth headset works well.
14. Google Music is not great, as songs stop after each one on the playlist or maybe there is a setting.
15. Google Maps need Wifi first to download the maps and directions, then it can use the GPS to navigate. I have not tested that yet, but will do so soon.
16. Since I was impatient, I wanted to plug the tab into the charger and still use it. This turned out to be a bad idea. USB cable is too short and socket on the Tab is on the wrong side, so better to wait until it is fully charged before using it.
17. One weirdness I noticed is that all applications rotate almost 360 deg, except Market. It will only show up in landscape mode and will not switch to portrait mode.
18. Skype App does not use Camera, big loser. Gtalk however can use the front facing camera.
19. There are 5 pre-built screens, there is no way to delete one or add more.
20. There is all this talk about Samsung Kies to upgrade firmware and other stuff, but when I went to the download site, it only gave me the USB drivers. Guess the updates to 3.1+ will be over wifi or something. Wow, I was hoping to type in a few points, but ended up writing so much. Sorry for the long comment, hope it will be useful to someone planning to buy one. I am loving it.
Android Central Newsletter
Get instant access to breaking news, the hottest reviews, great deals and helpful tips
Thank you for signing up to Android Central. You will receive a verification email shortly.
There was a problem. Please refresh the page and try again.