The Galaxy Note 20 needs to have more than a stylus to justify its existence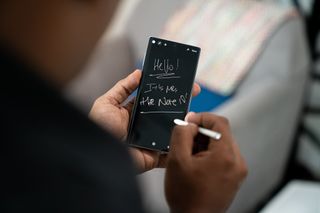 (Image credit: Android Central)
We're expecting the Galaxy Note 20 and Note 20+ to be announced by the end of August, just a few months away. And the rumors we have to work with are pointing to another year where the Galaxy Note does little to justify its existence, beyond simply having the tried-and-true S Pen stylus. Now I recognize that the S Pen, in itself, is a selling point for longtime Note fans. But it also seems clear at this point that Samsung isn't really picking up any new Note fans, particularly since the Galaxy S line has expanded to sizes matching Notes.
Samsung's last two generations of the Galaxy Note have frankly been snoozers. The Galaxy Note 9 introduced new wireless S Pen functions, but nothing fundamentally groundbreaking on the stylus front, and most importantly not substantially different from the Galaxy S9+ (opens in new tab). Then the Galaxy Note 10 series simply added more fringe wireless S Pen features, expanded the Note series to two sizes (exactly like the Galaxy S series since the S6), and was most notable for what it removed: the smaller Note 10 didn't have a headphone jack.
Expectations are that the Note 20's design will be very similar to the S20 Ultra, in two sizes, but word has it that the displays will be no larger than the S20+ and S20 Ultra. The cameras seem unchanged from the S20 Ultra, except Samsung will no longer let it zoom to 100X — which is just an admission that "Space Zoom" was marketing, and nothing more. The battery of the Note 20+ will be smaller than the S20 Ultra, like previous generations; you have to make room for the S Pen. And yes, the headphone jack is finally gone for good.
All the while, the pricing of the Galaxy S20 Ultra at $1400 points to a Galaxy Note 20+ that could hit $1500, which is just an absurd price for many people to consider. So, who's going to buy a Galaxy Note 20 or Note 20+?
The Galaxy Note series used to be the do-it-all phone for those who didn't want to compromise on specs, features, and capabilities. Oddly enough, the Note line now has more compromises than the S20+ or S20 Ultra — and in turn, you only get one difference: the S Pen. That doesn't feel like a great deal, and it shows just how much of the original Note DNA is gone.
Samsung has cast a wide net with the Galaxy S20 series, building on a couple years of expanding the overall appeal of the Galaxy S line with larger screens, longer battery life, and more features. Seeing this change, it turns out that a lot of Samsung's early success with the Note was tied to the size of the phones, and the extra features like battery life and cameras that the size enabled, rather than the stylus. Because as soon as the Galaxy S line started becoming "a big Galaxy Note-sized phone without the stylus," interest in the Note itself waned — and continues to do so.
The addressable market for a stylus-laden phone (and the compromises it brings) is just getting smaller and smaller, and when that's the case, simply adding little features to the S Pen experience obviously isn't going to move the needle. The gulf in popularity between the Galaxy S and Galaxy Note is only widening, and what we know about the Note 20 doesn't point to a change of direction this year.
Admittedly this is based on imperfect information, and it'll be a little while before we see the typical deluge of Samsung rumors hit shortly before the Note 20's launch. So I sure hope that those rumors bring some noteworthy changes — because what we have now points to another disappointing Galaxy Note release.
Big stylus power
(opens in new tab)
This is the one phone to consider if you care about a stylus
Samsung's S Pen may not have wide-reaching appeal, but those who love it wouldn't be caught using any other phone. The Note 10+ is the biggest and best stylus-toting phone; at least, until the Note 20+.
Andrew was an Executive Editor, U.S. at Android Central between 2012 and 2020.
So, you want some stand out feature you didn't bother to illuminate us on? What Note phone added something that was legitimately useful? Often times we read reviews complaining about Samsung adding something that's either largely unnecessary, or completely useless. Then the reviewers tell us that you can just ignore that feature as it's a gimmick. How about Samsung just makes what Note users actually want: a large screened phone with a stylus. It saddens me that Android centric sites continue to slight Android phones in both minor and major ways, yet iPhone centric sites heap so much praise on Apple devices. Even when it's completely undeserved. I'm not saying to not be critical where it's due; it's very much needed when it comes to extended updates. But all the nitpicking has, and is completely ridiculous. Android centric sites are a part of the problem with how Android is viewed by many. If you won't champion the platform, why should anyone else, especially developers? It'll continue to be view as 2nd best if you don't encourage and give it it's due praise.

As a longtime note fan I kinda agree with this article, I genuinely think as has been rumoured for sometime Samsung are going to replace the Note range with the Fold range maybe even include a s pen. I originally moved to the Note and Android years back when Apple just weren't making big phones but the landscape has changed and this is no longer the case. I have upgraded for very little year on year selling my current current Note device and adding money for the next one, but this year's rumoured Note 20 doesn't get me excited.

Sure but it's also good the S series has been brought up to the quality of the Note. No? The Note is no longer Samsung's do-all phone too. They have a S20 Ultra now. The primary reason for the Note to exist was always the Pen too. Is beside the point many bought it and never bought the pen. Samsung know this so produced the Ultra. The Pen will remain niche.

I guess we know who likes the Galaxy S lineup much? The note in almost every single review regardless of the version is regarded as what the S should have been. The note always has better software integration with the cameras and other improvements. So if you dont like the note, dont buy one but i have a feeling there is a huge segment out there who will because they do so every year. And this year will be no different.

I agree about the fact that there isn't many differences between the S line & the Note line nowadays. However, if rumors are true, Note 20+ could be a serious update over the S20's this year : new LTPO screen, more efficient 6nm chip, new larger fingerprint scanner, new 3.1 UFS memory...ans S pen. Also, if the new Galaxy Fold 2 has a S pen too, I think they should include it to the Note series, so it could be a kind of Note 20 Ultra...

Only people who don't understand the Note and the power of the Spen would say ''just an Spen''
The pen have so many uses and standout features that the Note doesn't need anything else to standout

Not to mention, the Note series is still about "bringing the power.". For example, last year with the Note 10+ (in the context of following the S10 launch): 1. You now have an even bigger, even brighter screen
2. You now have base 256GB of UFS 3.0 storage (2 points)
3. You now have a bigger battery.
4. You now have faster wired charging and faster wireless charging.
5. You now have 12GB of base RAM.
6. You got rid of the Bixby button.
7. You served up a much more refined version of One UI.
8. You can now DeX with just a cable. The Note 20+ will be bringing the power in, I anticipate, the following ways: 1. 120Hz WQHD+ LTPO display
2. UFS 3.1 storage
3. 3D Sonic FPS
4. One UI 2.5 allowing native Android gestures with 3rd party launchers If these things don't make you roar like Tim "The Tool Man" Taylor, I don't know what will.

There are millions of Note users, like me, who realize that the S-pen IS more than a stylus, and who would't give more than a passing thought to a phone without one. Moreover, are you kidding me with this "justify its existence" nonsense?!!! The Note 10 line was Samsung's fastest selling flagship of all time when it was launched last year. My guess is, the sales numbers and the fact that it rescued Samsung from its falling profits last year are sufficient justification.

We get these dumb articles every year, and every year the Note line are amongst the most highly praised phones of the year.

Any chance they offer the first 7" flagship with the + version? If the base is 6.7", why not test the market and toss in a massive battery as well. #Noteforlife

Once you go S-Pen, you don't go back.
I have been using a stylus since the Palm Pilot days. I use the S-Pen all the time, for lots of various uses. The Note phones don't need justification, they are the best phones period. It is OK that the S line and Note line are similar in specs, most people don't need the S-Pen and are happy with the S line.
The Note phones have a tangible use to them, unlike iPhones that are just a gateway to the Internet. There are so many uses for the S-Pen that Samsung provides, that most of the websites never talk about.

This article is more of an opinion article than a factual one. As a longtime Note user - Note 4, Note 7 (yes ..a Note 7 - it was soooo HOT! ) and a current Note 8 user, I'm pretty darn excited about the N20. Along the way my wife has had the Note 5 and is currently rocking the Note 9 - yes the phone that was just rated the highest in customer satisfaction rating of current cell phone users. So all out there reading this article please know there is a very loyal base of users waiting on this launch.

I've been using my Note 8 since getting it in November 2017. I had a Note 4 before that and the Note 2 before that. Like any other 2+ year old phone, the battery is great (well, the Note 8 battery was never great) and it's showing a bit of wear and tear because its used so much. I'm on the fence about switching to an iPhone just to try something different. Its a tool...I don't have the brand loyalty that I once did.

Sammy's Notes... ROCK! I love the build quality, S Pen and the ability to write myself reminders and notes with graphics to others. Been using them for years. I would not like for the new Notes to be larger than the Note 9 I'm presently using, with great success and enjoyment. Plus... with the Note 9... I still have the 3.5 Jack and use it... A LOT. I've said it before and I'll say it again... the Note 9 is one phenomenal phone!

Of course there are Note fans on here say "you crazy"? And I would expect that. I have never owned a Note, I was just getting ready to buy one because I wanted a bigger phone, and than they added the curved screen! No thanks! So I never got one. I'm sure the S Pen is great! I see plenty of cool videos on them every time a new Note comes out. But what I don't see is people using the S Pen in the wild. I could not tell you the last time I have seen anybody use one, in fact I bet it has been more then a couple years. I think the biggest selling point is more of a bragging right then the S Pen. There are a lot of people that just want the newest and "best" thing out there no matter the cost.

I think the pen and with it the note, has standout features that the author simply doesn't know. It's a bit of a Dunning Kruger Effect.
Just one example is that you can use the pen to translate by hovering over text. Say you want to buy something with Taobao's app, then the note is the only phone that translates within the app by simply using the pen. Many apps have press and hold features which makes it impossible to copy. With the note and only the note it's a breeze.
There's a lot of possibilities it's just that the author isn't an expert. But as I said before the Dunning Kruger Effect is something we all have to be aware of.
Next time I suggest to actually use a device before making statements.
Android Central Newsletter
Thank you for signing up to Android Central. You will receive a verification email shortly.
There was a problem. Please refresh the page and try again.