Gadgets of the week: Jabra Eclipse, V-Moda Crossfade Wireless and more!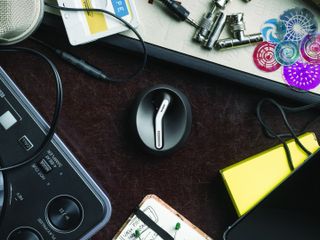 We've got a fresh batch of new Android-friend gadgets this week, particularly on the audio front. Jabra's newest Bluetooth headset is slick and full of noise-cancelling goodness, as well as its own pocketable battery dock. V-Moda has upgraded their premium headphones with wireless audio, but what will really interest you are the wealth of accessories available for it, including precious metal shields. There are plenty of other new accessory launches to check out, so dig in!
Read: The best Android gadgets of the week!
iHome Kineta K2
iHome has a pair of new Bluetooth speakers that have a dock for a removable backup battery. Pop out the "K-Cell", and you have a pocketable cylinder that can give your Android phone a full charge while you're out and about. The speaker itself has NFC for quick pairing, and FM radio if you can't be bothered. An LCD display show the time, and hardware buttons on the top let you set alarms and take calls. Alternatively,you can go with the K1 model, which only has 1 USB port for charging your phone or tablet, but holds its own independent 13-hour power supply.
ZTE Mobley
If you're looking for a dedicated Wi-Fi hotspot in your car and need to keep your phone unencumbered for other stuff (like GPS navigation), ZTE announced a new on-board diagnostics accessory that will do the trick. After activating a share plan with AT&T starting at $10/month and plugging the Mobley into your car's OBD-II slot, you're pretty much good to go. The hotspot turns on and off when your cars does, and supports up to five devices suckling on LTE speeds. The Mobley can be free if you sign a contract, or you can get it outright without.
V-Moda Crossfade Wireless
V-Moda launched a Bluetooth version of their premium over-ear headphones that aim high on both style and function. The Crossfade Wireless has a detachable cable allows users to plug into their phone or computer directly over USB or standard 3.5 mm jack. You can also add an optional boom mic for a extra noise cancellation beyond the headphone's built-in mic. Metal hinges and the flexible headband have been tested for the long haul, though even if your pair dies for any reason, V-Moda offers 50% off for anyone seeking a replacement. These headphones have also been specifically tested to work with the relatively weak Bluetooth signal on Android Wear devices. On the style side, both sides have replaceable shields, for which V-Moda offers a range of 3D printed and laser-etched metal options. I dare you to check out how much the platinum ones cost.
Jabra Eclipse
Jabra's newest Bluetooth headset is the lightest they've ever made. The Eclipse's buttonless design relies on a touch sensor on the side, while the microphone and earpiece are specialized for noise cancellation. The Jabra Eclipse alone can last for three hours of talk time, but includes a portable dock for an extra 7, plus the Android app helps you keep tabs on it while it's charging. The Jabra Assist app also can recite text messages to you, take incoming Google Now queries. One particularly neat feature is geotagging, so you can always find the last spot you used it in case it gets lost. The Jabra Eclipse starts shipping September 15. Jabra also a pair of sporty new stereo headphones, but they don't come out until next month.
Slickwraps Hero series
Slickwraps has partnered with Australian artist Justin Maller to create a limited edition of phone decals inspired by popular superheroes. You'll find cool interpretations of Thor, Iron Man, Capitain America, the Hulk and Batman on a series of scratch-resistant skins for the Galaxy Note 5, S6 edge+, S6, S6 edge, Nexus 6, and HTC One M9. If you dig the style, be sure to check out Maller's Android app for a healthy array of wallpaper graphics. The Hero Series Slickwraps start shipping on September 16.
Your favorite gadgets of the week?
It's been a busy week with all the Apple stuff happening, but that hardly means the world stops turning. If you've spotted an exciting new product launch that was lost in the noise, drop a link in the comments!
Sign up for Black Friday email alerts!
Get the hottest deals available in your inbox plus news, reviews, opinion, analysis and more from the Android Central team.
Simon has been covering mobile since before the first iPhone came out. After producing news articles, podcasts, review videos, and everything in between, he's now helping industry partners get the word about their latest products. Get in touch with him at simon@futurenet.com.