A new Gmail design is launching 'in the coming weeks' with several fresh features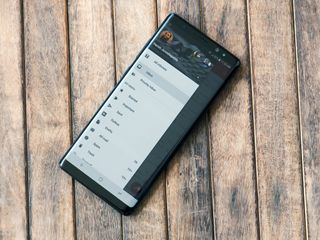 Google's paid enterprise-level app platform, G Suite, has dropped a sweet nugget of information pointing to a forthcoming redesign and enhancement of the Gmail web interface. An email sent to G Suite administrators today announced that there will be a new "Early Adopter Program" to test out a new version of Gmail on the web, along with some information on what we can expect as part of the new design.
Those new features, in short, include:
A fresh, clean look for Gmail on the web.
Easy access to G Suite apps, such as Google Calendar, from within Gmail.
Smart Reply on the web, just like on mobile.
Ability to "snooze" emails and choose when they reappear in your inbox.
Offline support (native offline support in the new Gmail experience by June 2018)
The email for administrators doesn't include any images of the new interface, but it sure feels like Gmail is due for a refresh — outside of small tweaks, Gmail on the web hasn't changed substantially in several years. As for what it'll look like, Google Calendar's recent redesign on the web could be a good indication of what to expect. At the same time, the more important announcements here for many people are the new features, particularly better integration with Google Calendar and some "smart" features like Smart Reply and snoozing that started with the Inbox app and have started to trickle over to Gmail. There's no word on what this could mean for the Gmail apps on Android and iOS.
Following the email, a Google spokesperson provided the following statement: "We're working on some major updates to Gmail (they're still in draft phase). We need a bit more time to compose ourselves, so can't share anything yet—archive this for now, and we'll let you know when it's time to hit send."
Though this Early Adopter Program is currently pointed at G Suite customers and still in an early phase, you can expect that these changes won't be exclusive to the enterprise-grade Gmail experience. The email is clear that the same (or similar) features will be coming to personal Gmail accounts as well. As for a timeline, the best we get is "in the coming weeks" — so be patient.
Android Central Newsletter
Get instant access to breaking news, the hottest reviews, great deals and helpful tips
Andrew was an Executive Editor, U.S. at Android Central between 2012 and 2020.
I always assumed Inbox would replace Gmail. Curious to see if they continue to run them side by side.

I have a feeling they will, until there's a way to combine them with little to no backlash.

Yeah. As much as Google is famous for killing and degrading products, I think they know that Gmail is pretty much sacrosanct.

As someone who heavily relies on Gmail I am excited to see what meaningful changes they can make that will improve the way I use it. On another note, they need to merge Inbox and Gmail to give it more continuity.

I hope they get rid of the "clusters" with the emails. Hopefully it is more like the Blackberry Hub where you can see send and received messages separately.

Just wanted to say I totally agree with this. I do not know anyone who likes the "threaded" email approach. However, you can turn this off in gmail on the web by going to the settings, on the general page, and about a quarter of the way down the page choosing "conversation view off".

The only time I use GMail is when on laptop at work. Inbox only for any mobile emailing, both work and personal.

Me, too. Inbox is great on mobile, but kind of laggy and glitchy in the browser.

Agreed, looks like a complete out of box failure with no dark mode or night theme

Whatever they do they need to fix whatever they did in the last update of the app that has caused me to loose the color coded tab notifications.

Your colors came loose? Idk how, but I guess you gotta figure out how to tighten them back up? Here are a few suggestions:
Maybe in your color settings of your TV/Monitor Menu/Settings, or, the color settings in your Windows/Mac OS settings, lastly, you may be able to "tighten" your color settings within your AMD and/or NVIDIA Control Panel color settings.

As long as it has not folder notification and get rid of that stupid conversation view, Gmail app is out of question for me,no matter how they "improve" things. Google is always great with their services but their apps - except maps - suck pretty much.

Google searched:
gmail disable conversation view
Top Result:
Open Gmail.
1. Click the gear in the top right.
2. Select Settings.
3. Scroll down to the Conversation View section (stay in the "General" tab).
4. Choose Conversation view on or Conversation view off.
5. Click Save changes at the bottom of the page.
Also, here on AndroidCentral:
Gmail: Boost your productivity with these tips and tricks -
https://www.androidcentral.com/gmail

I wish they remove red color on top and give option for dark and light theme.

Hope atleast make reply and forward buttons handy. It takes lot of time to find the same. It's frustrating at times.

All very nice this new look feature of Gmail, but what about confirm delivery and confirm. Read receipt? That is an essential tool missing in Gmail.
Android Central Newsletter
Get instant access to breaking news, the hottest reviews, great deals and helpful tips
Thank you for signing up to Android Central. You will receive a verification email shortly.
There was a problem. Please refresh the page and try again.