Future versions of Android will be optimized for Intel starting next year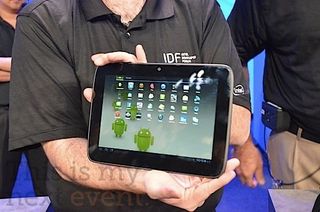 Google's Andy Rubin was on hand today at Intel's Developer Forum to announce some interesting news regarding the future of Android and the hardware which it will run on. As such, Intel Corporation and Google Inc. have now confirmed they will be continuing their efforts together to have Android running on Intel chips -- more specifically, Intel's low-powered Atom processor line.
To show just how serious they were about this partnership, they also showed off an Android phone and tablet powered by Intel's Atom based Medfield SoC. No definitive word on when we can expect this type of hardware in our hands but Intel's roadmap has Medfield powered phones slated for early 2012 and tablets cannot be that far behind. Full press release is past the break.
Source Intel; via: Thisismynext
Intel and Google to Optimize Android Platform for Intel® Architecture
Santa Clara and Mountain View, Calif., Sept. 13, 2011 – Intel Corporation and Google Inc. today announced that they will work to enable and optimize future versions of Android™ for Intel's family of low power Atom™ processors. This means that future versions of the Android platform will support Intel technology in addition to other architectures.
The joint effort is designed to speed time-to-market of Intel technology-based smartphones running the Android platform. Intel will take advantage of the open-source accessibility of the Android platform to provide its customers with technology products that inspire continued innovation and also help enable powerful personal computing experiences that fully leverage Intel technology across a range of devices. This work will enable mobile device OEMs and wireless operators to draw upon the performance and low power capabilities of Intel® architecture and tap into the scale of the x86 developer ecosystem to further drive the adoption of the Android platform.
"By optimizing the Android platform for Intel architecture, we bring a powerful new capability to market that will accelerate more industry adoption and choice, and bring exciting new products to market that harness the combined potential of Intel technology and the Android platform," said Intel President and CEO Paul Otellini."Together we are accelerating Intel architecture and bringing new levels of innovation to a maturing Android platform."
"Combining Android with Intel's low power smartphone roadmap opens up more opportunity for innovation and choice," said Andy Rubin, Senior Vice President of Mobile at Google. "This collaboration will drive the Android ecosystem forward."
Today's announcement builds upon the two companies' recent joint initiatives to enable Intel architecture on Google products, which include Chrome OS and Google TV along with the Android Software Development Kit (SDK) and Native Development Kit (NDK).
About Google Inc.
Google's innovative search technologies connect millions of people around the world with information every day. Founded in 1998 by Stanford Ph.D. students Larry Page and Sergey Brin, Google today is a top Web property in all major global markets. Google's targeted advertising program provides businesses of all sizes with measurable results, while enhancing the overall Web experience for users. Google is headquartered in Silicon Valley with offices throughout the Americas, Europe and Asia. For more information, visit www.google.com.
About Intel
Intel (NASDAQ: INTC) is a world leader in computing innovation. The company designs and builds the essential technologies that serve as the foundation for the world's computing devices. Additional information about Intel is available at newsroom.intel.com and blogs.intel.com.
Intel is a trademark of Intel Corporation in the United States and other countries.
Android Central Newsletter
Get instant access to breaking news, the hottest reviews, great deals and helpful tips
Who needs tegra when you can get intel. Nice.

No current Atom can match the battery life of the Tegra. Every Atom system I have used, even the slower and most power-mising versions (single core) put off a LOT more heat than my Tegra II devices and had absolutely huge batteries.

Dual core or more actually has better battery life. And Laptop Atoms wouldn't be used, they'd make a new processor for smart phones. That being said Tegra II isn't that great. I would much prefer Intel in my Phone.

I'm sorry but while I don't pull out the fragmentation card very often I'm going to do so right here and now. Nvidia was the reference design of choice this year. Now they are going Intel. Dear Google. Fuck you. Seriously. This IS the very essence of fragmentation, when you start jumping from hardware platform to hardware platform you confuse even the tech savvy users. Because I buy a new device and since its based on your ref design I figured we are good for updates for the foreseeable future (OK I usually assume a year.) and now we get a slap in the face that oh sorry....this is what we are going with. And while optimized does not mean that there won't be updates for Nvidia devices, when google does this it obviously means they are backing another horse. As such focus is going to be on Intel. And Nvidia....meh. We'll ignore the fact that Atom traditionally SUCKS for battery life because its been x86. But anyways. Seriously. This is no different then Google dropping new versions of their OS every 6-8 months. It drives OEM's nuts. And this is not going to help matters. I <3 Google. But they need to calm the hell down with their platform. Pick a direction and stick with it longer then a year please.

I'm not sure about your assertion about the Atom's battery life. Atom-based netbooks can run quite a long time on battery.

Agreed. My clunky HP Slate gets very good battery life. I seriously doubt SiliconAdict has ever used an Atom. Further, if the development IDE simply has compile options for both ARM and Atom its ONE more click to generate both packages, then a couple more to upload them to the market. Its not a big deal. We have tools to do this sort of thing these days. Its not a challenge for anyone competent enough to actually develop code. Device compatibility (drivers) is the job of the OS. Programmers just call APIs to interact with the system. The entire rant was unwarranted. You'd think that "right once run anywhere" was some sort of unheard of blasphemy or something.

That clunky HP Slate has a 30 Whr battery which is *10 times* the size and weight of the 3Whr battery in the Xoom. Very, VERY bad comparison.

Yes, when you turn down the settings on it. My netbook can get 7 hours of battery life, when you turn down the brightness of the screen, use WIFI sparingly, and set the battery settings in Windows to Power Saver and that is with a battery larger then what is in most tablet. x86 was never designed for superior battery life.
The way Intel has been getting better and better battery life is though die shrinkage.
ARM has always been better at battery life, but performance is questionable. Depending on what you are looking at that is.
Floating point calc if I'm remembering correctly x86 kicks ARM in the nuts on.

Again, that is with a device that has *10 times* or so the battery size and weight of typical ARM Tegra II devices that run much longer than 7 hours.

Seriously? x86? At one point I was excited to see Intel jump into the game but the fact that they're still rocking x86 on all of their chips is not kosher anymore. It would've worked if they could have gotten into the ballpark sooner but the ARM stuff that they'll be competing with at release will be more powerful/better battery life in addition to maintaining earlier compatibility. Really wish Google would put their foot down and decide on a hardware platform.

Why should Google impose any arbitrary hardware restrictions?
That kind of stuff is Apple's business model. What does it hurt you if someone runs Intel while you run Arm? The Atom has made great strides in power management in the past few years, and the amount of existing code that can be ported to it easily is staggeringly huge. Bring on diversity. We don't need another walled garden.

simple: fragmentation in a very real sense vs what Apple fnabois screech about. I'm sorry but x86 and ARM are dramaticly different archtectures that excel in dramaticly different things. ARM is better on battery, but sucks on Floating Point Calc. x86 sucks at battery, but does better in overall math calculations. You start having Google start optimizing their OS for as an example for SIMD on x86 processors which ARM doesn't have all of a sudden you have developers who need to figure out what system they will get the most bang for their buck on and then end users have to research OK. The reviews say that these type of games work better on this processor then that.
At least currently on ARM while you can get some performance differences between a Snapdragon and a Hummingbird when it comes to game development its pretty much the same on phones. We are already seeing shifts in this with Snapdragon on HTC tablets vs. Nvidia Tegra due to serious "tweaks" Nvidia is doing. So certain games are now only available on Tegra because developers are customizing their games for that type of chip.
Its bad enough as it is. You add ARM vs x86 and this is going to get ugly really fast. Google is fast approaching a point where it needs to make a decision on how it defines open. Its been playing things fast and loose, but while I consider most people who use android to the the tech savvy ones, vs Apple where they pick up their phone and just let Apple tell them this is how you will do things. We are fast approaching a period for Android where standards need to be set. So when a friend of mine gets a new android tablet and wants to play a game that I'm playing on my Transformer that has ARM and they have x86 and it doesn't show up on the market......yah that really makes Android's diversity look like a really good feature right?

So no more Win-Tel. Will it now be called An-Tel?

So wait, somebody help me understand this. I was looking at ARM, Nvidia, and Texas Instruments as possible stock picks because it seems like the real smartphone explosion (in terms of volume) is yet to come and I figured those were some of the chipmakers that would benefit most. From another comment here, it sounds like they're not saying Nvidia chips won't get any love, just that they won't get top love. How serious of an announcement is this in terms of market share in the coming years, Intel vs. everybody else? If you're HTC or somebody, will it now behoove you to use Intel instead of one of the other guys? (at least assuming everything works out with their chips in practice)

Don't get your portfolio in a bunch. "Enabled" is PR-speak for "it officially builds" and "optimized" is PR-speak for "it officially runs". Windows NT was once "PowerPC optimized". How'd that work out for PowerPC users? Intel has a long way to go before it reaches speed+battery life parity with even pedestrian ARM chips. They're going to want to price their products above the low end, but if you've ever tried to play a 1-2 year old game on an Atom netbook you'll know low end is where their SOCs belong thanks to incredibly weak 3D. And games are a big part of what's selling smartphones, though many wouldn't admit it. All I can think about this announcement is "the enemy of my enemy is my friend". Microsoft is suing Google's hardware vendors and they poached Nokia from Intel, in addition to Intel having a history of trying half-heartedly to escape their dependence on Microsoft for market dominance. If they achieved any measure of success on the tablet side, Microsoft would be right there waiting to push Windows 8, which might run on ARM but needs Intel to be able to say "Run all the software you already know!", and Google knows it.

This story + http://gizmodo.com/5839806/intels-next-chip-will-run-your-laptop-for-24-... =phone with a battery that we can charge once a week?

I thought Google didn't have a restriction for CPUs
I thought with all the Tegras , OMAPs, Snapdragons , Hummingbirds & Exnoy that the thing is wide opene All we need now Androids running on A4\A5 chips ;)

HEY APPLE! Look at the ipad knock off! Are you gunna sue Intel now?

Nerd Alerts! Holy crap guys, just enjoy your devices without worrying about getting a bit more battery life and all the other technical stuff that my simple mind did not understand...The reality is every device is going to have to be charged at some point so just enjoy it! I dont know about you but just the fact that I can get fast internet on my tablet at the beach to read an ebook is amazing. You guys worry so much about technical mumbo jumbo that you are never going to actually enjoy the amazingness of phones and tablets...

Just because you dont give a damn doesn't mean nobody else shouod. IIf nobody obsesses over these types of things, progress wont happen. Do you think hardware development and OS optimization happen spontaneously??
Android Central Newsletter
Get instant access to breaking news, the hottest reviews, great deals and helpful tips
Thank you for signing up to Android Central. You will receive a verification email shortly.
There was a problem. Please refresh the page and try again.