From the forums: Should you buy the OnePlus 6T or Pixel 3 XL?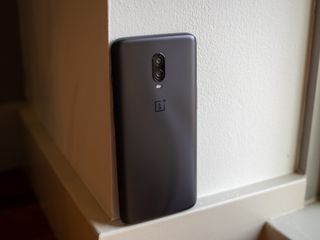 (Image credit: Android Central)
Yesterday at an event in New York City, OnePlus formally unveiled the OnePlus 6T. With a starting price of just $549 for the base model with 128GB of storage and 6GB of RAM, the 6T delivers a true flagship smartphone experience for hundreds of dollars less than what's being asked for Samsung and Google's latest handsets.
The Pixel 3 XL was just released earlier this month and is easily one of the best smartphones you can buy right now. However, for $350 more than the OnePlus 6T, is it worth the extra cash?
Here's what the Android Central forum community has to say.
What do you think? Should you buy the OnePlus 6T or Pixel 3 XL?
Get the Android Central Newsletter
Instant access to breaking news, the hottest reviews, great deals and helpful tips.
Joe Maring was a Senior Editor for Android Central between 2017 and 2021. You can reach him on Twitter at @JoeMaring1.
I'm getting rid of my original Pixel for the 6T (not a hard decision), but if I had to choose between the 3 and the 6T for the price I'd choose 6T every time. Even though it isn't IP rated it does have water resistance and I can live without wireless charging, even though it's nice to have. But not worth $350 more, as for the camera the Pixel is excellent but the 6 was pretty good also and they've improved on it as well. The 6T is already on Pie and I actually like the extras they add to stock over Google, and the gestures are better. Having bi-monthly security updates is still better than most and they got Pie running in 45 days, yet almost all phones released in the last three months and earlier are still running 8.1. I've been on Nexus and Pixel devices for the last 4 (almost 5) years and getting updates 1st is cool and all but always running beta software for 4-6 months of the year gets annoying. You can always just wait for the stable releases but then why have a Pixel if your not going to be 1st to download new OS updates and betas. After they brought the beta to other devices last year at this point the camera is the only thing that's really making the Pixel worth having over other better options in the last year. I'm ready to give 1+ a shot, they seem to be doing a lot right and now they have officially carrier support with VZW and selling devices via TMobile just made them a major player in the US market. If this sells as good as it does I think they'll have to step their game up next year with the 1+7 and add wireless charging and get a IP certification.

Most of us want to have good income but dont know how to do that on Internet there are a lot of methods to earn huge sum, but whenever Buddies try that they get trapped in a scam/fraud so I thought to share with you a genuine and guaranteed method for free to earn huge sum of money at home anyone of you interested should visit the page. I am more than sure that you will get best result. Best Of Luck for new Initiative! http://Net440.com

Since T-Mobile is willing to give me $300 for my Moto Nexus 6, I'm going with the 6T for $280.

I'm a Pixel 3 owner and I think I would be quite happy with the 6T for most things. However, I want the best from Google, not just Android. This includes all of the improvements to photography, AR, AI, security, and OS + hardware optimizations. I've always been impressed how smooth the Pixel phones run, and it's not about speed of animations. The touch latency is extremely accurate, something that Apple has mastered for years now. I want the improvements to the software as they release, not months later. You can already see how new Pixel features are being passed down. I like the free photo storage, the access to Google support, and how easy it is to be part of the Google ecosystem. I don't feel like I am missing out when I use the Pixel and that's a great feeling that I'm willing to pay for.

I wanted the same: still do! (Google Android, AR, AI, fast updates, etc) and was really looking forward to the 3 so I could go all in with Google, but with all the problems it's having I'm probably passing this year. I'm very disappointed because the regular 3 is the perfect size and it felt great and responsive when I tried it at BB, but I'm not willing to be an Alpha or Beta tester especially not for $1k ish. Also passing on the 6T:
Too big
No water proofing
No wireless charging
NOTCH (I refuse to buy any phone with a notch)
Potential security issues (Chinese)
No LED light

I do not feel like a beta tester at all with this device. Everything is working well for me. I also forgot to mention that the size is perfect. I put a clear Spigen case on it to give it a little width since I have big hands but I'm very happy to move away from two-handed phones.

Who says it's not waterproof?

Reviews, specs... No IP rating.

They just didn't want to pay for the certification. The website explains it.

Exactly. Having NO IP-Rating doesn't mean anything at first. And we all know about the phones WITH IP-Rating and failing to keep up the promise.

Neither. The notches are horrible There is no headphone jack or notification light on either model. If I was forced to use one or the other it would be the OP6T though. The hardware of the Pixel 3XL is just so bad and it is way too expensive. ANY flagship camera will give you good point and shoot results. The Pixel cameras are nothing special anymore.

Personally, the listed shortcomings of the 6T are not bothersome to me. Wireless charging? The stand still has to be plugged in....With a wire. Waterproof? I'm on my 5th device and not once was that a concern for me. Headphone jack? I can't remember the last time I used headphones. Camera? I have several high end Nikon DSLRs. If I want a high quality image, I will use one of them. The only thing that has me slightly concerned is the OS, however I can't seem to find a lot of negative on the One Plus OS.

I don't think there are many downsides with OS. Apparently security updates are less frequent and of course you will wait a little longer for the latest Android update. Not a concern for the average user.

The OnePlus website says it's water resistant

They have the best mobile software in existence to me.

20$/€ of free accessories for Oneplus 6T ! https://www.androidcentral.com/e?link=https2F2F...

Once Google releases Night Sight for the Pixels, it's going to be game over for smartphone night time photography. No one has anything close. But I don't see the $300-400 value add from the Pixel over the OnePlus 6T. If you are part of the OP beta program, you get regular security updates. Performance on the OnePlus devices just doesn't seem to slow over time. If OnePlus made a Pixel 3 sized phone (non-XL variant), I'd be all over that. I'd love to have a successor to my OnePlus X.

OnePlus will be getting Night Sight.

Wait for Nightscape on the Plus 6T and see Pixel 3 Owners cry. They already cry over the horrible video quality. Iphonies are laughing their a**es off on YouTube :(

Oh man not even a question. 6T all day every day over that disgrace of a 3XL.

May go to tmo and see what they will offer for my pixel XL.

$300 according to their website. The best deal you can get I think!

6T for sure. For all the hub bub about the Pixel camera it still isn't the best so not sure what warrants the higher price.

The 6T all the way. A more reasonable notch. Google missed the boat with the XL'S offering. Good camera the rest, meh. The notch truly sucks. Even the 6T's base storage is 128gb's. And you can't beat the price!

That isn't even a question...
OnePlus 6T... better specs, lower price. ' nuff said