Fitbit's new Alta HR tracks heart rate and sleep for a week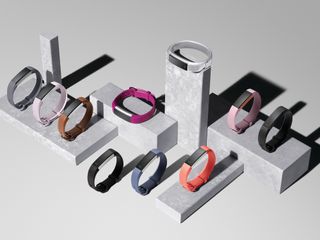 Eight months ago, Fitbit brought a small group of reporters to a swanky New York fitness club to show off its latest fitness trackers, the best-selling Charge 2 and waterproof Flex 2. Those sequels have been so successful that, despite disappointing sales results in its most recent quarter, Fitbit felt empowered to produce another iterative product, the Alta HR.
The company says that after calls for a sequel to the best-selling Charge HR, its most frequently requested product was the addition of heart rate monitoring to the fashion-forward Alta. That product is the $149.95 Alta HR, a complementary item in the company's expanding (bloated?) lineup to the identically-priced Charge 2.
While the Alta HR is physically identical to its cheaper and older counterpart, Fitbit has improved two things in the new tracker: it's added an always-on heart rate tracker (hence the name), and it's improved battery life to seven days from five, an achievement that the company said took some particularly noteworthy engineering, of which it is very proud. The tracker goes up for pre-sale March 6, with general availability in the U.S. and Canada in early April.
Along with the new tracker itself, the company is unveiling two new sleeping tools: Sleep Stages, and Sleep Insights. The former is coming to the Alta HR, Charge 2 and Blaze in a future software update, and "uses accelerometer data and heart rate variability (the moments between beats), plus Fitbit's proven algorithms to more accurately estimate how long you spend in light, deep and REM sleep stages, as well as time awake, each night," according to the company. This data is aimed to help Fitbit's users more accurately understand why they feel tired or groggy, and along with Sleep Insights, offer ways to improve it.
The latter, Sleep Insights, is coming to all of Fitbit's trackers, and it is meant to offer more useful data about one's nightly sleep, including the relationship between exercise, eating and sleep quality.
And like the original Alta, the Alta HR comes in special editions — Rose Gold and Gunmetal versions will ship for $179.95 — along with replaceable bands, from classic sport bands at $29.95 to $59.95 leather options and more formal metal clasps at $99.95. Thankfully, the bands are interchangeable with Fitbit's older Alta options, but the ones that ship by default with the Alta HR will have claps, since they need to adhere more tightly to the wrist for a better heart rate reading.
Get the Android Central Newsletter
Instant access to breaking news, the hottest reviews, great deals and helpful tips.
Daniel Bader was a former Android Central Editor-in-Chief and Executive Editor for iMore and Windows Central.
Their own website that you guys link to says "up to 5 days battery life ", not seven.

I've just looked and it says 7 days now. Perhaps they corrected it after your comment!

Hell I have the original Alta will they do a buy back program so that I can buy the new one? ;-) If not I will keep what I have.

Brand new tracker still gives the same battery life as years-old models and nowhere close to Xiaomi 20+ days. SAD!

If the HR sensor isn't any better than the one on my Fitbit Charge 2, don't waste your money. During interval training on an elliptical, its readout varies from 20 bpm above to 30 bpm below my actual, measured heart rate. I do weight training 5 to 6 days a week, and during a 60 to 80 minute workout it will show an HR as much as 40, 50 and more bpm below actual several times, and 20 to 30 bpm too low frequently. I've also seen it go from 15 bpm too high to 30 bpm too low in less than a minute. And jump from 97 to 117 bpm while I'm looking at the display. Oh, and some days I apparently die multiple times during a workout, because the display repeatedly shows "--". And Fitbit's customer support is worse than useless. They're more likely to argue with you than to help you. It might as well be a random number generator for all the actual value it provides.

I wouldn't put too much stock in its sleep tracking data, either, since it thinks I walk between 50 and 150 steps every night while I'm sleeping. And no, I don't walk in my sleep.