First look at Android apps on BlackBerry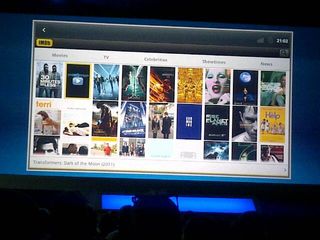 Fresh out of BlackBerry World in Orlando, we're getting our first look at how Android applications will run on the BlackBerry PlayBook. Above is the IMDB app. Apps themselves run as native Android binaries, meaning things mostly work right out of the box, with minimal porting.
The way it works is apps will open within the Player app, just like an emulator. And if the Player app isn't open when you tap an app on the home screen, it'll open itself. Some 18 apps were on board for today's demo, and PlayBook gestures have been mapped into the Android apps. There's no special option button, but a swipe down has been mapped to it.
We'll pump our CrackBerry brethren for more info soon. But for now we've got one more pic after the break.
Source: CrackBerry; Thanks, Bla1ze!
Android Central Newsletter
Get instant access to breaking news, the hottest reviews, great deals and helpful tips
Interesting, the question is will developers actual move apps over. Love the playbook hardware, the size is awesome, but after playing with a honeycomb tablet, their U.I. is simply superior. Although, I will say the bezel gestures are pretty cool. If only they could port over the whole operating system...

Serious question – Will the apps run in portrait mode? Right now there isn't a way for devs to make playbook apps in portrait (I presume Tetris does because it was preloaded) So I would be interested in seeing whether or not Android apps have this functionality as it might actually be a lot easier for them to develop for Android with Playbook porting in mind.

Hopefully Blackberry will make an Android compatibility programming guide on what to avoid to make stuff work on their playbook.
Neat hack though. Not too much of a surprise given that Android apps are compiled Java apps for portability (except for any of the native API game apps)... The playbook felt a lot snappier/smoother than honeycomb tablets I've played with...

Yeah I was deeply unimpressed with the Xoom and the honeycomb UI. Of course the major bug that bothered me was that the browser defaulted to mobile. Also I found the UI overall to feel very fuzzy with all the glows/shadows. The playbook was also kind of janky with its apps but the browser felt pretty solid. The ridiculous power button that is compeltely flush with the device is stupid though. But swipe to turn on worked fairly well. Just not that jazzed with the small size of it.

Could an Android Blackberry phone be next? http://exm.nr/je23dK
Android Central Newsletter
Get instant access to breaking news, the hottest reviews, great deals and helpful tips
Thank you for signing up to Android Central. You will receive a verification email shortly.
There was a problem. Please refresh the page and try again.