Fancy review - like Pinterest, only shoppier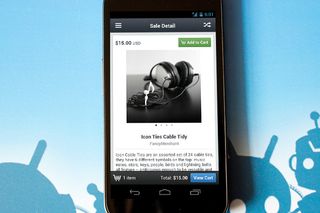 Fancy was featured in Google Play for awhile, offering what looks like a Pinterest clone, but it does a few things differently. Like Pinterest, it showcases shiny products in a visually appealing format and allows users on the network to create categorized collections. Usually these kinds of sites revolve around home and fashion, and though there's plenty of that on Fancy, you're just as likely to find cool phone cases and miscellaneous gadgets.
What really sets Fancy apart is that they form partnerships with vendors so if you add something of theirs to your collection, you can often earn promotions usually in the form of coupon codes for discounts on online orders. As you might expect, Fancy has a lot more "buy now" links and the like.
Style
Fancy's layout is generally sensible and clean. A sidebar on the left is where you'll find most of the navigation options in plain text, including search, handlign social elements, adding new items to your lists, browsing items that have been posted publicly, and checking out your pending orders. The subtle black/grey/white color scheme doesn't detract from the items on display and is generally easy on the eyes. There are lots of smooth screen transitions and kinetic scrolling to let the Fancy feed lazily roll by.
Function
Fancy lets you buy many of the items you find, complete with its own basket and checkout process. There's a bit of inconsistency, however. Regularly when I tap through on Buy Now, something other than the original image shows up; still roughly the same item (be it an overpriced chair or USB-charged battery) but it looks completely different. This can be misleading and disappointing at times.
When you originally sign up, it feels like most of the items being presented have been cherry-picked by Fancy's curators to ensure that they can sell the items and get a cut, but you can quickly tailor the app to only show stuff fancied by your friends. It's a little odd that by default notifications are turned on for comments on anything you fancy; that can quickly flood your log if you've fancied a particularly popular featured item. Luckily there's a long list of notification options so you can be pinged as often or as little as you like.
It's easy to share items you find on Fancy to friends outside the network, including Facebook and Twitter, though you can meet new folks fairly easily through Fancy. Users have full profiles which showcase lists, fancies, and their awarded badges. From there you can find new users through the "Similar To" field, as well as who they're following and who's following them.
There's a shuffle button available just about everywhere if you're looking for something fresh, though the network's heavy angle towards fashion makes it an unappealing option for me. It would be really nice if there was an automatically-generated feed based on the things that I've fancied, rather than only providing a static category list. I would even take the shuffle mode if it could be limited to individual categories, rather than automatically picking something random out of everything posted on the featured list.
Pros
Lots of cool stuff to find
Easy shopping experience
Cons
Some inconsistency on product imagery
Bottom line
At its core, Fancy is a shopping and discovery app, as opposed to Pinterest, which is a freeform scrapbooking app. Your discovery of really awesome stuff is generally going to be limited to what's featured since the app isn't so heavy on friending or following people. Fashionistas will definitely find some stuff worth their time amid Fancy's pages, and even gadget geeks like have a few interesting finds tucked away in that one section. For anyone with a shopping streak in them, Fancy will likely be dangerous to their pocketbook, and had probably better stick with Pinterest.
Android Central Newsletter
Get instant access to breaking news, the hottest reviews, great deals and helpful tips
Simon has been covering mobile since before the first iPhone came out. After producing news articles, podcasts, review videos, and everything in between, he's now helping industry partners get the word about their latest products. Get in touch with him at simon@futurenet.com.
Your con is the main reason I do not use Fancy. Far too often what you select is either a design concept or a shameless link to see vaguely similar tat.

If anything, Springpad is more like Pinterest than Fancy is.
Android Central Newsletter
Get instant access to breaking news, the hottest reviews, great deals and helpful tips
Thank you for signing up to Android Central. You will receive a verification email shortly.
There was a problem. Please refresh the page and try again.