Exynos-powered Galaxy S20 Ultra owners reporting overheating and autofocus issues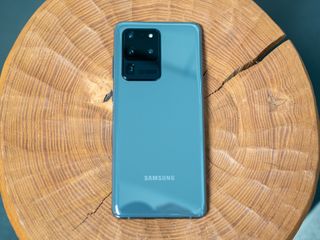 (Image credit: Android Central)
What you need to know
Several owners of the Exynos 990-powered Galaxy S20 Ultra are complaining about overheating and autofocus issues.
Even though an update to fix the autofocus issue was rolled out recently, it hasn't been completely fixed yet.
Some users have also reported disappointing battery life with the $1,400 phone.
Samsung had rolled out a software update for the Exynos-powered variants of the Galaxy S20 phones last month to fix the camera issues that several owners had been complaining about. Unfortunately, it appears that the international variant of Samsung's flagship Galaxy S20 Ultra continues to suffer from autofocus issues.
A video posted on Twitter by @pegasaie (via WCCFTech) shows the Exynos-powered Galaxy S20 Ultra struggling to achieve a focus lock on an object. In addition to the autofocus issue, the user claims the phone has "poor battery life" and also overheats.
https://twitter.com/pegasaie/status/1248199585455013890
Several owners of the Exynos-powered Galaxy S20 Ultra have complained about their phones suffering from heating problems on Samsung's Community forum (opens in new tab). While some of them claim that the phone heats up all the time, others say that their phone overheats only when playing games or using the camera app.
Needless to say, it is hugely disappointing that Samsung hasn't been able to fix these problems yet, especially when you consider the $1,400 price tag that the Galaxy S20 Ultra carries. That said, it is likely that Samsung will roll out a new software update to fix these issues in the coming weeks.
Samsung has been receiving a lot of flak recently over the performance gap between the Snapdragon and Exynos variants of its flagship phones. Some users actually started an online petition last month, asking Samsung to stop selling "inferior Exynos phones" to customers.
This has been a hot topic in xda forums. Samsung really dropped the ball on the Exynos 990. It boils down to two major problems: Thermal throttling and overall inefficiency, and affects all Exynos models, not just the Ultra. Obviously the people with problems are the most vocal, but there are a LOT of complaints about excessive heat, terrible camera performance even after the update, and abysmal SOT (<5 hrs), which is inexcusable for a $1400 device. Bottom line: Avoid Exynos this year if at all possible.

That's why I've kept my S10+. It was starting with this exynos version falling behind I knew it was going to be bad the next phone that came with the 990 so I didn't go straight in buying because in the UK can only get exynos.
I don't even think they can fix these problems even with updates the exynos is that far behind the Snapdragon if they throttle it even more well you know what that means.
I don't even no if I can trust when they switch to AMD either this might be the last Samsung until they go Snapdragon on all Thier range sorry Samsung this has been coming for years.

The overheating problems would be the SOC, but the autofocus problems are mostly due to the camera sensor design. Perhaps the issue is worse on the Exynos, but it's not something that will easily go away with software.
To be fair though, that robot-camo pattern they are trying to focus on in the video clip is very hard for phase detection autofocus.
Android Central Newsletter
Thank you for signing up to Android Central. You will receive a verification email shortly.
There was a problem. Please refresh the page and try again.