EVO 4G maintenance update begins its push; Netflix, SMS bug fixes on the way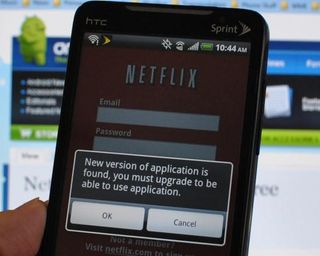 Just as it was foretold, the Sprint HTC EVO 4G is getting a maintenance update that will, among other things, fix the broken Netflix compatibility, and fix that blasted SMS bug. Other fixes include:
SMS are intermittently sent to wrong and seemingly random contact
"Me" instead of "Yo" in SMS thread conversations when set to Spanish
Unable to stream media thru some applications after updating to 3.70
Email attachments are not displayed in the mail client
Multiple Gmail accounts no longer sync after FroYo update
Fix for battery discharge issue
Android 2.3 (Gingerbread)
Downloads managementThe Downloads application gives the user easy access
to any file downloaded from the browser, email,or another application
Corrects voicemail notification issue (from 4.22.651.2)
Corrects issue with hearing aid compatibility menu disappearing (from 4.22.651.2)
Netflix compatibility (from 4.22.651.2)
The update to version 4.24.651.1 is pushing out now. Look for the manual download location to be discovered any time now.
Source: Sprint; More: EVO 4G forums; Thanks, dw3bb10!
Android Central Newsletter
Get instant access to breaking news, the hottest reviews, great deals and helpful tips
Lets hope that "Android 2.3 (Gingerbread)" covers everything that was reported that is not in the list here.

Though it doesn't say it, I hope this also somehow fixes the issue with the widgets not loading properly & the forceclose error that comes with it.

Rooted and deodexed in 3......2.......1......

Will it fix things like voice 2 text being disabled while driving? The last update, initial gingerbread update, appears to have disabled v2t when the phone is moving at certain speeds.

Nope, V2T still doesn't work when your driving. Which also means it doesn't work when your a passenger.

Still no update. 9:00am central

No update here in Mountain Time Zone 8:10a

As long as they fix the issue with the phone taking forever to go back to the main screen (some type of reboot I read?) I'll be happy. None of the other fixed issues affect me!

I hope the compass issue is fixed as well.

No update pacific time n I want to know are they going to put netflix app back on the Android market?

I hope the Evo Shift will get a maint. update as well.

No problems here, rooted and cm7 though.

lmao Seriously - how on Earth does this apply to you then? Was your comment supposed to have some sarcastic undertone to it? lol: "No problems here. MotoRAZR."

what about the camera bug ?????.... when u take two or three photo's the freezes and reboots... and the pictures come out extremly dark... yikes... let us pray

Hey MikeNYC! I have the same issue. I just called Sprint Tech Support (1 hour ago). They not only confirmed this bug (with the camera and the phone crash), but they confirmed the fix is in this newest update (3.30.651.3) Good news...

wow.. great news sprintguy.....i was wondering was i the only one that had this cmera bug.., because every where i look ..nobody ever mention it...thanks for the info...i really hope they do.. i use my camera alot...it was so annoying to see the images so dark and then the damn reboot....ugggggH.

The fix I spoke of only fixes the "phone crash/reboot on the 3rd picture shot" trouble. On dark photos, this could be something else. I would check in the camera app setup and make sure that the brightness is set to 0, and the contrast/saturation/sharpness are set to 0's, Effect to None, then in the actual settings tab make sure white balance and iso are set to auto. This is all basically default. Now, the secret to making good evo pictures...point the phone at what u want to shoot, then touch the phone screen on the "main point" of the picture (like someone's face), and this will make the evo magically adjust the camera to that point in the pic. It is like telling the evo to manually set the focus, color balance, lighting, etc to that point, and I guarantee you get a WAY better pic than just pointing and shooting.

I just bought my EVO and running 2.2 will I see this Maintenance update or do i need to update to 2.3 first?

what up...guitarhead...yes u will see it...under the manually update.....the first update ..(Gingerbread) on june 6 was a doozy..,,,but read all the forums post and all the copmplaints about it.... before u update your phone...gingerbread was a real doozzy...alot of evo's was affected....keep froyo..2.2 ..this update is another update on top of gingerbread..... to fix all the complaints u read..
just a word of advise

thanks, i'll keep checking for the new one

I'm not showing the update yet. LA.

Has anyone got the update yet? 10:00 Central and nothing yet.

Nothing in Orlando checking every 15 minutes although when last update for GB came out I had to do a hard reset to get it, I hope I do not have to do that again, I have stock evo 4g miss my netflix

No update yet, Dallas TX. 10:06 CST. It's ok though, folks! Dont have a cow....patience. But...wheres the Evo 3D review? I wanna see it already :P

Someone in the office update from Froyo to Ginger this morning, she didnt listen to me on waiting. Mine on Ginger still doesnt show the update.

Would be nice to watch NetFlix on my lunch break...but alas...no update yet. 10:12 AM CST D/FW

Still not seeing the update, but I couldn't manual update the initial 2.3 update until after 6pm est when it was released.
11:14est - Indianapolis

Nothing in ELP TX either!

Nothing in NY, NY @ 11:41 am
u/d Still nothing @ 5:30 pm

I don't have any of the problems listed. I have the random sense reboot after using the back button. Four days until I have the Evo 3D and then I will do a factory reset.

Seriously though Phil, how do we know the update is rolling out?

We know based on a internal Sprint Doc.

No Houston TX update either...

I hope this fixes the Sense reboots

Pensacola / Gulf Breeze Nothing

MD-12:17pm-no update. Hope it doesn't install the crap ware like the last gingerbread update did. I had to take extra 10-15 removing that crap. I also hope it fixes the low on space notice.

11:33 CST -- Nothing yet in San Antonio, Tx

I got an update notification just after midnight last night. It's still on my phone. However, I'm still running 2.2 and hesitant to change to 2.3 unless I know it's working with netflix and voice search.

The current software info says I have 2.3.3...I thought Gingerbread was just 2.3?

Still nothing in Dallas 11:47a

There was supposed to be an update today?....... Someone call and let Sprint know......

I'm not showing the update yet. maryland

FL - is this someone's idea of a cruel? 1:16PM

FL- sorry forgot the "joke" part

OFFICAL FROM THE EVO 4G FORUMS Jun 20, 2011 1:26 PM (in response to BULLDOG051981)
6/20 - HTC EVO Maintenance Release - Android 2.3 (4.24.651.1)
Officially from Sprint, OTA is your only option. Unless you want to have it loaded in one of the retail stores...although they may not have the updated file yet.

Question: What will be the release number for the revised gingerbread update that is due today? My build is 4.24.651.2 from last week's gingerbread update. Will my phone realize that there is an update with the same (or lower) build number?

Check your version again. It should be 4.22.651.2 not 4.24.

You are right. 4.22. The update numbering makes sense now.

The build you have most likely is: 4.22.651.2
The new one will be: 4.24.651.1

Does anybody have if this update works with the sirius xm app? Thanks

12:50 and nada on the update from Milwaukee WI

I assume if you're rooted you don't want to accept this O.T.A., even if it's just a maintenance update, yes???

correct. wait on the new root file

Nothing in north San Diego County as of 10:51 Pacific time.

How does this update differ from the June 3rd update? Also, are we getting Sense 2.1 soon? My wifes EVO shift got it with her latest update.

Fixes some problems caused by the June 3rd update.

Nothing in NC as of 2:00 EST.

Nothing in Fort Wayne, IN 2:01pm :( getting discouraged. Cant live w/out the NETFLIX!!

Nothing in Cleveland 14:12. Still waiting. Boooooo!

Sprint Link to EVO 3G Forum. http://community.sprint.com/baw/thread/70464?start=0&tstart=0

got cha beat on that post

Nothing in L.A as of 12:18 pm

Nothing in Eastern Oregon 12:22pm
Update still nothing at 2:08 pm

Nada....Phoenix, AZ 12:39 pm I bet the people at Sprint/HTC post this then sit back all day and have a good time with people like us checking their phones every 15 minutes. Then they'll release it tonight at like 11pm.

How is it that the EVO Shift has sense 2.1 and the EVO 4G which is promoted more doesn't.

Not to be rude my friend, but it may be because one thing has nothing to do with the other...

I was wondering that too. Sense 2.1 is cool on my wife's Shift

Still nada in Dallas, TX.

Not working overtime tonight so i wont need netflix but, this update better be there by tmr. Nothing yet in NYC.

Or what, you'll be stuck with the same version you already have? :)

Just left the gym, and checked again. Still a no go in Phoenix at 1:55p.

They better hurry up, for when the EVO 3D hits and people trade in there EVO 4G's, they be busy upgrading bunches of phones. No luck here in Lindon Utah

Why give us notice 5 days ago, and we are waiting impatiently for the update. They usually are available at the stroke of midnight. Still Nada in MD.

3:30 Phoenix, AZ. Still nothing.

6:50 in Jersey and nothing.

Has anyone recieved the update today?

Nope,
Must be a hoax lol.
But seriously, why bother say anything. They should just announce it as its releasing.

708pm Richmond, VA.....nothing!

Nothing yet in GA . I want my Netflix back. Wth.

Maybe they meant to say it will roll out at 11:59 PM.
Seems to me Netflix probably could have rolled out thier fix but maybe HTC made them wait to roll it out in a full patch.
Either way them announcing it and knowing how popular Netflix is, and then making us wait is pure torture.
while I don't "need" it, I sure as heck "want" my Neflix back!

I just checked and the Netflix app is back in the market for my EVO3G, but still no HTC update-I want to install it to see what happens, but I'm afraid lol

It shows up but the Evo is not listed as one of the supported devices as of this post.

Netflix doesn't work yet unrolled update tried the app and still the same with no update

Obviously there is a problem if no one has gotten the update

My AIDS test came back quicker then this update. And as far as you know, it came back negative.

Still nothing in Orlando,Fl it is 8:37 PM as stated before android market is showing Netflix now compatible with Sprint HTC PC36100 (Evo 4g)Oh How I miss my Netflix, I wonder if the Evo 3d will work with Net Flix right out of the box or we have to wait for another update.Well here in East coast we still have 3 hours and 20 minutes left on the 20th

Yea, I deleted Netflix and was unable to download it again. I just downloaded it and it still tries to play a show and goes right back to the queue screen.
So it's the same issue with it still. Oh, and 5:55pm in Phoenix...No update...No surprise.

I just tried Netflix....it kept giving me an error....but it final works....but I still haven't gotten the official Sprint update....for what it's worth......

I just got off the phone with sprint and they had no idea what i was talking about with this update so.....Sprint Lied ;( Imagine that

I called the Sprint store this evening and they hadnt even HEARD of a new update. They were only aware of the update on 6/6. Dont they give their own technicians a "heads up"? I can only IMAGINE how flooded their call centers were today.

I had Netflix in the Android Market now it is gone.

"EVO 4G maintenance update begins its push"
Might want to actually have facts before you make a headline that is unsubstantiated!!!

Just got off the phone with Sprint and they confirmed the update was supposed to be pushed out today. They did not know why it was unavailable.

I follow sprint on twitter and they even tweeted about the update today

Just checked n I don't even see netflix in the market n still no update here in brentwood California.

Ok I know this is off subject but does anyone think the EVO will get HTC Sense 3.0?

I don't thinks so. I read/heard somewhere (maybe on Android Central) that Sense 3.0 takes up more internal memory than 1.0 or 2.0. The EVO 4G (which I am assuming you are asking about) has about 512MB of internal memory. The new EVO 3D has 4GB of internal memory but only open 1GB for the user to access, load apps, etc.

@jmyers1911 no HTC Sense will only be available for dual core phones unless you are rooted, but the new sense makes me want to get the EVO 3D just for that.

Although I'd love to have Netflix working again, I'd rather Sprint sends out an well tested update before I put it on my EVO 4G. One thing Sprint could have done is to be forthright about the delay and get some sort of explanation or someting. As long as I can make calls, get my e-mail, surf the web, etc. I am good. So, I will be patient. I encourage you to do the same.

I'd rather Sprint not announce the update and then hold it back; especially when there are many annoying little problems with the last update. Patience or not we are stuck until they roll it out, the lack of news is what makes the waiting worse.

I agree Sprint should tell us that they made a mistake and forgot to release the update come on Sprint man up.

I hope it fixes random reboots when hitting back or the home button when exiting apps. I went into browser to check and see if Netflix ws there I was able to download to my phone. But when I press market on phone then my apps doesn't show Netflix as one my apps.

Well, either case, today on the way home, got that call from my Favorite Sprint store, I pickup my EVO 3D Friday. They will be there 4am working on setting the phones up.. I gave em my CC and so I can pick it up, not be in line and waiting.. 8am.. get phone and stuff.. 8 am Friday... Can not wait..

Dallas/ Fort Worth just got the update at 1am. So far install pretty quick. Hell Yeah!!! Netflix lives again!!!! Reboot on back button still exists, though.

got it at the same time last night. GO MAVS

Update is live in Oshkosh, WI! FINALLY!

Live in nc. Still have sense rebooting htc white screen then loading

Still no Netflix in market

For those of you that uninstalled Netflix hoping to reinstall it and fix it, you will have to download and install the .apk file manually (until it actually shows up in the android market again). The .apk file is available in the XDA-developers forums. http://forum.xda-developers.com/showthread.php?p=14935357#post14935357

Netflix still Broken after first loadup. Did a powerdown and turned back on. Froze for a minute after it cut off the 4G loading animation. Auto Loaded up stock Sense. launched Netflix. still asked to upgrade. !could not be found. canceled that played a movie. AND WERE OKAY!

Updated in Cleveland. No Netflix, gonna try restart. Did restart, gonna try full shutdown. Whelp, after full shutdown, still no Netflix. Boo!

Try downloading netflix app off the internet and install manually ...its working

ALL IS A GO IN DALLAS, TEXAS -- UPDATED at 2:12am CST - 6/21....

Updated in Orlando, Netflix is working again, I am happy

Installed update...Sacramento, California...
Netflix streaming now and sense issued are now resolved..Still no netflix in the market but installed app from my backed-up apps...

Installed the update in Boston, MA. Netflix is now working and the bugs have been fixed. Go HTC and Sprint!

Just installed the update...netflix not available on market. Still haven't noticed any difference. I've never had an sms issue...I text with chompsms.

Just installed the update. Thank you SPRINT. you are the BEST!!!

Just installed the update. Thank you SPRINT. you are the BEST!!!

OK, got the update this morning.
* Compass is still useless (something so basic, and they don't fix it, go figure...)
* Still no call duration in Call history (useless) Have yet to check out Voice Search/STT in my car, anyone check this yet?

Can anyone comment on if the new download has any negative impact on the Sirius XM app over 3g/4g? Very nervous to fix netflix and lose sirius again. Thanks.

No update yet. NY. It doesn't seems to do anything that matters to me anyway. I just want Sense to stop restarting.

Got it over night in Pittsburgh. Had to restart my phone to get the update. Then after install, had to restart again to get Netflix to work. Netflix and the voicemail phantom flags do seem to be fixed. I don't think any other gingerbread bugs or annoyances have changed. (For example, "shutting" off your phone still places the phone in a sleep mode rather than a full froyo shutdown). Haven't got the white Sense screen yet but I really haven't had too many apps going at once. Still I won't complain. Coming from a Samsung phone, you quickly realize that quirky updates are better than no updates at all.

That's not a bug, its new feature..fast boot. Similar to hibernate on a laptop. If you want a full shutdown choose restart instead. Or turn off fast boot in Menu..Applications...Fast Boot.

Thank u sprint and htc....buttttt!!!!!!!
i still have the CAMERA BUGG !!!! when u take a few pics and they come out real dark and u try to back out ..it FREEEZES AND BAMN....REEBOOOOOOTS...... HELPPPPPP....so far after the hard reset..i havent notice any other issues..just yet....other than the camera bugg...smh

You might need to have your phone serviced. I've never had or heard of that problem and I've loaded every update (including the original Gingerbread) as soon as they were available.

Got the update this morning but I still can't find Netflix in the market. Since I switch phones due to breaking one I didn't have the app on my phone. WTH? I go to Netflix web site and all they have are downloads for the stupid i-crap devices!

Downloaded the update and no NetFlix in the Market. FAIL. You've got to be kidding me; this has been the worst example of updates for anything that I've ever seen. Thanks Sprint/Netflix for taking lousy care of your customers!

For those of you that uninstalled Netflix hoping to reinstall it and fix it, you will have to download and install the .apk file manually (until it actually shows up in the android market again). The .apk file is available in the XDA-developers forums. http://forum.xda-developers.com/showthread.php?p=14935357#post14935357

Why did anyone uninstall Netflix to begin with? It's working great for me now with the update.

Since Sprint/HTC/Netflix (whoever) didn't let their users know it'd break the app, users uninstalled it trying to re-install and maybe get it to work. If (whoever) was forthcoming with information about what's not working in their updates, users could make more informed decisions. Pretty much all (whoever) does is list what's fixed...nice...thanks for fixing stuff......been even better if you hadn't introduced glaringly noticeable bugs on my phone.

For those of you that uninstalled Netflix hoping to reinstall it and fix it, you will have to download and install the .apk file manually (until it actually shows up in the android market again). The .apk file is available in the XDA-developers forums. http://forum.xda-developers.com/showthread.php?p=14935357#post14935357

Netflix available on the Web Android Market https://market.android.com/details?id=com.netflix.mediaclient

Says it's incompatible with my device; even after the update and refuses to install.

Sorry, didn't notice that. I didn't uninstall it to begin with so I didn't have a need to check it.

Netflix is gtg but what happened to wireless n networking? Some of my games like Plants v Zombies keeps force closing but at least Netflix is back.

Just got my update here in New Orleans.

I chose not to download last night because I wanted a fully charged phone first, and it was getting late. When it asked me if I wanted to download the fix, I hit cancel. Now when I check for the update, it tells me my phone is up to date, even though it is not. How can I now get the update?

Same boat as you. I restarted my EVO but it still says I'm up-to-date event though I have the 4.22.651.2 version.

For those of you that uninstalled Netflix hoping to reinstall it and fix it, you will have to download and install the .apk file manually (until it actually shows up in the android market again). The .apk file is available in the XDA-developers forums. http://forum.xda-developers.com/showthread.php?p=14935357#post14935357

not sure how to install. just got my evo last week. new to this

Down load drop box and then try this, for Netflix. It worked for me just now. https://www.dropbox.com/s/wx4l54wgoqq27eo/Netflix-1.2.2-jzmod.apk

This worked for me. Thanks!

worked for me too. no stability issues as of yet

GOT IT!! * Compass is working great!! (after calibrating)
* I can't speak to the vm issue, cuz I didn't have the notification. My wife did, however, so we will see how that goes.
* I don't know about Netflix cuz I don't use it.
* I can't speak to the Sense reboots cuz I haven't used it long enough. ...but the compass is working!! Honestly, I'm pretty psyched about that. UPDATE: WTF my text notification ringtone changed... now I feel like doing the Samba every time I get a text...

Updated. Netflix doesn't work. wtf nm. works now. but keeps saying there's a new version found when i start it. when i select ok, it says not found. i just hit cancel to watch.

not sure how to install .rar file. can anyone help? never mind. got it under control.

I did the dropbox install and it works perfectly, actually the streaming is better than before, I am SO happy now, I love my EVO again!! (I never stopped but I wasn't a happy camper lol)Thanks Shanerides!! :)

I downloaded the maintenance update for my Evo 4G and Netflix will run but I get a pop-up that says there is an update and when I tell it to update it says that it could not be found. Netflix still isn't back in the Android Market yet.

Has anyone else had the problem of Gmail not pushing email notifications in the Gmail app?

Just got the official Netflix update for Gingerbread, check the market. It works great now. - HTC Evo 4G

hey mr.phil...dr.phil..forget about the new 3-d update...let gets the evo 4g done right.....please....after the gingerbread update both of them 6/3 and 6 /20 for my evo..there is a major camera bugg that has not been noticed or rarly reported...when u take a few pictures... the pictures comes out dark and not cristal clear as in the past with froyo also when the picture is taken and tries to save in your gallery..the camera frezzes up.... (so annoying) and when you try to navigate thru the camera settings... the camera frezzes up and reboots the whole phone.....with your knowledge and power in the android world..please write to htc/google and sprint to get a updated patch for this... i love my evo...i use the camera heavy... now its just a ordianry phone....please help..... mike

Netflix is back in the market. YAY!

So now that Netflix is back in the market, should I uninstall the Dropbox version and install the official app? It works and I don't want to mess with it :)

Seems like everyone on here just cares about the Netflix App...yes it's up, and yes it works...but what about the other bugs? I'm talking about the constant Sense Reboots, the Camera Bug, and sometimes when the home screen icons, under an open folder, show above the open folder creating a jumbled mess of icons... As SprintGuy stated in a prior comment...
"I just called Sprint Tech Support (1 hour ago). They not only confirmed this bug (with the camera and the phone crash), but they confirmed the fix is in this newest update (3.30.651.3) Good news..."
...but with a little bit of "Google finger work" I discovered this update (3.30.651.3) was an OTA update released back in November of 2010!! Here's where I found it...
http://forum.androidcentral.com/htc-evo-4g/43845-anyone-else-receiving-o... So, what's the story? Is my phone going to ever perform the way it did back when it had 2.2 or am I going to have to figure out how to Root it, and risk bricking it, in order to get it run the way it once did? Or, will there be yet another "fix" we are all going to have to wait for?

Excellent question and comment. I find that there is more going wrong with each "maintenance" update. Is anyone privy to any new information or are we stuck with this?
Android Central Newsletter
Get instant access to breaking news, the hottest reviews, great deals and helpful tips
Thank you for signing up to Android Central. You will receive a verification email shortly.
There was a problem. Please refresh the page and try again.