EverythingMe contextual launcher available worldwide starting today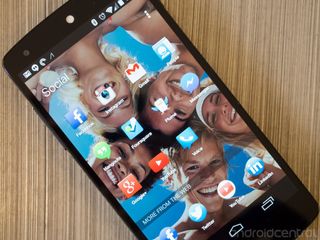 Following millions of installs in just a few short months after exiting beta, EverythingMe Launcher is now available worldwide. Though the contextual learning launcher was available in the U.S., U.K., Germany and Spain previously, EverythingMe says that over one-fourth of its traffic was coming from outside of supported countries and it was time to expand officially.
EverythingMe Launcher, like a few different contextual launcher options available today, provides you with customized information available on your phone based on where you are, what time of the day it is and what apps you use most. EverythingMe says that it is on average seeing 50 contextual interactions — up 100 percent since the beta — per user per day, and now that functionality is available for even more people.
Best of all the price of admission is a smooth $0, meaning there's little reason not to check it out if you think EverythingMe Launcher can provide some value with its suggestions. You can grab a download at the Play Store link above.
Get the Android Central Newsletter
Instant access to breaking news, the hottest reviews, great deals and helpful tips.
Andrew was an Executive Editor, U.S. at Android Central between 2012 and 2020.
I think the time is right to see a good comparative review of all the contextual launchers that have been released to the wild recently. While i'm still a Nova and/or Apex fan at this point, I try to be open-minded enough to take a look at everything.

Agreed... It might push me to try one. I'm so used to Nova... Would be hard to change. But they are a bit interesting. Posted from my Nexus 5 via Android Central App

Installing ..... :) hoping this might be the best launcher for my moto g Posted With My Amazing Moto G ! :) via Android Central App !!

I'm still using Nova, but I might just give the a shot. Posted via Android Central App

This is a good launcher but I prefer nova or my stock (lenovo) Posted via Android Central App

Using Aviate and used Everything Me for maybe an hour and uninstalled, I am not social enough for it to work properly. Aviate is better. Posted via Droid Razr M on the Android Central App

Well i have noticed most of u don't get it, this app is perfect for average user, you guys need more control on the app, which it doesn't offer..
But it is a good one to use.
They just need to add third party icon packs.
I am using it now... HappyMe Posted via LG G2

I used Aviate when it was still in beta. It worked really well and it was a refreshing change form my usual launcher. They changed it up a little bit with the latest update, taking it out of beta. It's definitely a good launcher and I'd recommend anyone to try it out. I tried Everything Me for a couple weeks and it just didn't gel with my flow. Hard to describe, you'd have to try it for yourself - it just wasn't what I was looking for. For me, I keep coming back to Action Launcher as I like to keep things minimal. It's fast, supports other icons, there are some other beta stuff that's baked in (which are optional), but most of all, the shade and shutter features are brilliant, imho. With the shade, I can hide multiple app shortcuts behind the first like a one (like a folder) but it does not look like a folder (seeing mulitple icons). It kind of acts like a folder, except tapping on the first icon will open that first app (instead of opening the folder). To open the "folder", you swipe up on the icon. This is great for when you like to group related apps (social apps for example) and there's that one app you use the most - there's one less tap to get to it.

Really not into launchers that setup everything for you. I really lock stock android but I'm stuck with touchwiz. Wish I would've bought the nexus 5 instead of note 3. Posted via Android Central App

Have you tried Nova? It gives you a pretty stock feeling experience. Posted via Android Central App

What the hell is up with all the launchers being launched this month? Soon we will need a new launcher that launches other launchers.

Ummmmm... no Posted via Android Central App