Everything you need to know about Backdrop for Chromecast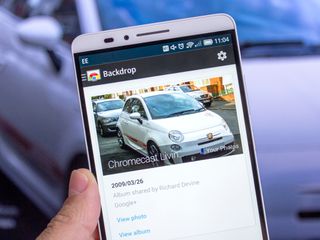 Here's the lowdown on how to get fantastic looking Backdrop images onto your TV
Google first announced Backdrop for Chromecast back at Google I/O, but has now finally flipped the switch and let us customize what images we see displayed by our Chromecast when it's in idle mode.
There are a few things that you need to know going into Backdrop and a few little tips and tricks to help you get the best out of the experience. Read on for the lowdown.
Exactly what is Backdrop?
When you're not actively viewing something on your Chromecast it displays a slideshow of pretty stunning looking images. Until now Google has chosen what those are going to be leaving it as an elegant screensaver you've got no control over. Now, though, you can personalize the feed to include images you want to see.
Be that slideshows created from various pre-loaded categories, Google+ or even your own images, Backdrop has enough options to make it look just how you want it. In addition you'll also get a perpetual clock and even local weather information should you choose.
How to enable it
If you're already a Chromecast user you'll already have a mobile app connected to it, be that Android or iOS. That's also a point worth noting; Backdrop is also available to iPhone and iPad owners that use Chromecast. Enabling it is pretty simple and the app does a pretty good job of walking you through it step-by-step. Here's how you do it:
Open up the Chromecast app on your Android or iOS device
Slide out the navigation drawer and select "Backdrop"
Tap "Yes" on the next screen
Select what you want to see
From there you head on into the next section, customizing what you want your Chromecast Backdrop to look like.
What you can see
Here's what categories you can use with your Backdrop, though it does seem to differ slightly depending on region:
Your Photos - Have your Google+ photo albums displayed on your TV
Weather - Choice of having the weather information for your location displayed and whether it's in Celsius or Fahrenheit.
Art - Choose between Google Open Gallery, Google Cultural Institute or both
News & Lifestyle (Not available in the UK)
Satellite Images
Featured Photos
Another pretty neat trick you can pull with your images uses the "OK Google" hotwords (if you can use it.) Simply say "OK Google, what's on Chromecast?" and it'll take you to a slide where you get to find out more information about the picture you're looking at.
Other points to note
If you're using some of the curated images on your Backdrop then things should always look pretty stunning. But, there's also the option to use your own images. And sadly, unless you're a particularly good photographer, your images may look disappointing to you when blown up on your TV.
You can't turn off the clock, the album, who shared it or the Chromecast stuff in the bottom left. And that's disappointing.
Setting up your Photos via Google+ to display seems to be a pretty janky affair. The selection of albums given to us to choose from was considerably less than those that are actually in Google+ for some reason.
It's still pretty cool of Google to do, though, and with Backdrop your Chromecast screen can now become your very own custom slideshow when you're not using it to view something. It's easy to use and with a little light fettling on your part produces something extremely pleasant to look at.
Get the Android Central Newsletter
Instant access to breaking news, the hottest reviews, great deals and helpful tips.
So it can turn your TV into a giant electronic photo frame? Posted via Galaxy ace plus running Speedmod 2.5 with Xposed

Cool ! I will try it today.

And just to be clear, when you let your chromecast display your g+ photos, you are not letting other chromecast users see your g+ photos, right? If you are a photographer, and want your photos to show up on chromecasts across the globe, turning this feature on won't do the trick, right?

I've set mine to display only pics from a couple of my G+ albums (because my photography is so, err, excellent), but it still shows satellite and standard images amongst them. Any ideas why it does this or what I'm doing wrong?

Yea, turn off satellite images and feature photos. Posted via HTC soon to be a moto 5.2 or 5.9

I've done this but still get those images curiously

Reboot the CC...? Splattered for your amusement... via the AC App

This is a well known Bug, but Google has acknowledged that they have no idea how to resolve it. To this day, Google is using us as beta testers.

Same thing is happening to mine. I turned on a couple albums of mine, and turned off everything else. Random art and satellite images still showing up. Rebooted Chromecast and it's still happening. Help.

Same as well. Was googling for a solution and found your comment.

So I can't get my local photos to show up there? Posted via Nexus 7 2013 or verizon Galaxy S5 or maybe one day through my moto 360

You can with a 3rd party app. Dayframe seems the best. Splattered for your amusement... via the AC App

This is cool but there really should be a way to adjust the time it takes for the image to change. Posted with Nexus 5 via Android Central App

nice but i don't see the point. when i'm done using my Chromecast (ex. for a movie) i switch my TV back to the cable HDMI input. the only time i'm looking at the backdrop is for the 2 seconds on start and the 2 seconds on end. i guess it's good for you mythical cordcutter millennial hipsters with no cable TV service.

Yup, exactly right. The only thing our TV is used for these days is chromecasting music/video and the occasional Mario Kart 64 race. Backdrop is a super cool addition.

That's the exact opposite of me and my family. This is a much appreciated feature, except all the text and who shared album crap.

What if you don't use Google+? can we display any of "our" pictures with out it?

No. Get Google plus, it's one click, and backs up all your photos and videos for free.

Having multiple Google+ accounts appears to break it as well. Lots of work to do with the 'personal photos' section of backdrop.

Works fine for me and i have several g+ accts. Splattered for your amusement... via the AC App

I have a Google Business account, and this caused setup to stop with an error message. I simply used a device that didn't have my business account signed into it yet, and it set up just fine with my personal account.

what phone is that in the PIC? I cant tell.

I like the feature... not for everyone... cue complaints that its a giant photo frame and energy waster and useless. No, I don't leave the tv on for hours just as a big photoframe... but after casting something I have sometimes enjoyed seeing the next few pictures that come up. From the start I wanted some of mine up there (because I feel I have a few that are good enough.) Though not an automatic backdrop like this, I used an app called Dayframe to cast a slideshow of my own images... but it didn't automatically cast my own images without launching it like backdrop does. I created 16x9 cropped versions of some of my favorite photos, added them to a special folder in G+, and they look great! I like the having the chromecast on when friends are over... background music, and readily available for someone to cast the funny Youtube videos they've seen, etc. But when not casting, it can showcase some of my own favorite images in the meantime... even intermingled with the pretty Google curated ones. The pictures have started conversations on their own. Again, not for everyone. But as an amateur photographer, I like it.

In wondering why my auto backup album isn't a choice on mine. Anyone else?

What device is it that he's holding?

Anyone know if these settings wind up holding across multiple users hitting the Chromecast? My amp often doesn't correctly set the screen resolution when it's turned on-- it would be nice if I could set the backdrop to a test pattern, so when they fire it up they can more quickly tell if it's working or not before they start texting me, but I'd guess that once they connected and started casting, their settings would take over, and it's more trouble than it's worth to get the same image on everyone's account.

Unforgivable that you can't have your photos scroll while you listen to Google Play Music, a feature Apple TV has had for 4+ years. Complete idiocy. Posted via the Android Central App

mine shows 4-5 pics then forgets about the album. it goes back showing the default pics :(

Can someone tell me how to turn it off completely. Its burning 9gb a month of data that i actually need.

Wish I knew, no one seems to be able to answer this. I now have the Chromecast powered from the TV so when that gets turned off the Chromecast stops as well, otherwise it keeps chewing through data :-(

I'd love to be able to see the weather for my city...but it seems i get a city somewhere unknown...

It's April 2016 and you still can't turn off the background picture update. This doubles my download rate from my ISP. Best option seems to be to show your own photos on Google+. It looks like you need to have 2 photos in the selected album and (possibly) to set the refresh rate to a non-default value ie fast or slow. Still not sure if this will reduce the download amount, it probably won't even cache them.

The only way that I could figure out to disable the Chromecast from downloading photos when the TV is off 21 hours each day, is to turn the damned thing.off. I got a power strip that switches off when the TV is off and plugged the Chromecast into one of the switched receptacles.