Euro HTC One Android 4.3 update coming in '3 to 5 weeks'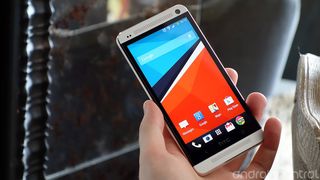 HTC One devices across the U.S. and Canada have been receiving updates to Android 4.3 over the past several weeks, but so far we've yet to hear anything official on release timing for the European version of the device. Today, however, the official HTC UK Twitter account has given us our clearest indication yet as to when we can expect the update on UK devices — and unfortunately there's still a bit of waiting to be done.
"We are expecting to release #JellyBean 4.3 update in the UK in 3–5 weeks," tweets @HTC_UK. That'll be mid-to-late November, then.
Android Central understands that when the update arrives it'll bring with it HTC's latest Sense 5.5 UI — as opposed to the Sense 5.0-based software rolling out to U.S. devices — which might explain the additional time required to get everything finalized. So HTC One owners in Europe might have to hold on just a little longer, but the update should be worth the wait in the end.
Source: @HTC_UK (opens in new tab)
Alex was with Android Central for over a decade, producing written and video content for the site, and served as global Executive Editor from 2016 to 2022.
If it's definitely because they're baking in sense 5.5 then I'm happy to wait. I don't think there's that much between the current 4.2.2 and the US 4.3 update. Can't wait for the rss and google+ additions to blinkfeed Posted via Android Central App

I thought I'd heard that trim was built into the One on release, or some variation of it any way :-/ think Alex mentioned it when 4.3 was announced Posted via Android Central App

We always here you guys have news for the US & Europe. How about MEA? I live in Dubai, UAE. Anyword on when it gets here. We've been using Sense 5 and 4.2.2. Patiently awaiting Sense 5.5 and possibly 4.3.3 early next year if the rumours are anything to go by.

I am Kuwaiti and I agree. From the box of my HTC One, I think that MEA and Europe share the same version. Posted via Android Central App

I think you'll have the same version as the European..

4.3.3 isn't a thing. The only iteration of 4.3 is 4.3.1 on the LTE nexus 7 (2013). Posted via Android Central App

Is this just for the unlocked HTC One? Will the networks then need time to add their sh%t ontop? I'm interested in when 4.3 will hit the One on Three network?

I hope the update doesn't do away with the current Video Highlights themes as on the Max. Including the new ones with the old on the other hand would be fantastic.

My HTC one is international version and i still didnt got thé 4.3 update...what that means....is it à europuan model.. but i live in Asia...anyone genious could explain... Posted via Android Central App

It's a European model, therefore you get European models' software updates, regardless of where you live...

Very nice, hope it's here soon. I've been a bit disappointed that the US got updates before Europe, but I guess sense 5.5 will make up for it.

Hehe... And by then I will have 4.4 ;D Anyway... I was starting to think Android OEMs really gonna get on this. But I have to give then some credit because they certainly got better then they were couple of years ago. Posted via Android Central App

Don't think you will get 4.4 this year with a stock HTC one.

The U.S. got 4.3 first because we were still on 4.1. Posted via Android Central App

Most likely the rather special situation (US getting updates before International unlocked version) is due to the fact that the International version will get Sense 5.5, instead of 5.0 in the US.

When will my magnificent Evo 4GLTE and my fellow Evo Brethren receive this update? Personally, I won't accept any response unless it is more specific than "by the end of the year". Thats not enough for me, and that time is approaching rather quickly. Please tell me somenone knows. ? IKNOW PHIL NICKINSON WANTS THE UPDATE AS DO I!!!!

The same can be said for the Verizon update ;) Posted via Android Central App
Android Central Newsletter
Get the best of Android Central in in your inbox, every day!
Thank you for signing up to Android Central. You will receive a verification email shortly.
There was a problem. Please refresh the page and try again.