With so many smart products on the market, it can be expensive to upgrade all of the things that you use on a daily basis. Deals like this one can help. Add this Eufy Bluetooth Smart Scale to your bathroom for just $28.99 at Amazon. It typically costs around $40 and today's price is one of the best we've seen for this particular model. Shipping is free as well.
Step Right Up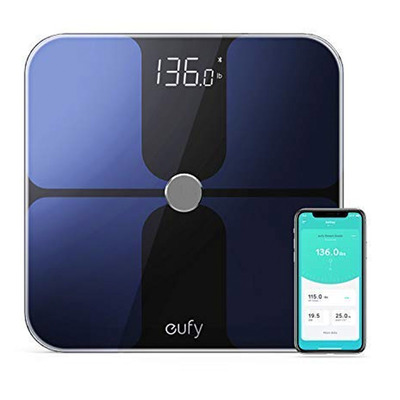 Eufy Bluetooth Smart Scale
This scale can measure weight, body fat, BMI, bone mass, muscle mass, and more. The free companion app will track your progress over time, and you can create up to 20 user profiles for multi-person use.
$28.99 $40.00 $11 off
This well-rated Bluetooth smart scale does much more than just tell you your weight. It can also measure other health stats, like your body fat, bone mass, BMI, muscle mass, water weight, and more. Those features are really helpful if you're tracking specific fitness goals. Did your weight go up because your muscle mass increased? Are you extra bloated today? This scale can help you delve deeper rather than relying on a single number to track your progress.
Download the free EufyLife app on your iOS or Android device for even more data. You'll be able to track your goals over time, and the app also allows you to create multiple user profiles so that you can track the data of more than one person. Set family health goals or let your family members weigh themselves without messing with your own data. The scale supports third-party fitness apps as well, so you can use it in conjunction with Apple Health, Google Health, Fitbit, and more.
As far as the scale itself, it features a sleek, glassy look and a large LCD display so that you can easily see what's going on. The anti-slip feet keep the scale firmly in place too.
If you're in the market for a smart scale, but this option from Eufy doesn't suit your needs, check out this article detailing more of the best smart scales in 2019. We've also got a roundup of the best smart scales under $50 for readers sticking to a budget.
We may earn a commission for purchases using our links. Learn more.