Essential Phone gets 8.1 Oreo beta with fix for jittery scrolling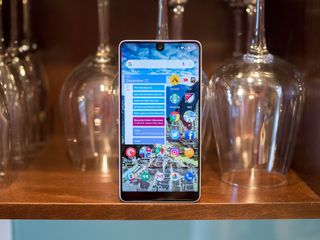 The Essential Phone's received a heap of updates since its release, and following up on its word, Essential is now releasing the Android 8.1 Oreo update in the form of a beta. Previous beta testers for 8.0 Oreo will get an over-the-air update to 8.1, and if you're not currently enrolled, Essential will add a link to sideload the new software on its website.
So, what's new with 8.1 on the Essential Phone? While the addition of dynamic icons for the calendar and clock apps is a nice touch, the star of the show here is a fix for "slow-scrolling jitter."
Essential Phone owners have been complaining about jittery/laggy scrolling on the phone for months now, and while a fix sooner than now would have been appreciated, it's nice that Essential is at least finally addressing this. The company notes that this fix is still in a beta state, so expect it to improve over the next couple updates.
Essential also says that the 8.1 update comes with Google's latest February security patch, making it one of the first companies other than Google itself to push this to its hardware.
If you own an Essential Phone and have Android 8.1, have you noticed an improvement in scrolling performance?
Essential Phone review, four months later: The sun is setting on this experiment
Joe Maring was a Senior Editor for Android Central between 2017 and 2021. You can reach him on Twitter at @JoeMaring1.
Just updated and the scrolling appears to be much smoother and more responsive. Great job Essential. Keep them coming!

Good for them. I hope this company doesn't run out of money before v2. I would give them a try.

Update is 492.2 MB. Scrolling seems much improved. Nice first Beta - actually usable.

May have to test this out, no issues with 7.1.1 mind you but wouldn't mind testing the beta.

Noticed this on their Twitter feed: A new wave is coming. #EssentialPhone with tomorrows date. Any guesses as to what it could be? Ocean Depth?

@Joe: FYI Samsung's Oreo rollout included the February 2018 patch so it's definitely not Google and Essential only.

There is no update. It already got pulled.

Oh, you mean that update that Sammy yanked back, Lol. 😂

Well at least they had a stable build. Besides, Samsung has already rolled out February patches to some it's markets before Essential's beta.

Enjoy your update while I enjoy a top of the line phone with no problems or issues, and expandable storage and headphone jack and wireless charging and...oh never mind, you Essential lovers wouldn't understand what it's like to have all the features that really matter. Think I'll upgrade my 128gb to a 256gb memory card...

Our BlackBerry DTEK50 our son uses also got the February patch last weekend

Ditto, never felt like this phone really had to many problems. Every update Essential pushes out, is just making everything that much more polished.

How's the camera and battery life?

Camera is the only meh part of the phone everything else is top notch and build quality is 2nd to none and nobody can argue that fact. Battery life is great also

I don't know why for you camera is just "meh"
For me works great.

I have noticed an improvement in overall smoothness of UI, opening up apps faster, etc. It is very frustrating to find that Essential apparently hasn't fulfilled their long overdue promise to T-Mobile customers, of fixing whatever is causing the data connectivity/dropped call issues. This phone probably shouldn't be advertised as compatible with all major networks, in it's current state.

Any non Essential fanboys see any improvements in scrolling and lag in various apps? (Can't take the word from those who were in denial about the horrible performance)

I have.every build i tried had this issue and the ghost touch issue with a ghost touch being repeated on one spot of the screen (usually where j is on the virtual keyboard) both issues have not showed up so far but its only been one day.

I've had it for just over three weeks, still on N, can't replicate the 'jitter' issue, as for the 'lag', coming from a PRIV, it is night and day! Such a good performing phone for me but this is only my second Android device as I was a die-hard Blackberry user. Never had a Samsung, Pixel etc so I can't compare it with them but I have no issues thus far.

Kinda glad Ocean Depths is finally coming

Everyone laughed at the ph-1. In six months they have sold 88,000 phones. For a new company & release I think that's not bad. The ph-2 Will be a much better release. Keep the build quality & improve the camera. I hope they have a better go at it. And keep the price reasonable, 499.00 would be a great start!

They could be the US version of OnePlus, just keep their site secure and no backdoors in the phone's software. Keep it affordable, add waterproofing, learn from the mistakes of the PH-1 and they will have a loyal following.

I'm still laughing. The Note 8 had 650,000 PRE-ORDERS in FIVE DAYS. Not to mention how many have been sold since the Sept 15 official release. So if you believe the iPhone-wanna-be '(non-) essential phone is so great, I'm happy for ya. You wouldn't be the first person to live in denial. No expandable memory=deal killer!

I'm definitely interested in giving this phone a try, but the lag issues and camera quality are still keeping me at arms length and I'm keeping in mind people say the camera is getting better with updates and same with the lag, but what is it really like? Is the camera really that bad? Do you have to keep setting the preferences every time you open the app? I love the price and everyone seems to say the build quality is top notch (no pun intended), but what about the screen? I've read countless reviews that the screen just isn't bright enough.
Android Central Newsletter
Get the best of Android Central in in your inbox, every day!
Thank you for signing up to Android Central. You will receive a verification email shortly.
There was a problem. Please refresh the page and try again.