Essential Home is set to take on Google Home and Amazon Echo with ambient intelligence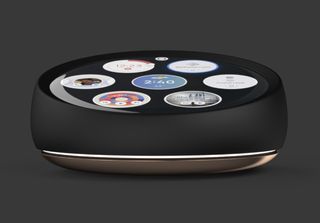 (Image credit: Essential)
Alongside its first phone, Essential is also unveiling the Essential Home — a clear direct competitor to the likes of Google Home and Amazon Echo. Though it's tough to get a sense of scale from a simple product page with a few images, the Essential Home looks relatively compact and sleek. Rounded and smooth, the top surface is cut at an angle and shows off a 5.6-inch circular LCD that you can interact with.
The core of the Essential Home experience is what it calls Ambient OS — the software that ties it all together. Essential shows off the Home doing the typical home assistant features: playing music, setting a timer, answering questions and controlling smart home devices. Other features sound a whole lot like Google Home, such as alerting you when you have to leave for an appointment or you have an upcoming anniversary on your calendar.
Essential is positioning this new technology as being "ambient" in that it will bring information to you rather than expecting you to ask for things all the time. The base of the Essential Home can glow to let you know about information, but you can of course tap the screen to activate it or just ask it verbally.
When it comes to controlling your smart home devices, Essential Home is supposed to be able to automatically "introduce" itself to your existing devices in order to help you set them up quickly. Essential is also offering an open SDK to build applications or hardware that can interface with Ambient OS on the Essential Home.
Unlike the Essential Phone, we don't have details on pricing or availability of the Essential Home. We get a link to sign up to receive more information in the future, but right now we have this single product page and a couple of simple blog posts to go off of. We'll need to see far more information and actually interact with the Essential Home before we can see where it fits in among the established players from Google and Amazon.
Andrew was an Executive Editor, U.S. at Android Central between 2012 and 2020.
Different strokes for different folks I suppose. I'm quite satisfied with the audio quality of my Google Home (I play music while in the kitchen) and I don't see the Essential or Echo matching or beating the audio of the Google Home. Also, I like the fact that there is no screen on the Home. I don't feel like I have to check or look at anything to add to the experience. While I'm sure the Essential device's screen can be toggled and would provide some neat lighting effects, I feel like I wouldn't be getting the most out of the device without looking at it.

Get an Echo, it's very inexpensive and has 10,000 apps. And you won't have to sound silly saying OK google all day.

Just bought an Echo Dot tonight as I am Prime member. Got to say the first impressions are really good. Asking Alexa to play the news headlines, weather forecast, music and set timers is really easy and accurate. Perfect for keeping in the kitchen.

Have both Alexa and Google Home. Alexa is easier to say, but Google Home is much more powerful and smarter. Both work well for the timer, weather, news, and home automation tasks.

Essential home wants to be able for you to interact with every different type of home AI smart device that you might have in your home, from lights, doors, blinds, garage doors, alarm systems, TV's, hifi systems and everything else that you can think of. https://youtu.be/HCjjnVNXDLI
Android Central Newsletter
Get the best of Android Central in in your inbox, every day!
Thank you for signing up to Android Central. You will receive a verification email shortly.
There was a problem. Please refresh the page and try again.