Epic Citadel now available for Android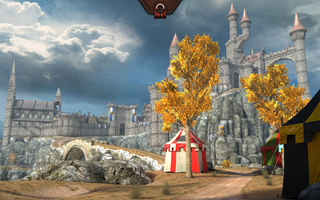 Epic Citadel, Epic Games' Infinity Blade-themed tech demo app, is now available for Android. Epic sends word that 'Citadel has launched on Google Play and the Amazon Appstore, where it can be downloaded for free. The app serves as a technology showcase for Epic's Unreal Engine 3 on mobile.
Epic Citadel allows players to explore a medieval-themed village, complete with cobbled streets, rolling terrain and a towering citadel. Players can choose between high performance and high quality modes to attain the best balance between visuals and speed. There's also a resolution scaling option, which may be useful for high-res devices that lack the horsepower to push Epic Citadel at full resolution. Touch controls allow players to navigate around town, but there's also a guided tour mode if you just want to admire the scenery, and a benchmark mode if you want to test your device's mettle.
The title first launched on iOS back in 2010, ahead of the original Infinity Blade's release. And while there's no suggestion of that game coming to Android, it's great to see a big-name developer like Epic getting behind Android in a more official capacity. (Readers with long memories might remember seeing a version of Epic Citadel running on an Optimus 2X almost two years ago.)
Epic Citadel is available from Google Play at the link above, and supports a wide range of Android phones and tablets. We've got more screenshots after the break, along with today's press release.
Epic Games Releases "Epic Citadel" for Android
Android users can download the free app now, plus 'Epic Citadel' gets iOS update
CARY, N.C. (January 29, 2013) – Epic Games, Inc. today released "Epic Citadel" for Android devices. The free app, which is used to demonstrate the studio's award-winning Unreal Engine 3 (UE3) technology on multiple platforms, is available now on Google Play and Amazon Appstore for Android. A new benchmarking mode and updated visuals bring added depth to the popular app.
In "Epic Citadel," players navigate the dynamic fantasy setting of the award-winning Infinity Blade. From the circus bazaar to the sweeping cathedral in the center of town, "Epic Citadel" dazzles with a visual parade of special effects.
"While we've licensed our engine to help developers build and ship many fantastic games for Android, 'Epic Citadel' is our first internally developed product to be released to Android users," said Jay Wilbur, vice president of Epic Games. "It's a free, easy way to check out the high-quality experience Unreal Engine technology delivers on mobile devices."
High-End Graphics for Android
"Epic Citadel" was created with the same UE3 tools and technologies used to develop best-selling PC, console and mobile games. Features include:
· Amazing visuals. "Epic Citadel" pushes the envelope for modern visuals on Android devices. Through the latest advances in Unreal Engine 3 technology, the application delivers unrivaled graphics and special effects that immerse players in the kingdom's grounds.
· Benchmarking mode. "Epic Citadel" enables users to gather performance data for Android devices through its benchmarking mode, which displays frames per second stats, quality settings and resolution details.
· Realistic reflections and animations. Environment mapping and other high-end rendering techniques produce lifelike reflections, and vertex deformation and skeletal animation bring trees and banners to life with dynamic movements.
· Global illumination. Unreal Engine 3's built-in global illumination system, Unreal Lightmass, provides realistic lighting and shadows with minimal development resources.
· Dynamic specular lighting with texture masks. Sophisticated graphics features impart a tangible quality to cobblestone roads and vivid reflective marble surfaces, while lens flares and light coronas add dramatic emphasis when panning across light sources.
Outstanding Cross-Platform Performance
Epic has worked closely with hardware leaders to ensure that "Epic Citadel" delivers a superior experience on the latest mobile platforms.
"'Epic Citadel' features beautiful, high-performance graphics that are characteristic of mobile Unreal Engine games. Throughout the app's development for Android, we worked closely with Epic Games to ensure that the visuals can be experienced on NVIDIA Tegra-based devices in all of their glory," remarked Tony Tamasi, SVP Content and Technology, NVIDIA.
"Intel is very pleased to see Epic's award-winning Unreal Engine 3 technology shipping on Android with full native support for x86," said Mukesh Goel, Director of Ecosystem Enabling, Mobile Communications Group, Intel. "We're especially excited by the tremendous performance being realized in 'Epic Citadel' on the Atom Z2460 platform."
"As the leading supplier of mobile and embedded GPUs for both iOS and Android, Imagination has worked extremely closely with Epic for many years as it has continuously pushed the boundaries of mobile graphics with Unreal Engine technology," Tony King-Smith, VP of Marketing, Imagination Technologies. "We are delighted that our collaboration is extending into the Android space and that Epic is making such excellent use of our PowerVR GPUs and tools as it brings the best of gaming capability to the rapidly growing Android market."
New iOS Update
Today Epic also released an update for "Epic Citadel" on the App Store that improves the industry-leading visuals of the iOS app. Available for iPad, iPhone and iPod touch, "Epic Citadel" now supports high-resolution devices and offers aesthetics even more striking than previously seen.
Alex was with Android Central for over a decade, producing written and video content for the site, and served as global Executive Editor from 2016 to 2022.
The game looks awesome.e I'm downloading it now on the n4.

Do you actually do anything? or just look at the pretty scenery?

Its a tech demo, so yep. You can move around... and that's it. Still pretty cool, I remember being pretty impressed back when I had my 3rd gen iPod. Hopefully it runs fine on my N10, some apps struggle with the screen res.

FYI this isn't a game. It's a tech demo. Still amazing though! The gap between mobile and consoles is slowly but surely thinning!

It's the gap between consoles and PC that'll get ya every time though ;-)

Can't wait to give this a shot on my Nexus 7. Looks relaxing to just walk around through.

Pretty cool, although it was more amazing in 2010 on the iPhone 4 when it came out. Still, looks great on the Nexus 4, here are my benchmarking results, stock phone and OS: Average FPS: 56.3
Resolution: 1196 x 768
Performance Level: High Performance

Runs pretty well on the Nexus 10 as well. Running CM10.1 Monthly 1, Average FPS: 48.1
Resolution: 2560x1504
Performance Level: High Quality

Impressive for 4X the resolution of the N4! I don't see why they won't bring Infinity Blade over and new games like Dungeons.

This app was a demo of what Infinity Blade was gonna be like, this totally means it will be coming to Android! Now if only Tapulous/Disney released Tap Tap Revenge Tour for Android, I would buy an Xperia Z and go back to Android. For now, I'll keep my iPhone.

Average FPS: 46
Resolution: 1280x720
Performance Level: High Quality Galaxy Note 2 Not too bad. Some areas tanked hard though, like 30 fps. Others steady 60. Unreal Engine is incredibly optimized too, so this really gives you an idea just how weak ARM is when it comes to performance. This tech demo might seem impressive for a smartphone but it's really drab. There's nothing going on, no shaders or anything. No animations or characters. I'd say smartphone tech is still a pretty solid 10 years behind desktop grade components. I'd love to see this gap close to an even match but what would it really get us? The way we interface with this hardware is so limited on a mobile device that I don't see there being a need for "more" than what we have now. Not without a new input method anyway.

The best engine for gaming so far.
Now can we please get some non Tegra games with this type of detailed beauty soon.

Gameloft officially has no excuse on what they did with Wild Blood. Epic Citadel is super smooth on my Nexus 4. Wild blood, which has WAY less visuals, runs horribly. Running the SAME GAME ENGINE!

3 Benchmarks, Droid DNA All 1920x1080 and High Performance Average FPS: 56.5, 54.8, & 52.0

Verizon Galaxy Nexus running Android 4.2.1 (via Mmuzzy ROM) and Franco.Kernel nightly 361: Average FPS: 51 FPS High Performance @ 1196 x 768....Not bad for a year plus old Nexus (again software and system kernels DO make a difference :) ) Will install and try later on my Nexus 7 and MAYBE on my OG Galaxy Tab 10.1 (need an excuse to bring out the old gal)

I remember when Infinity Blade came out, and I had my iPad 1. IF that's still someones idea of the future of native mobile games, please don't bother. Infinity blade is about as monotonous as it gets, not that much fun either IMO. I don't feel like the Android community is missing out. It's pretty but that's about as far as it goes.

This is different. Now that Unreal Engine 3 has been ported to Android, full Unreal Engine 3 games can be ported over or new amazing ones can be created. I think Infinity Blade was a gimmick Apple paid Epic to do to create the illusion Apple had finally created a game machine in the iPad to compete with consoles (sorry Apple, Pippin as well as game support on the Mac are reminders that you will NEVER be a true top gaming platform)

Galaxy Nexus running Cyanogen 10.1
Average FPS: 44.7
Resolution: 1196x720
Performance Level: High Quality This demo looks great

How do I submit my high score? Should I just tweet it with a specific hashtag?
Android Central Newsletter
Get the best of Android Central in in your inbox, every day!
Thank you for signing up to Android Central. You will receive a verification email shortly.
There was a problem. Please refresh the page and try again.