EE passes 100 4G LTE markets on eve of rivals' switch-on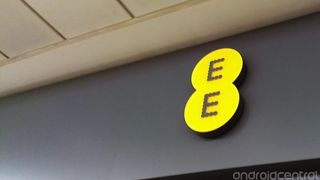 EE continues to expand the reach of its 4G network, and on the eve of O2 and Vodafone's 4G switch-ons, the British operator has announced that it's brought LTE to more than 100 markets. Accrington in Lancashire was named as the hundredth EE 4G town, prompting a tenuous endorsement deal from tangentially-related (opens in new tab) football personality Ian Rush.
EE also sends word that a further nine towns have been activated for 4G this month in addition to Accrington — Ashford, Bicester, Colchester, Guildford, Milton Keynes, Redhill, Sevenoaks, Tunbridge Wells and Woking, bringing the total to 105. In addition, EE claims 60 percent UK population coverage for its 4G network, and says it's switched on "double speed" 4G LTE in Sunderland, Sutton Coldfield, Walsall, West Bromwich and Wolverhampton, enabling more spectrum for high-speed data.
Tomorrow rival operators O2 and Vodafone will launch their 4G networks. O2 will go live in London, Leeds and Bradford, while Vodafone will launch in London only.
Source: EE
Android Central Newsletter
Get instant access to breaking news, the hottest reviews, great deals and helpful tips
Alex was with Android Central for over a decade, producing written and video content for the site, and served as global Executive Editor from 2016 to 2022.
EE have done me well. Upgraded my contract to unlimited calls and slapped an extra gig if data for free. Can't complain about that. Posted via Android Central App

and how much are u paying for that am pretty sure it's around £40 or more

Supposed to be £42 but I get a £5 discount providing I pay on time every month. Not bad for a One too. Class phone. Posted via Android Central App

ohk that's a good deal there then

How on earth did you manage that?! I asked them "Im paying £46 a month, a week after getting my contract you increase data cap from 3gb to 10gb cant I have this?" Sorry, no, new customers only but you can upgrade to the £51 a month package and get 20gb.." Thank f**k for being on friends and family and im being discounted otherwise its rubbish.

That's pretty shit. I mean I'm only on a 2gb allowance, but I'm yet to even get anywhere close to it. I'm not sure why they did it, just rang me up, I answered a few questions and in return they bumped my up and also sent me a 4g sim. Guess I just got lucky :) Posted via Android Central App

I don't now what everyone is all excited about 4G networks on O2 and Vodafone. There 3G coverage is still terrible. I hope that EE lead the way and show them how its done. Posted via Android Central App

Orange might have a big ish 3g network but it's pretty slow tbh.

Perhaps those who "excited" with Vodafone and O2 launching from 29th August are because it on 800Mhz (along other 4G spectrum i.e. 2600) but for now it should only "excite" a select few (mostly Londoners and few else). The current 4G service on EE is 1800 therefore less penetrating coverage compared to 800 that until recently was used for TV! Credit for EE to being first to bring LTE speeds to the UK and reaching over 100 "markets". Once Three and EE launch there 4G on 800 along with the Virtual Networks such as Giff Gaff and Virgin Mobile given access by those they let from then 4G may excite for all!

There is no unlimited data in UK?

Best out there is Three (3) at this moment with "all you can eat data" - unlimited 3G with fair use on its "Ultimate Internet x" and The One Plan tiers. 3 also promotes with claims they not to make 4G ("3 Ultrafast") a premium (unlike its main rivals) but they going to be the last to launch any 4G. They are waiting for "1800" spectrum from EE to come available as well as launching on their 4G Auction winning slots!

Tmobile also does unlimited data with the full monty plan, its pretty good as EE's network is the best in the country, i have that, and would rather have that then the one plan

4mpbs speed cap. And no tethering.. For 'only' £26 a month. How can I resist? EE are a complete ripoff. As far as their network goes it's awful here (zero bars mostly). Tmobile used to be good but after the merger they switched half the towers off, pissing off a lot of people locked into contracts. Posted via Android Central App

Giffgaff also have unlimited data deals, but only on 3G at the moment although they say they will be offering a 4G service too. Posted via Android Central App

We need to wait for Three mobile to show them how it's done with 4G data for the same price as 3G. The prices advertised are a complete rip off as these days we own data hungry phones... I use T-mobile under EE brand and get unlimited data and unlimited calls and Txt only thing missing is 4G. Posted via Android Central App

So are EE saying that 60% of the UK live in just those 100 towns and cities? Posted via Android Central App
Android Central Newsletter
Get instant access to breaking news, the hottest reviews, great deals and helpful tips
Thank you for signing up to Android Central. You will receive a verification email shortly.
There was a problem. Please refresh the page and try again.