From the Editor's Desk: Phones come and go, but the rumor mill is forever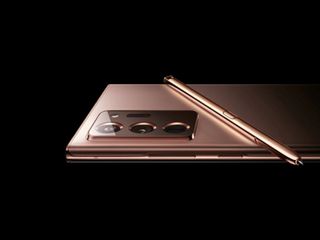 (Image credit: Samsung)
There's a lot of ways to describe me — nitpicking, over-opinionated, procrastinating — but one that I always wear with pride is dreamer. I'm always happy to get lost in the clouds of a good dream, which is why instead of writing this last night when I was supposed to, I instead fell head-first into fluffy stories of superheroes and found families. It's a nice dream to escape to, especially after a week of headaches, chaos, and disappointment in the real world and in the tech world.
This week's Android news was dominated by the rumor mills, churning away at the Galaxy Note 20 and whatever the hell Pixel phones Google will be unveiling not even god knows when. I'll admit, the rumor mill has never been my kind of thing — I prefer to focus more on things that are actually here and real, like Google giving Google Docs a dark theme — but these are the weeks that both make me want to throw my hands up in surrender and remind me why so many Android enthusiasts flock to every scrap of news they can get about upcoming flagships.
We already know what the Note 20 and the Pixel 4a/5G/Whatever look like and what specs they have. Heck, we've known what the Pixel 4a has looked like and had under the hood since February. And yet we cling to all the setbacks, the rumored hardware changes — never mind that the 4a was manufactured six months ago for a May release — and the naming nonsense for one reason: maybe, just maybe, Google will surprise us and give us a better phone than we think we're getting.
I was excited for the Pixel 4a in the spring, arguing that it and the OnePlus Z/Nord/Lite/Whosit that is launching next week were the only phones worth caring about in 2020. My whole family uses the Pixel 3a XL and the Pixel 4a would've been a great competitor for the iPhone SE — and just an all-around great choice for smartphone buyers — six months ago. Now, I can't wait for the damn thing to get out the door so we can just end the drama.
I could say the same for the Note 20 — which looks far too expensive for an uncertain 2020 market even if the latest pricing rumors are true — but at least the Note 20 will be the best display we've ever seen on a smartphone (for a few months, anyway) and hopefully that big honking module pushes the camera envelope a little more. We know most of the specs and we know what it looks like — by the way, am I the only one that looked at that bronze color and just shuddered? — but we can still dream of its performance and camera prowess.
And make no mistake, that's what this is, folks. The way I've been dreaming for the last four months about how Walt Disney World would look when it reopened this weekend is exactly how my co-workers have been dreaming about the Note 20. The phone when it arrives is never quite as sweet as the rumors and the hype make it out to be, but the dream has to become reality at some point. The phones launch, the specs are official and the software is seen, and then the only questions left are "Do I upgrade" and "What color case do I get?" (Anything but black, I beg you!)
Then it'll be time to start dreaming of the Galaxy S21 and the OnePlus 9, and the cycle starts again.
Before we wake up and face another week of reality, there's a few more things to cover:
Summer is here and so's a wave of the Chromebooks announced earlier. I've had the Lenovo Flex 5 Chromebook for a while now and I'm absolutely in love with it, but the new Acer Chromebook Spin 713 has been making waves since it showed up on my doorstep a week ago. Expect reviews of both soon, and a shakeup to our Best Chromebooks rankings.
Speaking of Chromebooks, I'm still using the Lenovo Chromebook Duet, and it is the absolute best Android tablet for comics and reading. Because unlike tablets that actually run Android, the Duet will get regular updates for years to come.
Google giving Google Docs/Sheets/Slides dark mode on Android was a long time coming, but they still need to add it to the Google Drive suite websites! If Google Keep can have a dark mode on web, then so can Docs!!
I've been falling down the rabbit hole of anime and fanfiction the last two weeks, and I'm sure I'm not alone in needing an escape from (gesticulates wildly at the world) all this. What have you been watching or reading recently? I need recommendations!
Now, have a cool snack — it's too hot outside — WEAR A MASK PLEASE, and keep dreaming, everyone!
— Ara
Get the Android Central Newsletter
Instant access to breaking news, the hottest reviews, great deals and helpful tips.
Ara Wagoner was a staff writer at Android Central. She themes phones and pokes YouTube Music with a stick. When she's not writing about cases, Chromebooks, or customization, she's wandering around Walt Disney World. If you see her without headphones, RUN. You can follow her on Twitter at @arawagco.
The phones from the last couple of years have been rather good. With the Note 20 just about around the corner and the Note 10 already a year old... gotta say, my Note 9, once praised as one of the finest phones ever... is still running along smoothly, reception of data and phone call quality, both excellent, display still clean, crisp and clear, battery running well after new factory one installed in February. Bottom line... will see if OS Updates continue, security updates through Sammy and VZ continue as promised and take it from here. New phones are great, but when you have one fine one in hand, with an often used 3.5mm Jack... I'm very satisfied.

Insane, you demanded a new battery. Hypochondriac? Lol, I have a Note 8... I'm sensible about background app permissions, screen brightness, etc.... Zero battery issues. Yeah, it degrades... Whatever.

I've rewatched Kids on the Slope and I'm currently rewatching Honey and Clover. Im gonna watch March Comes In Like a Lion next. That's not a rewatch.

I've also rewatched Anohana. I've gotta work Genshiken in there at some point.

Hmm, I'll have to check those out. You'd think I'd have LOTS of time to spend on Crunchyroll, but we have a house guest that spends more time on my computer than me. I just bookmarked Honey and Clover, even if it does hit a little close to home with the triangles and unrequited love.

I pay zero attention to year over year mobile phone rumours or even the final product... Year to year, there is never, ever enough of a significant difference... And now we are at the point where faster processors make zero real world difference on 95% of common phone usage. Two other notable blog forums do a better job of publishing original news on new patents and essentially the significant future that is coming to mobile. I doubt that most of the comments section raving about buying year over year are even real consumers... They are influencers encouraging buying today... Ie. What A/C does with every new phone... And just a coincidence Android Central pushes the Pixel phones, when they product place Pixel phones after just about every article? Annual phone releases occur for marketing reasons, not practical differences. If you buy a flagship phone, it's good for five years.... Only two Android OS updates... Five for Apple. Don't have Android Central writers cry about two years software support when they aso advocate or write how it always is reasonable to upgrade annually. My five year plan? I might buy a new phone in 2022, if by then, I see upgraded features that are meaningful.

My S5 still going strong. Wish I had the $1,500 back I put into Note9 (it is a nice phone but to big).

iPhones are only good until they are overwhelmed by updates. The 6S is 5 years old and barely usable. The 7 could be used, but is borderline janky and struggling. I upgraded a couple years ago and am still fine, but that's only because that model was faster than two years worth of Samsungs and does better video than iPhone.

So Ara, have you been in the park yet since they reopened? I have a black case, but only on my iPhone 7! All the other phones in my rack are naked! I think leaks are there to keep news about upcoming devices going. It's funny how much love and attention is being given to leaks about the Nord, when the nearly identical HTC was already bashed. What gives with that?

Cause there are some HTC haters here. They praise the Fold, Nord, Z Flip, ECT.. but when it comes to HTC, they turn a blind eye. Never understood it.

No, it's just that HTC has been out of the game for a long time. So why bring them up? They haven't had anything desirable since the M7/M8 series. They tried to raise the bar, but did a clothesline to themselves. There are a few people (or really just one) on here that praise HTC.
So, no hating here, just the truth.