From the Editor's desk: Motorola is a big deal in Brazil, and it's not a fluke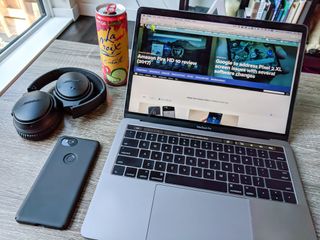 I had the wonderful opportunity to spend a few days in São Paulo, Brazil this week to attend a Motorola launch event for the Moto G6 and Moto E5. Not only is it a lovely city filled with great people and tasty food, but being there was the best way to understand just how differently Motorola is perceived and embraced in Latin America compared to the U.S. and Western Europe.
The simplest way to put it is that Motorola is a massive player in Latin America, and being there myself immediately refreshed my opinion of the company's standing in the smartphone world. It started the minute I landed at Guarulhos airport in São Paulo — Motorola phones were everywhere. Travelers were coming and going, glued to their Moto the same way people in the U.S. are inseparable from their iPhone. My driver from the airport navigated to the hotel using Waze on his Moto G5. Walking down the street and sitting at restaurants, I paid attention to the phones in use (as I do everywhere else I travel) — Motorolas stood out as a significant portion, mostly Moto Gs.
Focusing on the U.S. and Europe, it's easy to think of Motorola as a second-tier player, making good unlocked phones but not really holding a large stake of the market — recent numbers show it under 5% in the U.S. But when you look at the numbers for Latin America, it's a dramatically different story: Motorola is a huge player. It has over 20% market share in Brazil, which is good for second place, though Samsung is in a solid first place at roughly 40%. And Motorola's on the uptick even in Brazil — it was under 15% market share just a couple years ago.
Motorola could be happy enough with its strong positioning in Brazil considering the huge size of the country (over 200 million people, by the way), but its strengths are more widespread than that. Motorola has a second-place position in several Latin American countries, even in the "premium" segment of $400-600 where the Moto Z line sits. It saw growth of 20 to 100% from 2016-17 in countries like Colombia, Chile, Peru and Argentina. Hardly a bit part player when you see it that way.
We also have to remember how different the overall smartphone market is in Latin America. Recent figures from Brazil list Android at 93% of the market, with a much lower average selling price than the U.S. Everywhere I went in São Paulo, a massive metropolitan city, I saw smartphones — but that isn't representative of the whole country, where smartphone penetration is still under 50%. These are perfect market conditions for Motorola to grow: it sells great phones at affordable prices, and has a reputation for being a quality brand in these markets.
It's going to take a lot of work to see that sort of growth and market position in the rest of the world, but Motorola has shown it can do it on a pretty considerable scale. And it just goes to show that the world's a whole lot bigger than the few countries we focus on the most every week.
So with all of those numbers out of the way, a few other thoughts on the week:
The Moto G6 series marks a significant move up-market with a modern design and flair you don't always see at this price. They're just solid, capable phones without the usual shortfalls and caveats of an inexpensive device. This is Motorola's wheelhouse.
On the lower end, the Moto E5 series may not be as exciting but they're just as important. These are the phones that are an entry point to Moto for lots of people. The E5 and E5 Plus look like the G6 (and X4), but at a fraction of the price — and even though they compromise in more areas, they still have big screens, huge batteries and above-average performance.
Motorola's CEO says that the company wants to focus on bringing fewer models out around the world ... but this G6 and E5 release still has plenty of confusion and ridiculous differentiations in specs between SKUs. Gotta tighten that up.
Not only was this trip my first time in Brazil, it was my first time in South America. It was a fantastic experience, and I'd recommend anyone take a trip.
São Paulo is an absolutely massive city (12 million population), with a diverse set of people and neighborhoods. It's a lot to take in, and isn't necessarily tourist-friendly like the coastal cities, but if you're feeling adventurous you should consider it.
Google I/O is just over two weeks away. Can't wait to see what Google has in store for us this year.
Speaking of, this whole "Chat" thing in Android Messages is a bit of a chore to try and explain — let's just hope Google can get it rolled out and working to let people learn by experiencing it first-hand.
Have a wonderful week, everyone!
-Andrew
Get the Android Central Newsletter
Instant access to breaking news, the hottest reviews, great deals and helpful tips.
Andrew was an Executive Editor, U.S. at Android Central between 2012 and 2020.
It's always been like that, Motorola was a big deal in Mexico, and still is but not to the same extent. Samsung is currently the too player in the low-med phone tier with their J series, though in my experience there, they get that phone because it's super cheap or it's free when getting a carrier plan.

What would it realistically take for Motorola to gain even a portion of the success in the US that it has gained in Brazil? Do they need to market their phones differently? Is it really software support? Is it the price of the Mods? Does the Moto Z get sold in Brazil? U would want Motorola to be successful. Maybe they can step back into the limelight to bring competition to Samsung. If not then it would have to be Google and their Pixel line, granted it would have to be on all carriers to even have a chance to make a dent. Maybe Nokia will bring a phone to the US that is actually compatible with all the carriers here. I would have thought that would have happened already but that is something that Motorola seems to have figured out.

What sells phones in US is contract with carriers - market intervention. On other countries when the field is more even (availability and prices are not subsidized & payment plans) phones like Moto stand out. They are cheap but great performers w excellent battery life. Majority of the people need just that - reliable, affordable and long lasting. Moto is like Civic and Camry in US :)
Even though in situations like this , people choose function over form, Moto would grab a bigger market share with design overhaul. Z Series compared to Samsung or any other flagship is the worst looking. I love my ZPlay , but not for the looks :)
In US even with Carrier interference, design overhaul would help with sales.
Verizon does offer in stores Moto at discounted prices, but people will always choose iPhone or Samsung if you don't ask them for 1k out of pocket. They look better and have a better brand recognition. Now, if Moto makes a phone like essential it may get more attention from some folks. Not significant, but would improve the sales. People like popular and attractive"pretty" phones. Moto til now has none.

Yes, Lenovo/Motorola sells the Z line in Brazil as well(I own a Z Play).
One thing Motorola struck gold at the time is with the first(and second) Moto G, if you think it was a bargain in the US, try to imagine in places like Brazil, where phones in the same price range were pieces of crap(and higher end phones are very expensive), with horrible SoCs, awful and tiny screens and very small storage. The Moto G was just a better phone for a incredible price, even I got one at the time. I'm personally atracted to Moto phones because of the software and hardware, but I do have to agree that Samsung phones are getting better, even on the lower end. The J and A lines did improve massively, and I don't really have anything against the 2017 models.

Realistically? I don't think it's gonna happen. That ship has sailed in the US.

I don't really understand the market in Brazil, so excuse my ignorance, but I thought it was due to the fact that Brazil has high import taxes and tariffs on mobile phones. Phones that normally are expensive everywhere else are ridiculously expensive in Brazil. Motorola invested early, deciding to manufacture in Brazil seven years ago - i think that's the time during the Google acquisition? But by selling revolutionary products like the original moto g (imho that was a game changer for the affordable market) it managed to get a substantial foothold in the Brazil market. I think by doing this so early in the game, you have a lot of people who cherish the moto g and will upgrade to the next moto g because of the experience - much like you see people upgrading from iphone to iphone in other markets. I think Xiaomi also decided to manufacture in Brazil a few years ago but had limited success.

Xiaomi did that with Redmi 3 if I'm not wrong. They had little success because of two factors: 1 - They went 'full China' on business model in Brazil (selling at only one channel and through event sales - which is something that no one outside Asia can get how it works). When people tried to buy their phones they had to wait for 'another sales event', a huge bummer for a potential consumer that is looking for a new phone; 2 - Xiaomi is known for their middle range premium devices with very aggressive prices, Brazil is known to be a market for those devices yet Xiaomi only made available two versions of Redmi 3 (a budget phone) while they had better offerings in other markets. Those two topics, in my opinion, can be the factors of Xioami's failure in Brazil. If you search for Mi A1 on Youtube, you'll see huge listing of videos in PT-BR for the device, so it makes me wonder, if this mid range model is popular in that market even acquired through unnoficial channels, how would that perform with a competitive price and official support?

For many people the phone is as well a sign of status, so they would never use a cheap phone. The current Moto Gs are fantastic, they are not so cheap like they used to be but they are incredible good for their price. My current phone is a Moto G5 Plus and I do not think there is much difference with a phone that is 3 times its price. I think we passed the barrier in which mid rangers might be good enough for most people.

They need to go back to their roots and bend over back to US carriers like they used to do with Droid days. Give carriers full control to screw up whatever they want, stamp ugly logos, install carrier apps, remove features, install carrier partner crap. People like that and that's the way to be successful in US.

Lol, yeah they're just pretty much screwed in the US.

Yes Brazil is an amazing place to visit, and so many Latin counties are as well. Glad to hear you enjoyed your time there, Mr. Editor. The buzz around Moto in Latin America and India is Apple like. As for the Moto in US, I think at this point they just need to put Android One on their already great phones; and they can watch their sales improve year after year.

Agreed about the us people like timely updates

It's nice to hear Motorola is doing well in Latin America. I used to love my Motorola flip phones (the Razr and several Nextels), but I have never owned a Motorola smartphone, oddly.

RAZR was a great phone. Still have mine. I can't bring myself to chuck it out even though I lost the charger a long time ago

I loved my Razr and my StarTAC. My first cell phone was a Motorola - a MicroTAC UltraLite. Now I'm back with a G5S Plus which is my first Android phone and I love it.

Motorola is (or was) big player in India as well couple of years back. Their G Series was quite popular in India. Bust sadly they lost it to Redmi now.
I too own Moto Z Play (in India).

An incorrect information is about smartphone penetration in Brazil. Last year, in february of 2017, the numbers show 62% of brazilians that have a smartphone or more (Note that because the whole social distorcions here, many people can have two different smartphones and a lot of people can't afford one). I think that in this year, with the continuous growth of the market, Motorola will increase your market share. basically because the G line offer mid-prices for a good phone. Remember that mid-prices in Brazil are R$ 1.000-1.500 (or 350/500 dollars).