From the Editor's desk: Motorola is a big deal in Brazil, and it's not a fluke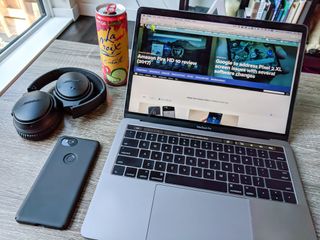 I had the wonderful opportunity to spend a few days in São Paulo, Brazil this week to attend a Motorola launch event for the Moto G6 and Moto E5. Not only is it a lovely city filled with great people and tasty food, but being there was the best way to understand just how differently Motorola is perceived and embraced in Latin America compared to the U.S. and Western Europe.
The simplest way to put it is that Motorola is a massive player in Latin America, and being there myself immediately refreshed my opinion of the company's standing in the smartphone world. It started the minute I landed at Guarulhos airport in São Paulo — Motorola phones were everywhere. Travelers were coming and going, glued to their Moto the same way people in the U.S. are inseparable from their iPhone. My driver from the airport navigated to the hotel using Waze on his Moto G5. Walking down the street and sitting at restaurants, I paid attention to the phones in use (as I do everywhere else I travel) — Motorolas stood out as a significant portion, mostly Moto Gs.
Focusing on the U.S. and Europe, it's easy to think of Motorola as a second-tier player, making good unlocked phones but not really holding a large stake of the market — recent numbers show it under 5% in the U.S. But when you look at the numbers for Latin America, it's a dramatically different story: Motorola is a huge player. It has over 20% market share in Brazil, which is good for second place, though Samsung is in a solid first place at roughly 40%. And Motorola's on the uptick even in Brazil — it was under 15% market share just a couple years ago.
Motorola could be happy enough with its strong positioning in Brazil considering the huge size of the country (over 200 million people, by the way), but its strengths are more widespread than that. Motorola has a second-place position in several Latin American countries, even in the "premium" segment of $400-600 where the Moto Z line sits. It saw growth of 20 to 100% from 2016-17 in countries like Colombia, Chile, Peru and Argentina. Hardly a bit part player when you see it that way.
We also have to remember how different the overall smartphone market is in Latin America. Recent figures from Brazil list Android at 93% of the market, with a much lower average selling price than the U.S. Everywhere I went in São Paulo, a massive metropolitan city, I saw smartphones — but that isn't representative of the whole country, where smartphone penetration is still under 50%. These are perfect market conditions for Motorola to grow: it sells great phones at affordable prices, and has a reputation for being a quality brand in these markets.
It's going to take a lot of work to see that sort of growth and market position in the rest of the world, but Motorola has shown it can do it on a pretty considerable scale. And it just goes to show that the world's a whole lot bigger than the few countries we focus on the most every week.
So with all of those numbers out of the way, a few other thoughts on the week:
The Moto G6 series marks a significant move up-market with a modern design and flair you don't always see at this price. They're just solid, capable phones without the usual shortfalls and caveats of an inexpensive device. This is Motorola's wheelhouse.
On the lower end, the Moto E5 series may not be as exciting but they're just as important. These are the phones that are an entry point to Moto for lots of people. The E5 and E5 Plus look like the G6 (and X4), but at a fraction of the price — and even though they compromise in more areas, they still have big screens, huge batteries and above-average performance.
Motorola's CEO says that the company wants to focus on bringing fewer models out around the world ... but this G6 and E5 release still has plenty of confusion and ridiculous differentiations in specs between SKUs. Gotta tighten that up.
Not only was this trip my first time in Brazil, it was my first time in South America. It was a fantastic experience, and I'd recommend anyone take a trip.
São Paulo is an absolutely massive city (12 million population), with a diverse set of people and neighborhoods. It's a lot to take in, and isn't necessarily tourist-friendly like the coastal cities, but if you're feeling adventurous you should consider it.
Google I/O is just over two weeks away. Can't wait to see what Google has in store for us this year.
Speaking of, this whole "Chat" thing in Android Messages is a bit of a chore to try and explain — let's just hope Google can get it rolled out and working to let people learn by experiencing it first-hand.
Have a wonderful week, everyone!
-Andrew
Be an expert in 5 minutes
Get the latest news from Android Central, your trusted companion in the world of Android
Andrew was an Executive Editor, U.S. at Android Central between 2012 and 2020.