From the Editor's Desk: Is the Galaxy S21 doomed by high prices and a January launch?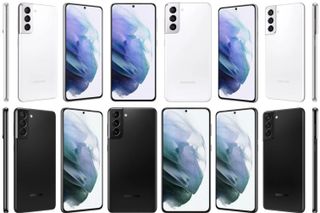 (Image credit: Evan Blass)
Will a combination of bad launch timing and excessive pricing sink the Samsung Galaxy S21 series before it ever gets started? That was among my first thoughts when European pricing for the three S21 phones leaked this past week — showing that, despite rumors that the best Android phones of 2021 could be cheaper, we're once again looking at some pretty pricey Galaxies.
Here's how the pricing reportedly breaks down:
Samsung Galaxy S21 128GB: €849
Samsung Galaxy S21+ 128GB: €1,049
Samsung Galaxy S21+ 256GB: €1,099
Samsung Galaxy S21 Ultra 128GB: €1,399
These are European prices, so tax should be included. Also, because the dollar-euro exchange rate is pretty close to the sales tax rate in most EU countries (around 1:1.22 and 20% respectively), you can probably just change the currency signs here and get the advertised U.S. prices.
The new phones are set to launch very soon — January 14, to be precise — which is way earlier in the year than previous Galaxies. And on one hand that's great, because it means Samsung's new phones arrive in stores only a couple of months after the iPhone 12 Pro Max, which emerged in mid-November.
But on the other hand.... well, it's January. There's a reason why this is seen as the worst time to launch a big new product in the West: right after the holidays when people are done disposing of any disposable income they have left. And especially this year, as the coronavirus situation has taken several turns for the worse in recent weeks — and the knock-on effect that's had on economies around the world.
You don't have to be an economic genius to see how all those factors will likely coalesce to produce much weaker demand for the Galaxy S21 series.
What's more, there are other problems that are very specific to Samsung. The two smaller models, despite the flashy new design, are pretty iterative upgrades based on what we know. And the smaller one, in particular, has to compete with the very similar-looking Galaxy S20 FE — a great phone that shares a similar design and similar plastic back panel.
One device costs $849, and the other could be had recently for as little as $550 in the U.S. While the S21 should be more powerful and take slightly better photos, the average person who doesn't obsess over spec sheets might have a hard time convincing themselves to pay the extra $300. While the Fan Edition has been an undeniable success for Samsung, it could come back to bite them in the form of weaker demand for entry-level S21s.
The S21 Ultra, conversely, is the most compelling phone of the trio, based on what we know so far. The Ultra's big selling point — aside from just being big — is its camera system. Alongside a next-gen 108MP main camera and ultrawide, it's said to pack 3X and 10X optical telephoto systems with bigger pixels compared to the last generation. Unless Samsung goes out of its way to screw up the software processing, this stands a good chance of being one of the best phone cameras of 2021.
This revolutionary new superzoom camera is a huge deal for mobile photography — but that's also part of the problem for the S21 Ultra. People take photos when they go places, and when they see people. And guess what we're not doing all that much of right now. The grim reality is that's not going to change between now and January 14, and likely not for several months afterward.
So what could Samsung do to push S21 sales even at these quite high launch prices and with this not-so-great release period? Well, the first thing to point out is most people don't buy phones outright, so the monthly pricing will be up to the carriers — and in the U.S. there's a long track record of generous, early discounts by the operators to pique interest in a big new phone. The way you experience paying for your expensive new phone, for most people, isn't in a big lump payment of $1,400.
Samsung has also offered tempting trade-in deals for existing Galaxy owners to keep them in the Samsung ecosystem, so I'd expect some very generous offers for owners of the S9 and S10 series. We've even seen ridiculous situations in the past where it was possible to buy certain phones new and trade them in to Samsung at a profit when you buy a new Galaxy flagship.
And in some countries like the UK, Samsung even has annual upgrade plans, where you pay monthly and get the new phone every year. So a small number of folks will just get a new S21, almost automatically, as part of that deal.
David Ruddock of Android Police published a great editorial around the time of the Note 20 Ultra launch opining about how that phone was just a bad product for that particular moment, though through no fault of Samsung's. I think, inevitably, the same will be true of the S21 series when it arrives. None of the mitigations mentioned above would completely compensate for the challenges Samsung would face launching new flagships in a normal January, let alone the abnormal one we're about to experience.
Yet while it's likely the Galaxy S21 will get a more lukewarm reception than previous Galaxies, and that sales will be slow to start, we equally shouldn't write off these phones. Beyond the immediately grim winter, there's a lot of 2021 to come. As things return to normal later in the year, there's a better chance of people wanting to buy a flagship phone, and actually having the means to do so.
Happy New Year!
-Alex
Alex was with Android Central for over a decade, producing written and video content for the site, and served as global Executive Editor from 2016 to 2022.
Say what you will, but I think US stimulus checks are gonna help this effort. It will for me.

Ah using it for the important things in life I see.

Just more money for me to spend. Maybe I will buy a new pistol with the next one. I bet you will like that.

Not only are they taking a big risk with high prices, but these phones are also fairly ugly IMO.
They will sell, maybe not as good as Samsung hopes, but they will sell.
There's always someone who will spend the money. But I truly think it's time for these companies to stop trying to squeeze every last dime out of every sale. Maybe if they lowered the price to a more reasonable level they would actually sell even more phones and actually make more money. Alas, that's not the way greed works so we go merrily along oblivious to the precipice upon which we all will be going over very soon.

Companies want to maximize the profits. The optimal price to do that is calculated by the formula MR=MC (marginal revenue equals marginal cost), meaning when the sale of one additional unit produced is equal to the cost of producing that one unit. Rather than lowering the price and producing more units, Samsung would rather make the same amount of money by selling less and charging more, if they can. And they can.

The S21+, no charger in the box, 999.00. Plastic build, what, huh? No micro s/d expansion? Get out of town, no way Jose? The S20 series sales were down 59%, the S21series, sales will be down 75%? I'm keeping my S20 FE, 549.00 buck-a-roos!

Just seen the review of Mi 10 and wow it's a bit much cheaper than the S21.

But the Mi 10 will be abandoned by Xiaomi as soon as they release their next cheap phone while Samsung will at least support the S21 series for 3 years.

The answer is "yes". Even tho S21 prices are rumored to be lower than S20's, they are still too expensive. I draw the line at $700. However, as long as Samsung continues to offer generous trade-in credits, the new phones will "sell". I have an S10+ for over a year now. I didn't bite on the S20. And I won't bite on the S21 either, knowing what I know now.

Anymore the price doesn't matter as much (at least not in the US) as carriers run deals and people finance their phones over 2-3 years, many do not look at the price of the device, they just see it gets added to the bill each month.

I'm pretty interested to see how the S21 Ultra Camera does - everything has been leaked, but I am hoping they have done some improvements to their image processing and we get substantial improvements. Price is a concern (especially for the exchange rate in Canada) - but I am super interested to hear all the details on the ultra.

It is cheaper but honestly in some ways it is inferior so it SHOULD be cheaper. The resolution is lower, no SD card slot, no chargers, cheaper materials, etc...
I am waiting until Thursday to see what the trade in prices are. If its not that great for the Ultra then I will get the bigger discount off the Note 20 Ultra.

I'm grabbing one, because the S9+ is starting to show its age, but I'm torn between grabbing it right away, and waiting a few months to see if there's a dramatic price drop. But if Samsung offers their financing deal again, I'll probably commit right away.
Android Central Newsletter
Get the best of Android Central in in your inbox, every day!
Thank you for signing up to Android Central. You will receive a verification email shortly.
There was a problem. Please refresh the page and try again.