ecobee4 vs. Nest: Which smart thermostat should you buy?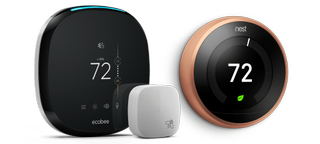 Upgrading to a smart thermostat is a great idea! It can save you money, it can help the environment, and it can be fun to add another smart gadget to your home.
6 Ways Investing in a Smart Home Can Save You Money
There are several smart thermostats on the market, but most people seem to seek out help in choosing between the Ecobee Smart Thermostat and Nest Learning Thermostat. They're both great upgrades to a run-of-the-mill "dumb" thermostat, but how do they compare? Let's take a look!
A comparison chart
Let's start by cutting to the chase. We don't want to waste your time, so we've put together a comparison chart that gives you a quick look at how the ecobee4 and Nest Learning Thermostat compare.
Swipe to scroll horizontally
| | ecobee4 | Nest |
| --- | --- | --- |
| Power | Wired | Wired or Battery |
| Wi-Fi | Yes | Yes |
| Warranty (years) | 3 | 2 |
| iOS App | Yes | Yes |
| Android App | Yes | Yes |
| Web Access | Yes | Yes |
| Humidity sensor | Yes | Yes |
| Accessory control | Yes | Yes |
| Annual fees | No | No |
| Remote sensors | Yes | Yes |
| Learns habits over time | No | Yes |
| Works with Amazon Alexa | Yes | Yes |
| Google Assistant support | Yes | Yes |
| HomeKit-enabled | Yes | No |
| Amazon Alexa built-in | Yes | No |
| Price | $240 | $220 |
The thermostats are fairly similar, but it's the differences that, well, make all the difference. We're going to take a look at each of the points where the two devices differ in order to provide you with the info you need to make the right choice!
Power
While the ecobee4 gets all its power from a hardwired connection, the Nest Learning Thermostat touts a built-in rechargeable battery. Most of the time the Nest will keep itself powered via a hardwired connection but in the event of a power outage, it can rely on its battery.
It's not something you'll have to worry about every day, but if you absolutely need to get your thermostat controls up-and-running within seconds of power returning to your home, the Nest Learning Thermostat has the upper hand. A powerless ecobee4 will need to reboot when the power returns and that means tapping your foot for a moment while it gets it bearings.
If your power ever does go out, you can rest easy knowing your settings should be safely restored when either device reboots — built-in battery or not.
Warranty
This is pretty straightforward: The ecobee4 has a three-year customer install warranty (opens in new tab). The Nest Learning Thermostat has a two-year customer install warranty.
If you feel more comfortable having a longer warranty, the decision is easy!
Remote sensors
Remote sensors are what make ecobee's thermostats so clever. The tiny white pucks pack in occupancy and temperature sensors and serve as little satellite data detectors for the main thermostat. Why is this important? Because not all rooms are heated (or cooled) equally — the sensors help your thermostat understand the actual temperature throughout your home, not just the area around your thermostat.
The Nest Learning Thermostat can only determine the ambient temperature surrounding its sensors; the ecobee4 can use temperature and occupancy data to determine how to heat and cool your home.
Habit and environment learning
The Nest Learning Thermostat is called a learning thermostat for a reason: It starts to learn how you like your house to feel over time. If you always turn up the heat in the morning while you're getting ready for work and down again before you go to bed, Nest takes note and starts to build an automatic schedule for you. When you're away from home (it uses a mixture of built-in sensors and phone location data to determine your location), it sets itself to Eco Temperature, which saves energy — no need to do too much heating and cooling in an empty home. The Nest also learns ways to help you save on heating and cooling and provides recommendations for energy-saving thermostat settings.
The ecobee4 isn't a learning thermostat. You won't get an automatic schedule built around your habits and you won't see recommendations for energy-saving settings.
Works with Apple HomeKit
If your home is filled with HomeKit-enabled accessories and you want to keep the ball rollin', you're going to want to go with ecobee4. The Nest Learning Thermostat doesn't work with Apple HomeKit.
Because of its HomeKit compatibility, you can control the ecobee4 with Siri and the iOS Home app. It'll also integrate with other apps that use Apple's HomeKit framework.
Amazon Alexa-Enabled
The ecobee4 comes with embedded microphones that feature far-field voice recognition (the same technology that makes the Amazon Echo hear you from across the room) and a speaker that makes Alexa sound loud and clear, despite coming from a thermostat fastened to your wall.
That means, on top of having all the same great features as the ecobee3 (HomeKit-enabled, satellite room sensors, energy-saving benefits), you can use the ecobee4 in the same way you'd use an Echo, Echo Dot, or Tap. Ask Alexa to set a timer, adjust the lighting, give you the steps to a recipe, play some jazz — you can do it all right from your smart thermostat.
The Nest Learning Thermostat is compatible with Alexa and Google Assistant, meaning you can use other devices that feature Alexa and Google Assistant to control the Nest. In theory, that also means you could control a Nest Learning Thermostat with an ecobee4 thermostat. 😂
ecobee4 is our favorite smart thermostat
It's worth noting the ecobee4 is iMore's pick for best smart thermostat. You can read that review right here:
ecobee4 one-ups other smart Wi-Fi-equipped thermostats by including remote sensors. They allow you to not only measure the temperature of the room or hallway where the thermostat is installed but also any other room as well. As such, you get more granular control and better comfort and energy efficiency in your house. With the new Alexa-enabled ecobee4, you get all the magic of the HomeKit-enabled ecobee3 and built-in Alexa voice control. Even better, thanks to the built-in speaker and microphone setup, Alexa is just as powerful on the ecobee4 as it is on Amazon's Echo products. With HomeKit compatibility, you also get full support for Siri control, including the ability to change temperature with your voice and trigger more complex actions with scenes, using your iPhone, iPad, or Apple Watch.
In summary
If the Nest's smart learning features are very important to you, ecobee4 won't be able to live up to your expectations. If you want an Alexa-enabled device with HomeKit compatibility and remote sensors, the ecobee4 will be an easy choice.
Be sure to fire off a tweet or leave a comment if you have any other questions or considerations about the ecobee4 and Nest Learning Thermostat!
Mikah Sargent is Senior Editor at Mobile Nations. When he's not bothering his chihuahuas, Mikah spends entirely too much time and money on home automation products. You can follow him on Twitter at @mikahsargent if you're so inclined.
i'm sorry but YES, Nest does have remote sensors!! They're called Nest Temperature Sensors.

I second this. Makes the Nest way more attractive now.

It's so strange that it took them so long to release those.

Do they detect occupancy in a room too, or just the temperature? Didn't get a clear answer on their website, but it seems like it was just temperature.

just temp, but they also allow you to use all the other devices they offer, like cams and security and everything else, along with your phone GPS. and those ecobee sensors can mess things up with pets.

I tried ecobee but went back to nest just for notifications

I switched to Ecobee about 6 months ago from my Gen 1 Nest. It was fine, but I never really felt like it was an upgrade to what I had in the old Nest. I mostly wanted the remote sensors, but even with those, I still felt like I had experienced a downgrade. In my opinion, the automatic learning, mobile (and web) app, and device UI are light years better on the Nest. I've now switched to a couple Nest E's (with Nest remote sensors ordered) and could not be happier.
Android Central Newsletter
Thank you for signing up to Android Central. You will receive a verification email shortly.
There was a problem. Please refresh the page and try again.